Everything You Need To Know About Food Network's New Show Chef Boot Camp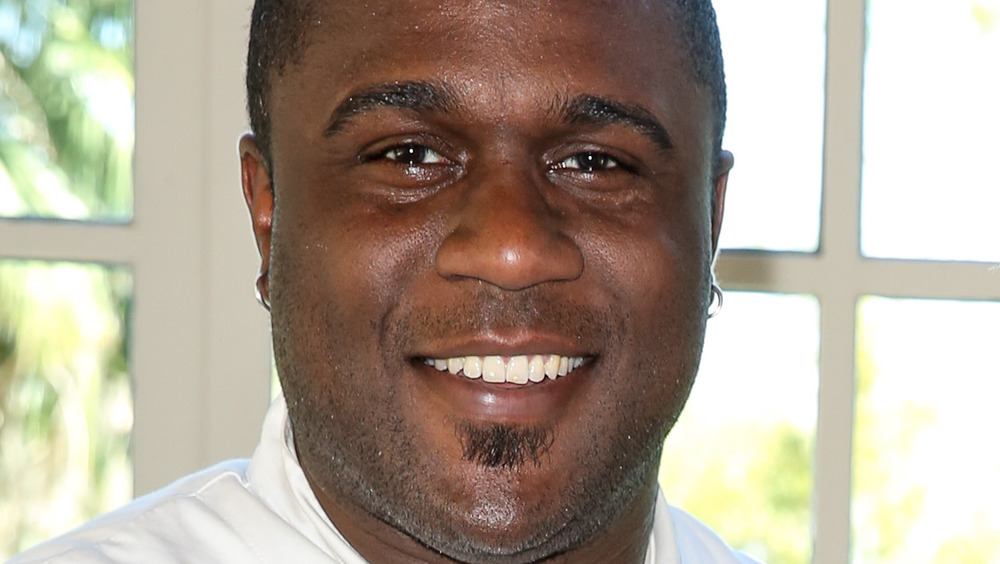 Chelsea Lauren/Getty Images
Another high-stakes, high-drama cooking show? Count us in. As described in a statement shared with Mashed, the brand-new series, Chef Boot Camp goes into the heart—that is, the kitchen—of some troubled restaurants to see why these operations are going off the rails. It's a reminder that no matter how great the location, how gorgeous the decor, or how cool the concept might be, if the food's not amazing, the restaurant has problems.
Chef Boot Camp will air on Thursdays at 10 pm ET/PT starting April 8 on the Food Network. It stars Cliff Crooks, who you might remember from his 2006 role as a contestant on Top Chef, and judging roles on Hell's Kitchen, Chopped Junior, and Worst Cooks in America (via IMDb). You might remember Crooks' shocking exit from Bravo's Top Chef (via Bravo), where he was booted not for his cooking, but, according to Tom Colicchio, for breaking the rules about touching other contestants when he playfully wrestled a fellow chef to the ground. A producer called it a prank that went too far. 
Cliff's most important credentials, however, come from real-world restaurant work. The current Culinary Director at BLT Restaurant Group, Cliff trained and worked in some of New York's best restaurants, including Windows on the World, Salute!, Blue Water Grill, and Gramercy Tavern. As the chef and leader, he sets the bar high. So if anyone can save these tanking kitchens, it's the charming, yet no-nonsense Cliff Crooks.
Chefs' jobs are on the line
As described in the statement shared with Mashed, Cliff Crooks will be talking to owners and chefs from struggling restaurants across the country, challenging the chefs to "prove that they deserve to keep running their kitchens." The chefs will have to prove themselves through a series of challenges that test their kitchen skills and their performance under pressure. The stakes? Their jobs. If they don't pass the challenges, they'll be looking for work.
Here's how it works. In each episode, Cliff introduces struggling chefs, watches them work, tastes their signature dishes, and reveals to viewers why each cook needs Boot Camp. The pressure builds as each chef must then prepare a classic dish of the host's choosing so that the masterful Crooks can observe their techniques. Each chef is challenged to prepare food that meets Cliff's high standards, on time. 
For the next act, the chefs must apply what they've learned to the fast-paced dinner service in one of Crooks's own BLT Restaurant Group kitchens. Finally, the chefs bring it all together for the last challenge, creating a unique new dish to present to their own bosses and demonstrate what they learned in boot camp. Who will rise to the challenge and get to keep their jobs? It's up to chef Cliff. If you can't wait until April to get your Cliff Crooks fix, he's also slated to appear on Guy Fieri's Tournament of Champions, which starts March 7.