The One Ingredient Texas Chili Should Never Have, According To Alex Guarnaschelli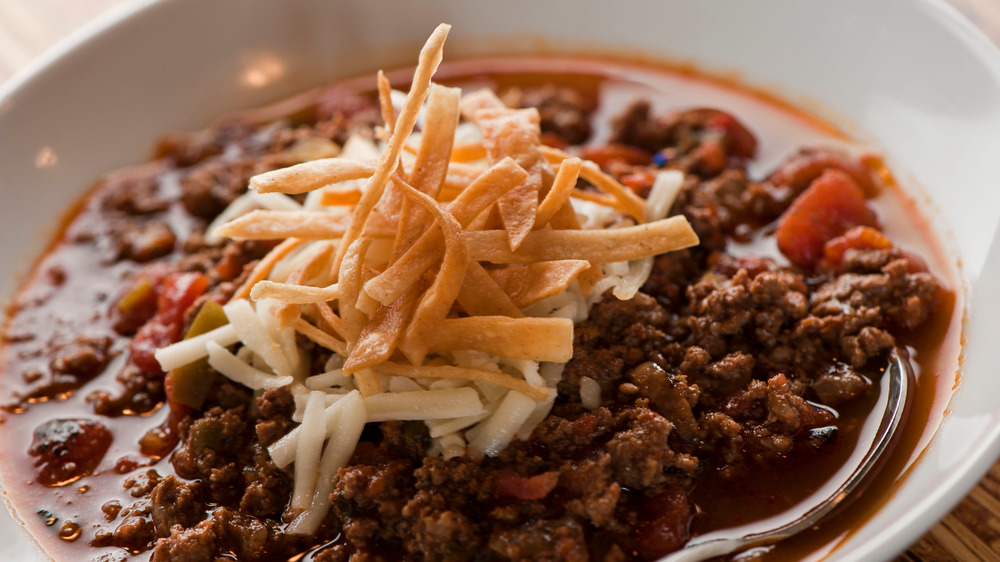 Shutterstock
Every chili cook loves to put their own stamp on their go-to recipe. Whether it's a particular combination of spices or a certain ratio of different proteins, it's all crucial in the quest of crafting the perfect bowl. However, if you're claiming to make Texas chili, there's one thing you should absolutely never include — beans. Chef Alex Guarnaschelli isn't afraid to take a stand on that matter.
In 2021, according to Happy Days 365, National Chili Day took place on February 25, although for anyone who wants to mark it in their calendar for next year, know that the celebratory day takes place on the fourth Thursday of every February rather than on a specific day. Given that retired NFL player and celebrity chef Eddie Jackson owns Rosehill Beer Garden food truck park in Cypress, Texas, it's no surprise that he took to Twitter to share a recipe that day. He tantalized his followers with a smoky Texas chili (via Beef Loving Texans), but decided to ask them an important question as well: "Are you team beans or no beans in your chili?" (via Twitter).
Alex Guarnaschelli says beans don't belong in Texas chili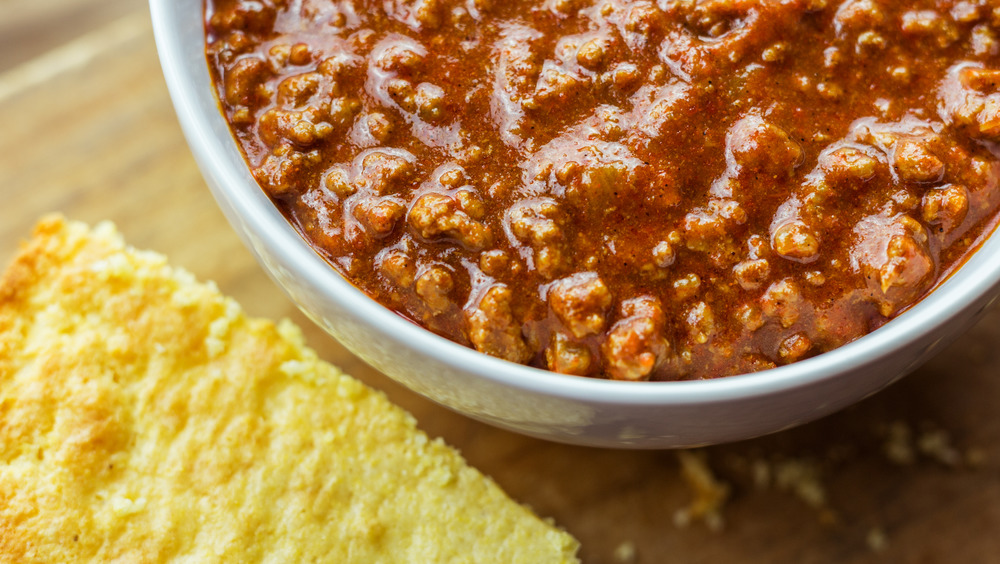 Shutterstock
Alex Guarnaschelli is a Food Network staple, serving as a regular judge on Chopped and even snagging an Iron Chef title on The Next Iron Chef: Redemption (via Food Network). It's safe to say she has some strong opinions on food! Though she may have received her culinary education in France, and though a lot of her restaurant experience has been in New York City (via Alex Guarnaschelli), she wasn't afraid to call Jackson out for his culinary faux pas, even if it was posed as a question.
That same day on Twitter, she responded to Jackson's tweet: "@EddieJackson aren't you a Texas man? You know there are no beans in chili in Texas!"
We definitely agree with Guarnaschelli about what makes Texas chili so distinct. While many consider beans a staple ingredient in the beloved dish, that's basically the one thing Texans can agree on in terms of their chili. Every chili-loving chef or home cook puts their own twist on the state's official dish (via NY Daily News), but a bean shall never find its way into a true Texas "Bowl of Red" (via Food52).
In fact, the rules at the International Chili Cookoff in the "Traditional Red" category, which refers to Texas-style chili's colloquial nickname, make things very clear. When crafting a batch, cooks can add whatever spices they want, they can choose to shred, cube, cut, or grind the meat, using one protein or multiple types, but beans are strictly prohibited.