Baked Oatmeal Recipe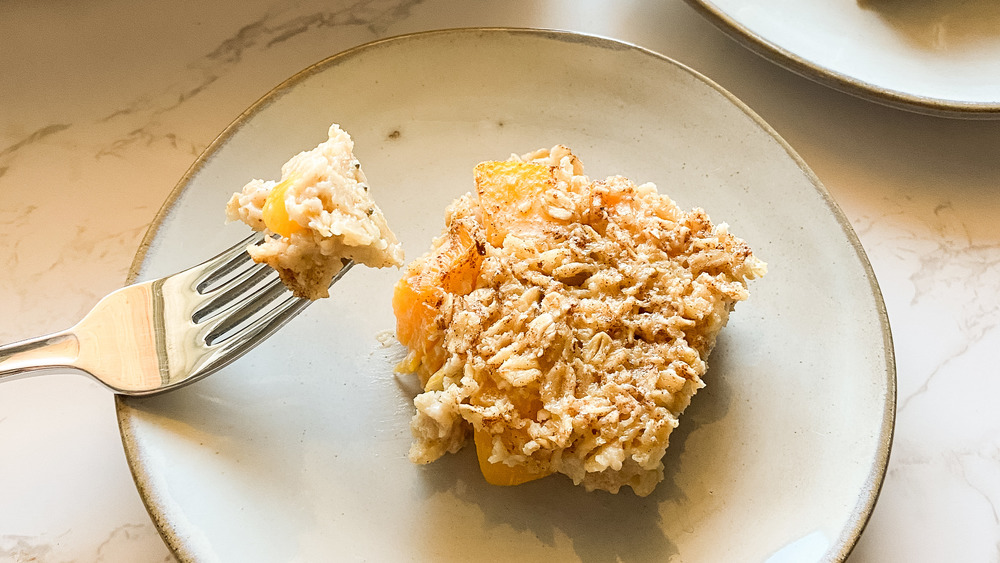 Kristen Carli/Mashed
Sometimes, you need a way to get your morning off to a good — and relatively healthy — start. And if it's something you can grab and eat quickly, that's all the better.
Chef, food writer, and registered dietician Kristen Carli says of her baked oatmeal recipe: "This is my husband's go-to breakfast. He can quickly grab a slice on his way out the door in the morning. The consistency is more cake like than granola bar. It is still moist but holds together."
If your weekday mornings are often busy, then do yourself a favor and prepare a big batch of baked oatmeal on Sunday evening, and you'll be set all week long. "This will keep in the fridge in an airtight container for up to five days," Carli says, so you'll be ready to hit the road with a healthy, filling meal in hand. Probably a good idea to grab some coffee too.
Gather your ingredients to make this baked oatmeal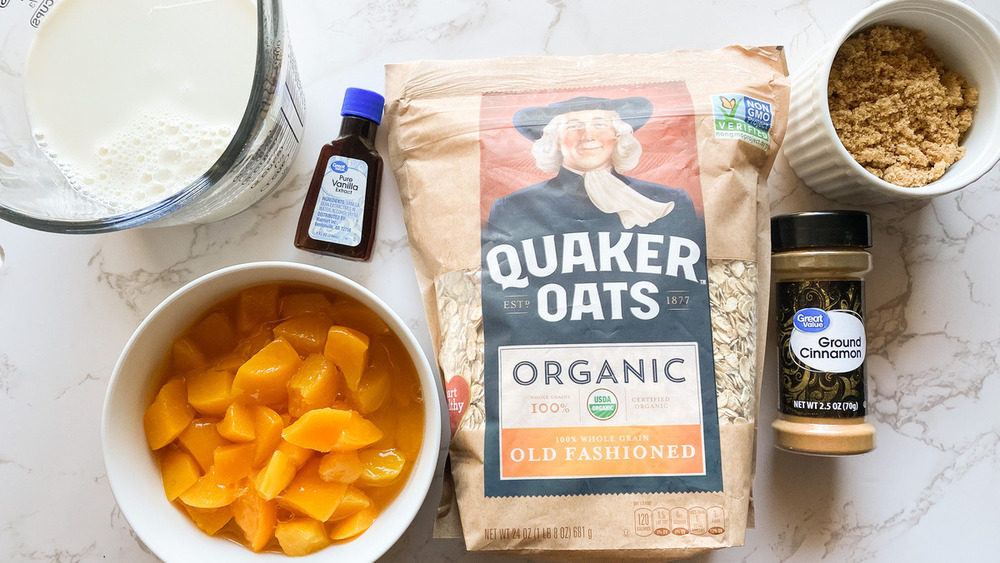 Kristen Carli/Mashed
There is some flexibility with some of the ingredients here, but you need to make sure you use the right kind of oats, or the recipe just won't work. For a great take on this handy dish, you'll need to grab some old-fashioned oats, milk, brown sugar, ground cinnamon, vanilla extract, and a 15-ounce can of chunky peaches.
On the fruit front, you can sub in all sorts of different options. "I actually made another batch of this using frozen pitted cherries instead of peaches," says Carli, adding: "I love the versatility of this dish. You can easily sub in any fruit, nuts, chocolate chips, or non-dairy milk. Chia and hemp seeds would be great additions."
Know your oats for this baked oatmeal recipe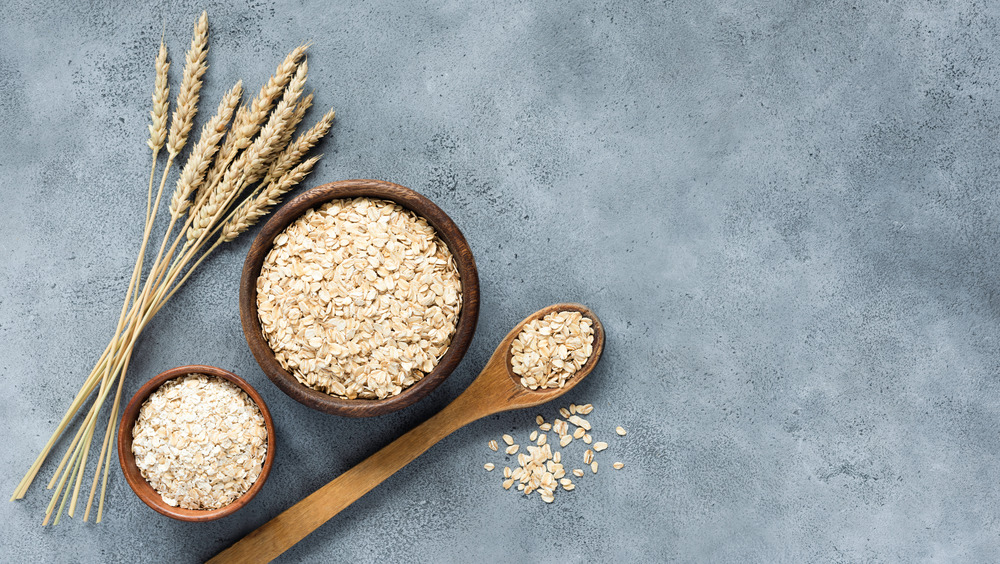 Shutterstock
Earlier we discussed using the right oats, and now let's clarify why that's important. Old-fashioned oats are also called rolled oats, and they are oat groats (yes, the whole piece of oat is called a groat) that have been steamed and flattened by being rolled between two steel drums. Being partially cooked and broken down, they are perfect for this recipe.
Steel cut oats are, as the name suggests, are groats that have been cut into a few pieces, but they are not pre-cooked at all and won't serve properly here. And nor will quick (a.k.a. instant) oats work properly because they are even more processed and liable to break down into too much of a mush-like texture here.
Combine all ingredients for this baked oatmeal recipe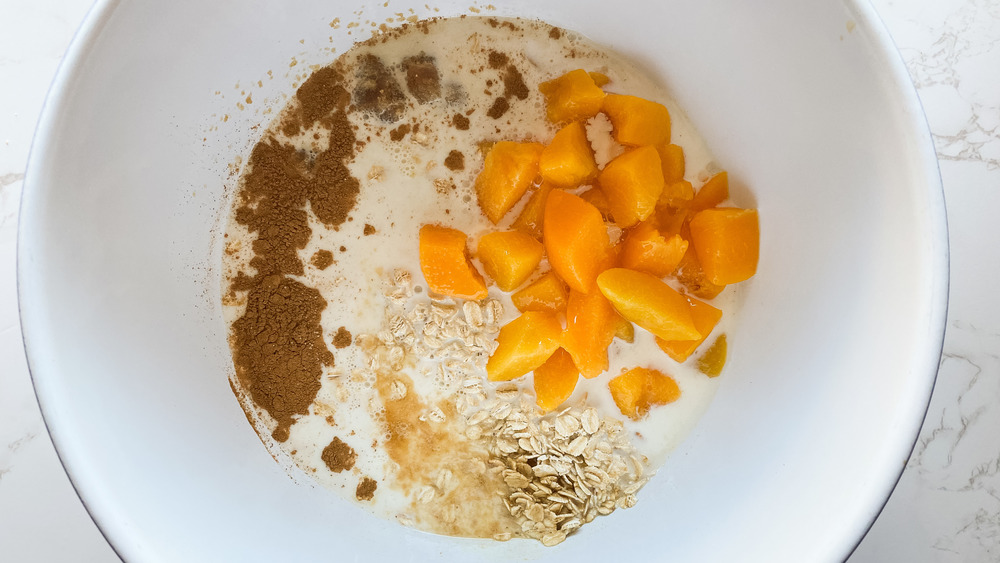 Kristen Carli/Mashed
If recipe prep gets much easier than this baked oatmeal, it's hard to imagine how. First, preheat your oven to 350 degrees Fahrenheit.
Now all you need to do is combine all of the ingredients in a large mixing bowl and then stir them to combine everything together. The only real mistake you can make with this whole recipe (aside from forgetting to set a timer and burning it to a crisp, of course) is not evenly mixing things up, making sure there are not large clumps of oats or pieces of fruit that need to be diced into smaller pieces.
Put in the oven and enjoy your baked oatmeal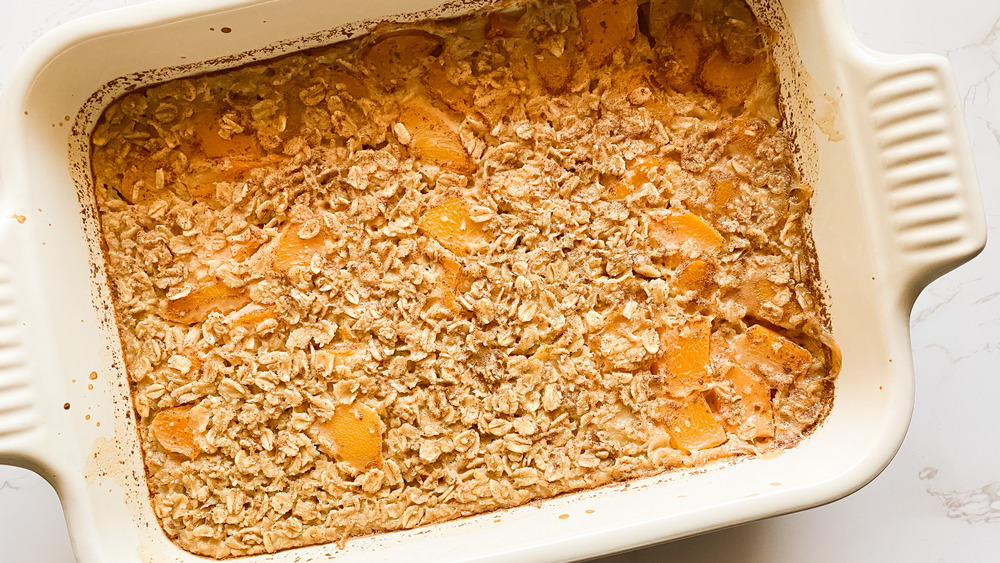 Kristen Carli/Mashed
Grease an 8x11-inch baking dish (or as close in size as you have), and then scoop the oat, milk, fruit, and sweetly spiced blend out into the dish. Spread everything out evenly, then bake it at 350 F for 40 minutes.
Now, pull your pan of baked oatmeal out of the oven and let it cool, then cut it into squares and enjoy one now and save the rest for breakfast or snacking in the days to come.
Baked Oatmeal Recipe
Sometimes, you need a way to get your morning off to a good start. And if it's something you can eat quickly, like this baked oatmeal, that's all the better.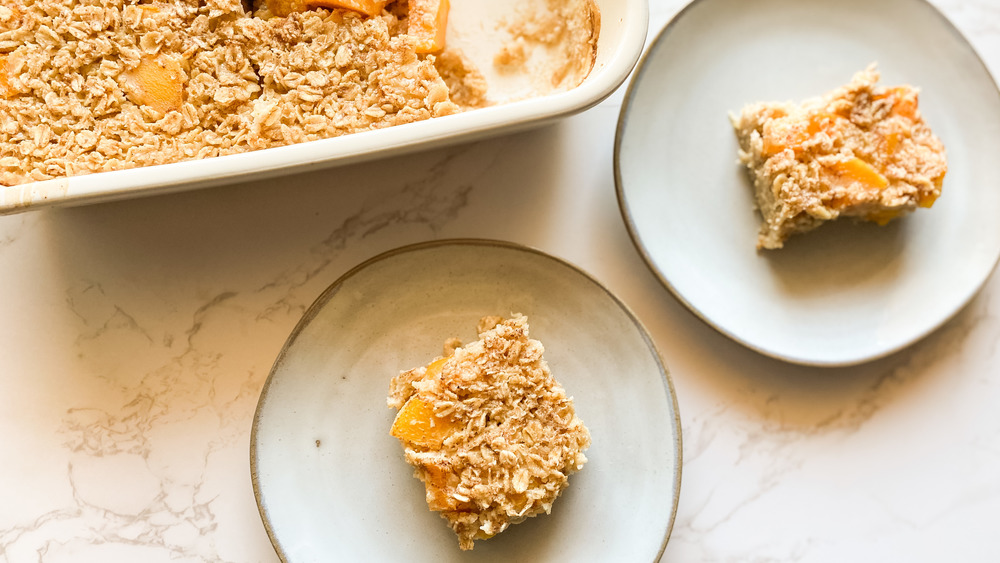 Ingredients
2 cups old-fashioned oats
2 cups milk (cow or non-dairy)
½ cup brown sugar
1 tablespoon ground cinnamon
1 teaspoon vanilla extract
1 15-ounce can chunky peaches (or substitute 2 cups of your favorite fruit — fresh, frozen, or canned)
Directions
Preheat oven to 350 degrees Fahrenheit.
In a large bowl, combine all ingredients, then stir to combine.
Pour mixture into an 8x11-inch baking dish and spread evenly.
Bake for 40 minutes.
Nutrition
| | |
| --- | --- |
| Calories per Serving | 159 |
| Total Fat | 3.0 g |
| Saturated Fat | 1.2 g |
| Trans Fat | 0.0 g |
| Cholesterol | 5.4 mg |
| | |
| --- | --- |
| Total Carbohydrates | 30.3 g |
| Dietary Fiber | 2.7 g |
| Total Sugars | 17.1 g |
| Sodium | 28.6 mg |
| Protein | 4.4 g |