Mayochup Fans Need To Try This Spicy New Sauce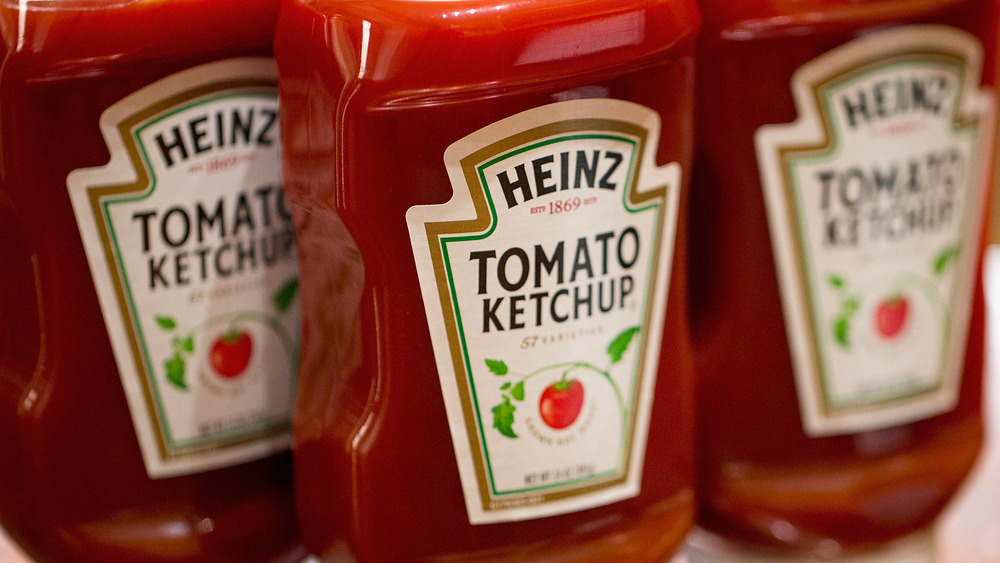 Scott Olson/Getty Images
Move over Mayochup because Heinz has just released three new sauce mash-ups that make plain ketchup look so boring. While the recent Kraft Heinz announcement has foodies salivating for this tasty treat, the reality is that this condiment craving might not be satisfied. Available only in Canada, these new Heinz condiments might require some creative shipping or someone with an inside connection (via Delish). Still, the three sauce mashups might be worth the effort to get one of those squeeze bottles.
As shared in a press release from Kraft Heinz Canada, the three new flavors are Heinz Tarchup, Wasabioli and Hanch. The flavors are said to be inspired by "Canada's favorite condiments." While the names seem somewhat self-explanatory, the sauces are combinations of two common condiments. Tarchup is ketchup and tartar sauce; Wasabioli is wasabi and garlic aioli; and Hanch is hot sauce and ranch. 
Kraft Heinz Canada shared that the sauces were inspired by fan creations as posted online. Now, instead of creating these food mashups in the home kitchen, Heinz has launched them in stores for a limited time. Depending on the success of this saucy launch, could more creative condiments hit store shelves?
Heinz misconceptions, mashups, and more
While the name Heinz might instantly bring to mind an iconic glass bottle emblazoned with the number 57 and slow pouring ketchup, that classic condiment was not the first offering by the brand. The first recipe that the company offered in 1869 was a horseradish, according to USA Today. Over time, tomato ketchup became the more recognizable product, but there are not 57 varieties of ketchup or even 57 tomatoes in the bottle. Founder Henry John Heinz chose the number because he thought it was lucky and liked the look of it (via USA Today).
More recently, Heinz has offered some flavor mashups, most of which feature a lot of mayonnaise, like Mayochup, Mayomust, Kranch and Mayocue. These combination sauces might not have been a Heinz innovation, but they do have a convenience factor (via Eater). As Daniel Gotlib, associate director of brand building and innovation at Kraft Heinz Canada, said, "There's a lot of appetite for Heinz mashups as consumers continue to explore bolder and more unique flavor pairings." With three more condiment mashups hitting Canadian store shelves, it begs the question of what new flavor combination is on the horizon? Could masala-ketchup be the next must-try offering?