McDonald's Fans Won't Want To Miss This Uber Eats Promotion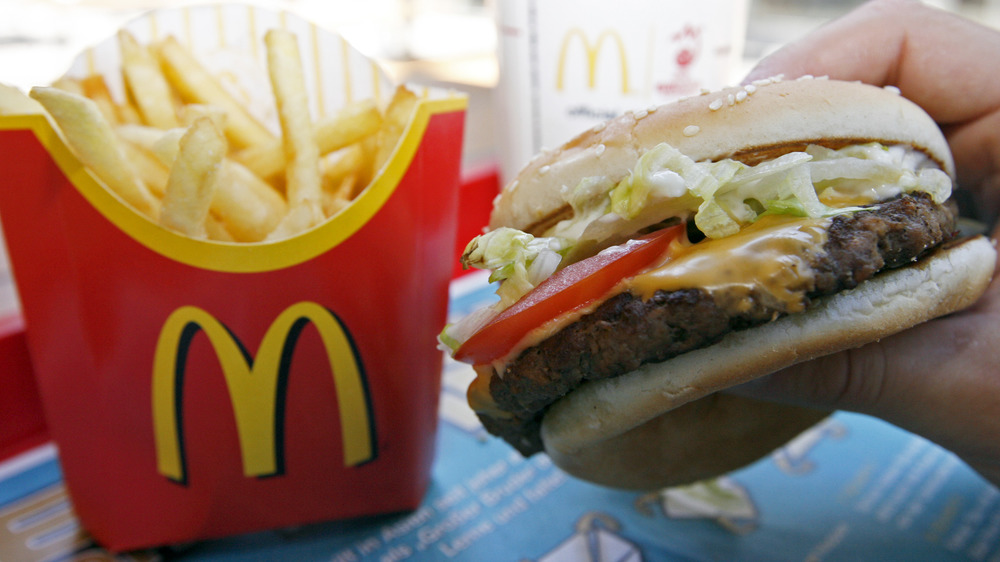 Bloomberg/Getty Images
McDonald's and Uber Eats are teaming up again, to encourage people with Big Mac or McNuggets cravings to have their next family meal delivered ... for free. McDelivery through Uber Eats comes to your front door with no delivery fee on orders of $20 or more, now through March 21, according to the McDonald's website.
The Uber Eats-McDonald's arrangement is a 21st century version of the old 19th century saying, "There's no such thing as a free lunch." That expression is said to have originated in the American saloons of the 1800s, which offered free lunches to people who ordered drinks (via Investopedia). Just as no one should expect bars to just give food away, no strings attached, Uber Eats isn't donating its services out of some sense of charity. Read the fine print on this McDonald's and Uber Eats deal, and you'll see that Uber Eats will still tack a service fee onto your food bill. Uber's website puts that fee at 15 percent. That turns your $20 order into a $23 order. Going back to the small print on the McDonald's website, you'll note that the prices on the Uber Eats app might be higher than what you would pay if you drove to the restaurant yourself.
Menu prices can be higher on Uber Eats than at McDonald's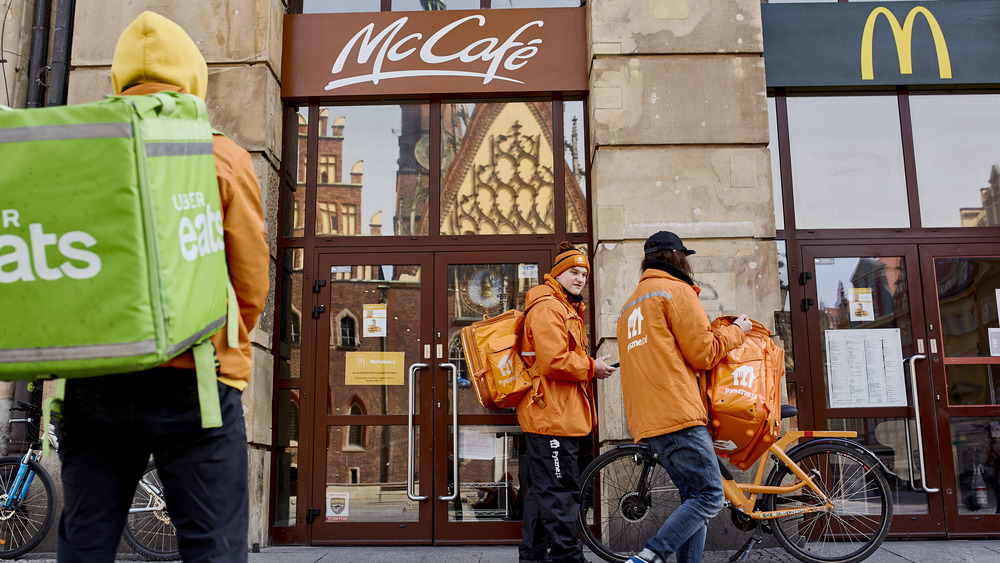 Bloomberg/Getty Images
Restaurants must pay delivery services such as Uber Eats a commission of 25 to 35 percent, which explains why the menu price on the Uber Eats app can be higher than the price at the restaurant (via Global News). This Mashed writer compared the prices on the McDonald's app, using the "pickup" option, to those on Uber Eats. The delivery service's prices were consistently 10 percent higher: for example, $9.19 for a Big Mac meal on the chain's app, compared to $10.11 for the same food through Uber Eats.
You might think to yourself, "McDonald's is a huge corporation that can afford to eat the commission that food apps charge." Maybe, and not only that, but the big chains actually pay smaller commissions to the delivery apps than other restaurants (via The New York Times). An anonymous Postmates employee even told The Times that the big chains will raise the prices for delivery to give the delivery companies a higher return on those small commissions. That's what you call looking out for a business partner ahead of the customer.
The delivery fee varies but a blogger on Medium who has studied Uber Eats closely says it ranges from 99 cents to $3.99. So despite the tricky pricing at Uber Eats, the bottom line is this: If you're an Uber Eats regular, you will save a few bucks getting your McDonald's delivered, through March 21.