Costco Fans Are In Love With These Sweet Chili And Sour Cream Kettle Chips
Move over plain potato chips. Costco is selling Red Rock Deli sweet chili and sour cream kettle chips and people are obsessed with the tangy flavor. As spotted by the Instagram account, @CostcoDeals, a Washington area Costco is selling a 22-oz bag for $5.99 (via Instagram). 
While the Instagram account doesn't describe the flavor, Red Rock Deli states that this chip is sweet, tangy, and "best enjoyed when hungry," (Red Rock Deli). These chips are "Non-GMO Project verified, gluten-free and have no artificial colors or flavors," they add. According to FoodSided, the brand previously described the sweet chili and sour cream kettle chips as "thick, crunchy deli style potato chips ... that blends a subtle kick of chillies and paprika with the smooth tanginess of sour cream." While it appears that the chips are somewhat spicy, the flavors seem quite different than the flamin' hot chips that are filling store shelves.  
Once only available in Australia, Red Rock Deli debuted under the Frito-Lay brand in 2018 (via Frito-Lay). In addition to the sweet chili and sour cream kettle chips, Red Rock Deli currently offers sea salt, fire-roasted jalapeño, and lime and cracked pepper as part of their flavor lineup. Whether it is the flavors, textures, or just the desire to try a different brand, according to Costco shoppers, these chips are a must-try.
The sweet chili and sour cream chips are drawing fans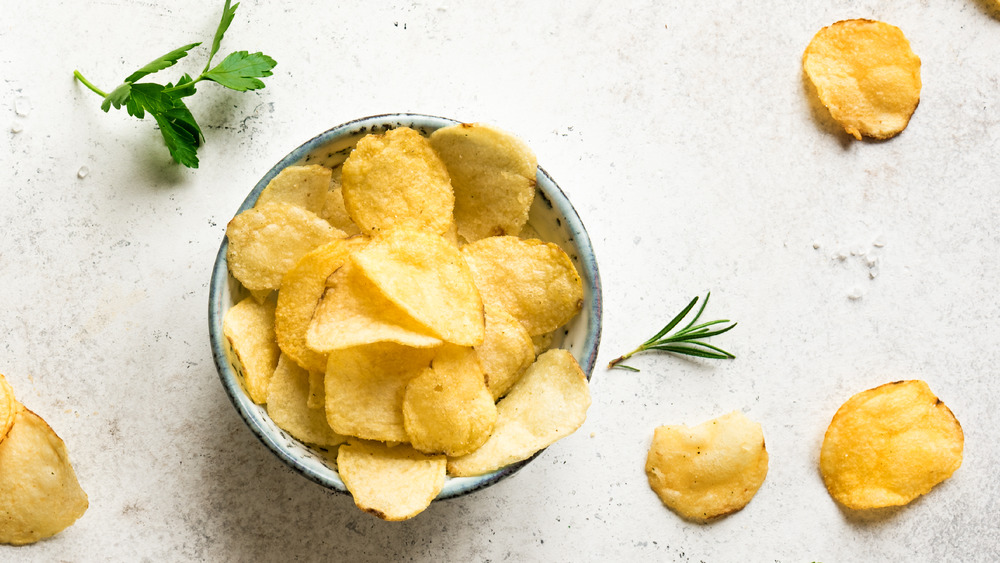 Shutterstock
In a 2021 U.S. Snack Index poll released before the Super Bowl, Frito-Lay found that "52 percent of consumers want to try something new and value variety," (via Frito-Lay). While the favorite snack might always have a spot on the shelf, new flavors, like the Red Rock Deli sweet chili and sour cream kettle chips found at Costco, can pique people's interest. Commenters took to Instagram to praise the Red Rock Deli kettle chips: "Those are good!!!" Another user commented, "ooooooo my favorite," while others expressed "needing" them in their life. One Costco shopper said if you normally avoid spicy foods, you'll still be a fan: "There's a slight kick but it's not anything too crazy."
Recently, Kettle Chips launched Habanero Lime (via Chewboom) and Late July added a Beat The Heat Red Pepper flavor (via FoodBev). These offerings also join Ruffles' Flamin Hot BBQ (via Brand Eating). It appears that bold flavors are still feeding consumers' fiery cravings (via Food Beverage Insider). It's no wonder that the sweet chili and sour cream kettle chips from Red Rock Deli are drawing people to Costco.