The Great American Takeout Wants You To Order In Tonight. Here's Why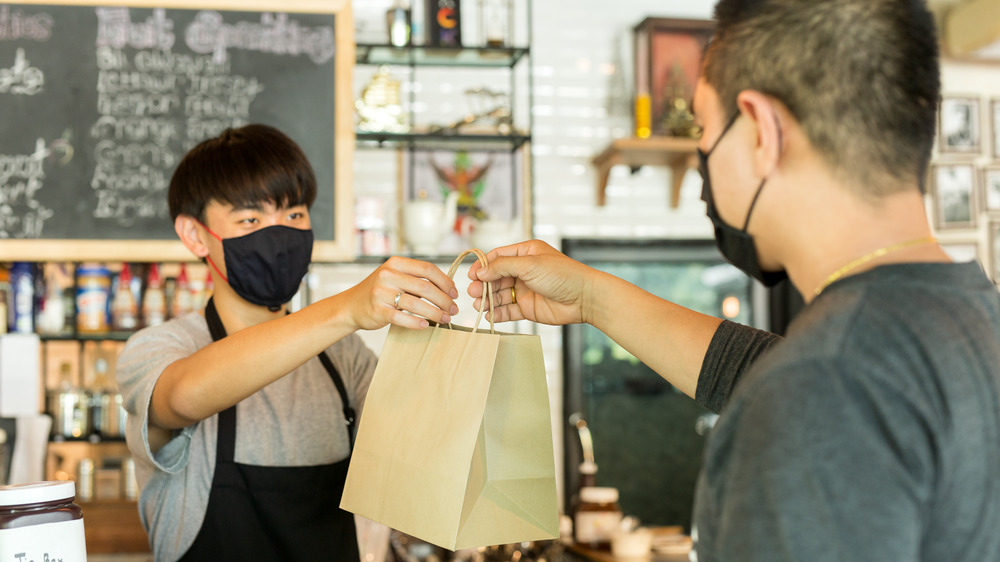 Shutterstock
It has been a tough year for nearly everyone, but one industry in particular that continues to struggle with the effects of the coronavirus pandemic is the restaurant industry. In fact, due to restrictions on indoor gatherings and other policies designed to limit the spread of the virus, many beloved restaurants have been forced to shut down and are unable to host people in-person (via The Hill).
In response, fans and even large brands, such as Burger King, have taken to social media to try and help the small businesses that are most impacted by these restrictions. If you're looking to help too, there's good news.
One year ago today, on March 24, 2020, a group of eateries came together to encourage people to order takeout and support their favorite restaurants, according to CNN Business. The promotion was so successful that it's happening again this year! By simply ordering your favorite takeout and posting a picture on Instagram tagged with #TheGreatAmericanTakeout, you will not only be helping your favorite restaurants, but you'll also be indirectly contributing money for two non-profits that benefit workers (and their families) in the sector (via The Great American Takeout). Here's everything you need to know.
What you need to do to support The Great American Takeout this year
According to The Great American Takeout website, the steps to help out are super simple. First, order a meal from a restaurant of your choice, then take a pic and post it on Twitter or Instagram with the hashtag #TheGreatAmericanTakeout. That's it! In addition to spreading the word about your favorite local restaurant, you'll also be raising money at the same time. How? The website explains that sponsors will give $10 for every picture that's posted. This money will then go to CORE and the National Restaurant Association Educational Foundation.
So far, there are already some pretty mouth-watering posts from pizza in Rogers, Alaska, to burgers in Buffalo, New York, and that's just the beginning (via Instagram). If you decide to take part (after all, who needs a reason to order takeout?), don't forget to use the hashtag and let your followers know that they can participate too!