The Halal Guys Has Good News For Vegan Fans
If you've never tried Halal Guys, you're missing out on some of the best consistent quick serve halal food around — that also comes with a rewards program. Prominently featuring chicken and gyro over rice, these platters of food let you choose between creamy and savory or burn-your-mouth-down hot sauces. The biggest complaint of many is that while halal-certified (via Halal Guys) most of these dishes were off limits to vegans. 
That was until the brand introduced the new meatless gyro, vegan tzatziki, and eggplant hummus.
Branching out from the Egyptian food cart that catered to New York's taxi drivers, this national chain has joined the growing trend of restaurants serving meat-free and vegan options. The meatless gyro is said to be available only for a limited time (via Halal Guys), but we can hope that with popularity it might make it onto the menu of regular offerings (please). The gyro "meat" is made from, "pea protein, brown rice, coconut oil, Halal Guys spice mix, beets, mushrooms, and paprika." This product is also listed as soy-free and gluten-free.
A vegan gyro treat for everyone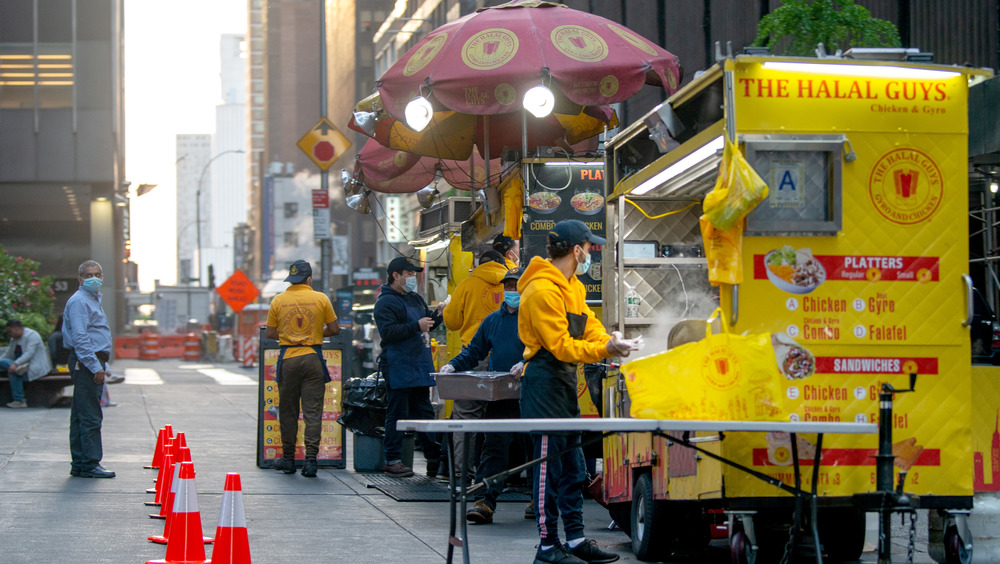 Alexi Rosenfeld/Getty Images
Your new vegan gyro meat can be served on a platter like other Halal Guys offerings, atop seasoned rice and paired with a lettuce tomato salad with sauces of your choice. New to this lineup is the vegan tzatziki sauce, made from aquafaba which is described as the liquid leftover after cooking chickpeas. Also new and chickpea-based is the vegan eggplant hummus, described as containing "chickpeas, mixed with tahini sauce, olive oil, lemon juice and spices." 
Don't forget, there were already some tasty vegan options on the menu including falafel and fries, so you can really load up those platters and have a feast now (via Vegan Milwaukee).
The meatless gyro is already making headlines in the vegan food scene, with PETA granting it a signature "Great Taste Award" for the first-ever vegan gyro (via PETA). "The Halal Guys is saving animals, satisfying customers, and making history as the first major fast-food chain to offer a vegan gyro," says PETA Executive Vice President Tracy Reiman.
People have different reasons for choosing meatless meals, but all we know is we are so excited to try out each new dish.