Why Krispy Kreme Is Giving Away Free Donuts And Coffee On Mondays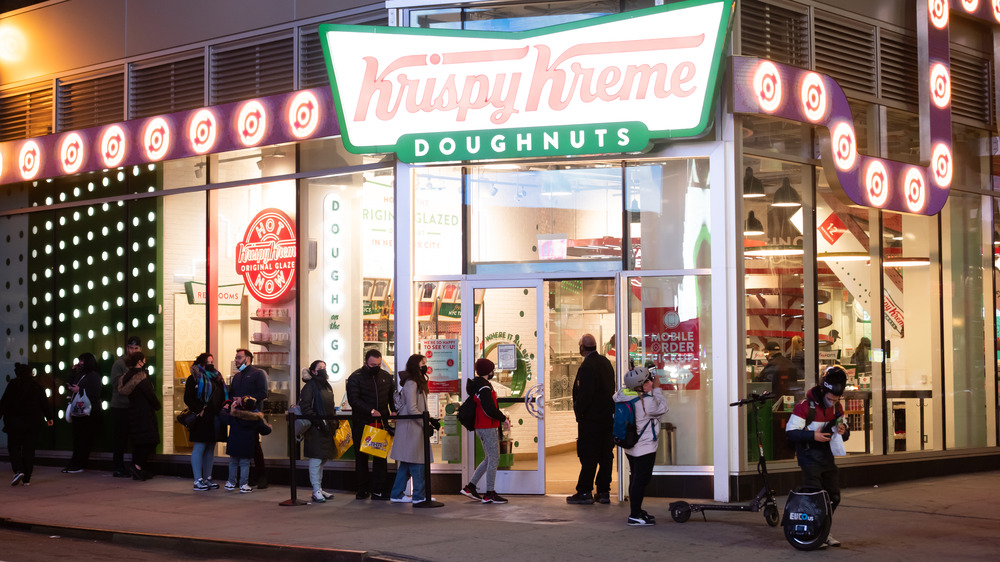 Noam Galai/Getty Images
The next month is going to be a pretty sweet one for donut lovers. Whether you're a fan and frequent visitor of Dunkin' or Krispy Kreme, you can score free donuts from either company. While most people have already heard about taking their COVID-19 vaccination card to get a free donut from Krispy Kreme, the beloved chain just revealed another free donut promotion that doesn't require a shot. But this new promotion only runs through May 24, according to USA Today, rather than the rest of the year. 
Krispy Kreme will be showing everyone a little love by giving away free donuts every Monday for a little less than two months. It is also throwing in a free medium coffee too because what's a delicious glazed donut without a great cup of steaming coffee? Krispy Kreme's chief marketing officer Dave Skena told USA Today, "It's a new work week, it's been a long year since lockdown so why don't you take out a little time for yourself and have a nice cup of coffee and a doughnut." It's definitely one way to find joy in the little things — for a limited amount of time, at least.
Here's how to get one
Though the deal was officially announced on Monday, March 22, the free Krispy Kreme coffee and donut deal didn't kick off until today, Monday, March 29 (via Krispy Kreme). No purchase is necessary and the freebies will be available at all participating locations across the United States. The primary locations that the promo doesn't apply to include Puerto Rico; Times Square in New York; Dothan, Alabama; and Uncasville, Connecticut, according to USA Today.
Some other deals and specials you might want to look out for include chocolate glazed donuts on Friday, April 2, as well as the release of the brand's mini spring donuts, which are available now. These come with designs featuring mini yellow flowers, blue birds, and bunny bums jumping through the center hole of green-glazed donuts. You can also get a dozen donuts with one smiley face donut for one dollar when you buy a dozen as a part of the Be Sweet Weekends promo. So, pick up some festive treats for those you love and treat yourself to a free donut and coffee on Mondays, too. It's a winning combination for all.