Pao De Queijo Recipe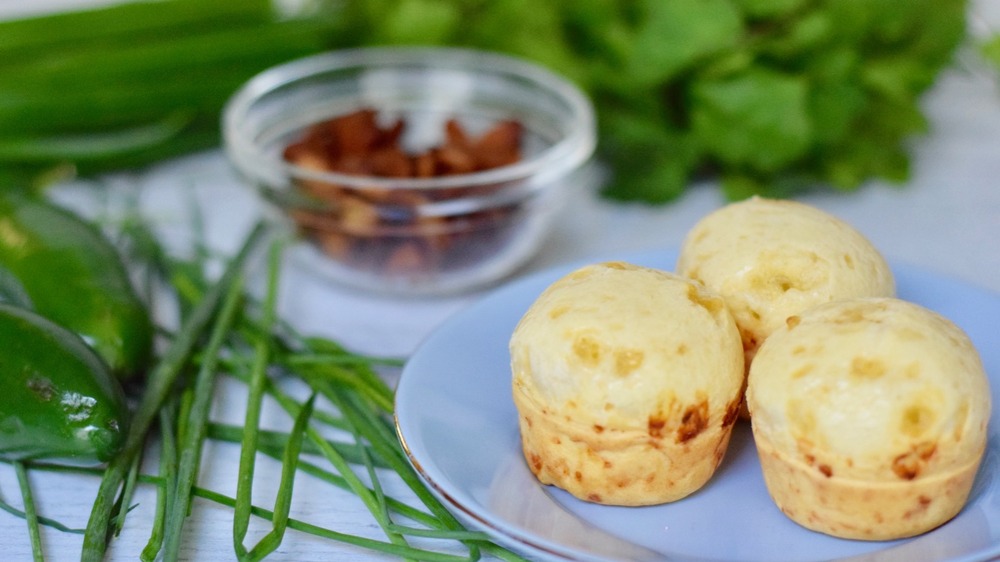 Tara Rylie/Mashed
Whether you're attending a family gathering in Brazil, or eating at a Brazilian-style restaurant Stateside, there's bound to be pao de queijo on the table. This Brazilian cheese bread is the equivalent of North American morning doughnuts or bagels, and it's not hard to understand why. The puffed, cheesy, two-bite delights are chewy in the center with a crisp, thin crust on the outside: They're simply irresistible and it's impossible to eat just one. 
Pao de queijo also go with basically everything, and they're perfect for snacking on while you enjoy your morning cup of Joe or an afternoon beer in the summer. These everyday treats also great for soaking up soup and eating alongside fried eggs and bacon, or they can be made extra big and used as sandwich bread. Follow along as chef Tara Rylie of RylieCakes walks you through the five basic steps for whipping up these fluffy, savory bites in no time.
Each ingredient for homemade pao de queijo matters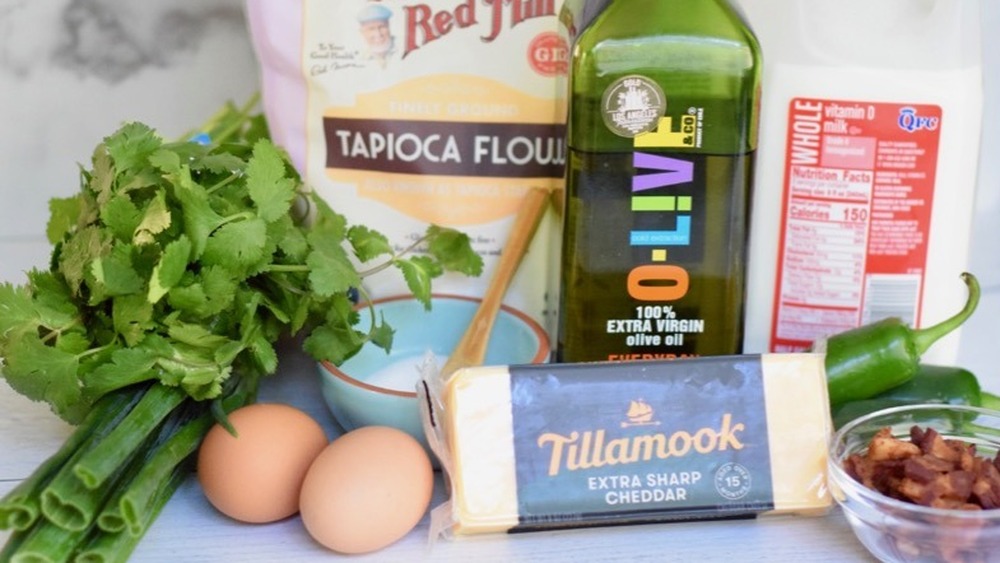 Tara Rylie/Mashed
Pao de queijo can be made with only six ingredients: eggs, olive oil, milk, cheese, salt, and tapioca flour. However, there are many things you can add to these cheesy bites to make them that much more delicious. 
We suggest choosing one herb and one meat and adding a quarter cup of each to your batter. Crisp bacon and scallions are a crazy good combination, and they add a great crunch to each bite. Ground chorizo and cilantro give pao de queijo a spicy, fresh take. Italian sausage and parsley add an uber flavorful touch. And just switching up your cheese, say from cheddar to pepper jack, can take these bites to a whole new level.
You'll also need a food processor and mini muffin pan for this recipe.
Add your tapioca flour last when making pao de queijo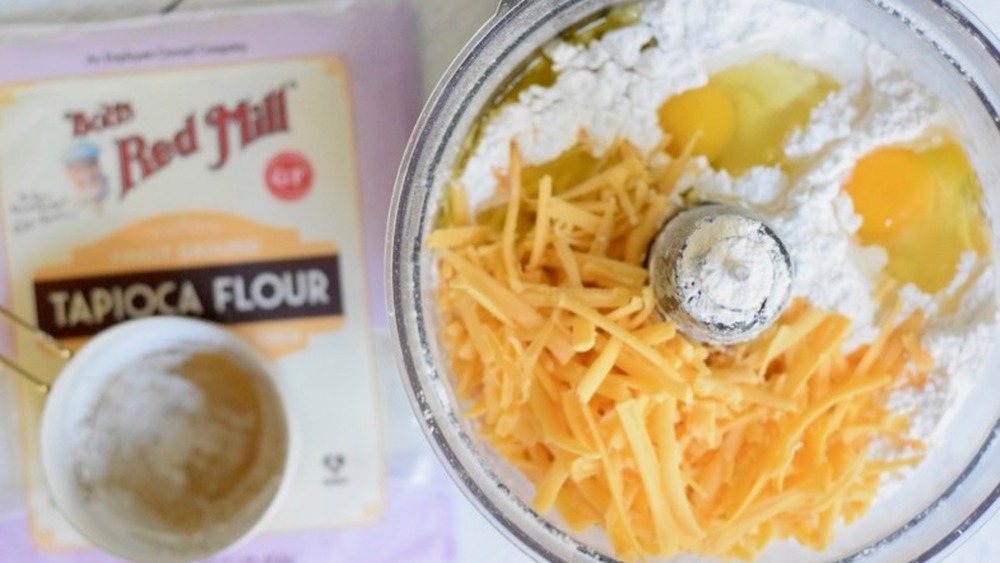 Tara Rylie/Mashed
When making pao de queijo, it's super important to add your ingredients in the order listed. So add your eggs, olive oil, milk, cheese, and salt first. Then, add your tapioca flour last before pulsing the mixture. The reason for this is that tapioca flour is super starchy, and without liquid underneath it, it can and will jam your food processor. Trust us, we've made this mistake! (And because of this, we also don't recommend using a blender here, since most blenders won't hold up to the thickness of the tapioca flour.)
Once your batter is ready, pour it into a two-quart liquid measuring cup or a large bowl and refrigerate for at least thirty minutes. You can bake the batter off right away, but the pao de queijo will not rise as much as if you let the batter sit for a while. This batter can sit refrigerated for up to five days before baking, making this a great recipe to prep ahead of time.
Portion and bake the pao de queijo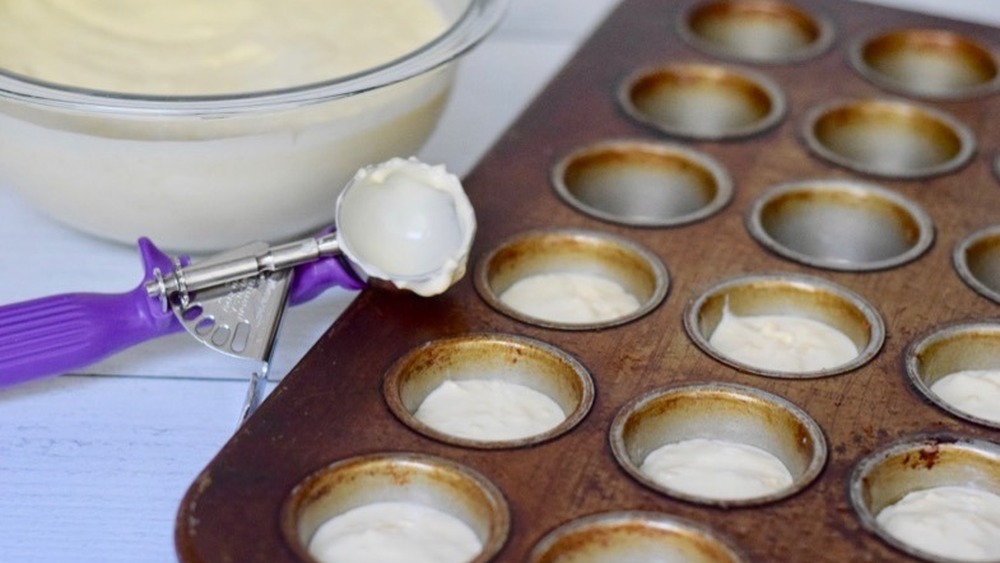 Tara Rylie/Mashed
When the batter is set and ready, portion it into a prepared mini muffin pan, with one tablespoon of batter per cavity. We don't recommend using a regular muffin pan for baking these as it will cause your pao de queijo to flatten. 
A small ice cream scoop works great here!  Bake the bites for eighteen minutes, rotating the pans halfway through. The pao de queijo are done when puffy and starting to brown. Place your pans on a wire rack and let cool slightly until the bites are cool enough to handle. In our humble opinion, pao de queijo are best when warm and fresh from the oven!
Store leftovers in an airtight container on your countertop. For best results, reheat by microwaving for ten to thirty seconds, depending on the strength of your microwave; this will bring the pao de queijo back to warm, cheesy goodness.
Pao De Queijo Recipe
You don't have to go to Fogo de Chao or any other Brazilian steakhouse for pao de queijo, the Brazilian cheese bread that's packed with puffy, cheesy goodness.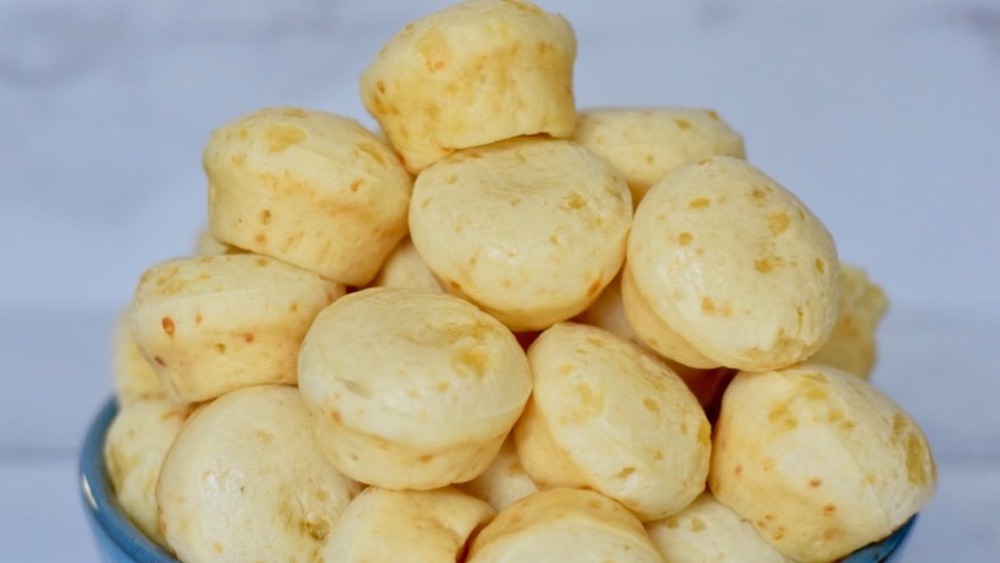 Ingredients
2 eggs
⅔ cup olive oil
1½ cups whole milk
1½ cups shredded sharp cheddar cheese
2 tsp salt
3½ cups tapioca flour
Directions
Preheat oven to 350 degrees Fahrenheit. Coat two 24-cavity mini muffin pans with cooking spray.
In a food processor, pulse together eggs, olive oil, milk, cheese, salt, and tapioca flour until well combined. Be sure to add tapioca flour last.
Pour batter into two-quart liquid measuring cup or large bowl.
Refrigerate for 30 minutes or until ready to use.
Portion batter into prepared pans, about 1 tablespoon per cavity.
Bake for 18 minutes, rotating pan halfway through. pao de queijo are done when puffy and starting to brown.
Place pans on wire rack and let cool slightly.
Remove pao de queijo from pan as soon as you can and dig in -- they're fantastic straight from the oven!
Nutrition
| | |
| --- | --- |
| Calories per Serving | 269 |
| Total Fat | 16.5 g |
| Saturated Fat | 4.8 g |
| Trans Fat | 0.2 g |
| Cholesterol | 39.9 mg |
| | |
| --- | --- |
| Total Carbohydrates | 26.4 g |
| Dietary Fiber | 0.0 g |
| Total Sugars | 1.4 g |
| Sodium | 201.7 mg |
| Protein | 5.0 g |