Italian Easter Bread Recipe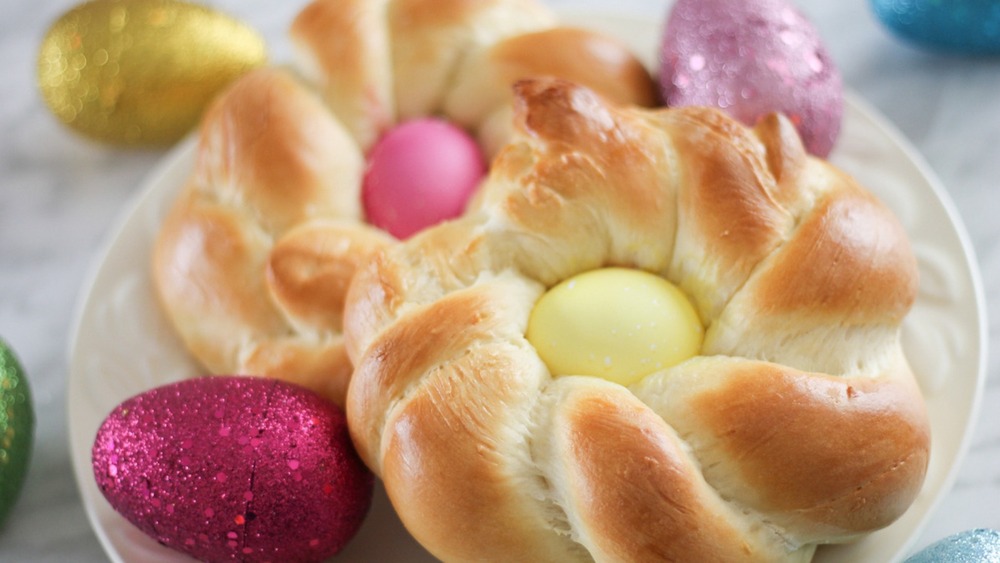 Melissa Olivieri/Mashed
While stores at Easter feature all manner of egg-shaped confectionery including cakes, cookies, and obviously ... Easter candy! One seasonal treat though actually incorporates brightly-colored eggs right into the recipe. These Easter egg breads are typically found wherever Mediterranean foods are sold, although the different breads vary a bit by country of origin. 
A Portuguese version called folares is served for Purim as well as for Easter, and the eggs may be left undyed. The Greek egg bread known as tsoureki is easily recognized by its bright red eggs, a color the Greek Reporter says is used to symbolize the blood of Christ. A less sanguine, more spring-like version is the pane di Pasqua (Easter bread) native to Italy. Curious Cuisinière says the slightly sweet, fluffy bread symbolizes the staff of life, while the eggs represent the risen Christ and the hope he brings of new life, so they are dyed in bright, pretty colors befitting a celebration.
If you've ever seen this gorgeous bread in a bakery and marveled at its intricacy, you might be surprised to find out that it's not impossible to recreate in your own kitchen. Melissa Olivieri, aka The Olive Blogger, came up with a version that makes individual-sized bread loaves that would are perfect for a festive Easter brunch. Beautiful as it looks, you might find it hard to believe that the most time-consuming part of baking this bread is actually dyeing the eggs, something that's too fun to be considered a chore.
Gather the ingredients for the Italian Easter bread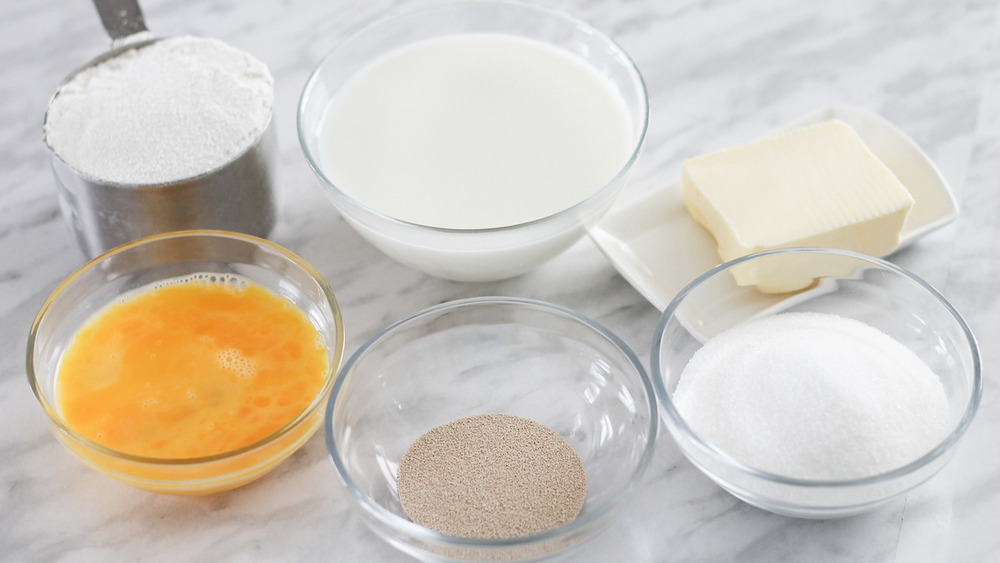 Melissa Olivieri/Mashed
One thing this recipe requires is a whole bunch of eggs. Better have an entire carton on hand since you'll be using most of it: six eggs for the decorations, two for the dough, and one for the egg wash. You're also going to need food coloring for the egg dye as well as white vinegar –- just the cheap distilled kind; no need to get too fancy. If you prefer, you can also color the eggs using another food-safe method of your choice. (No Sharpies, though, While their ink does smell of bananas, it's still not edible.)
For the dough itself, in addition to the aforementioned pair of eggs you'll need just six more ingredients: milk, butter, instant yeast, salt, sugar, and flour. No flavorings, no fruit, no nuts needed. This Italian Easter egg bread is plain, slightly sweet, and really needs no embellishments apart from the colored eggs.
Boil the eggs for the Italian Easter bread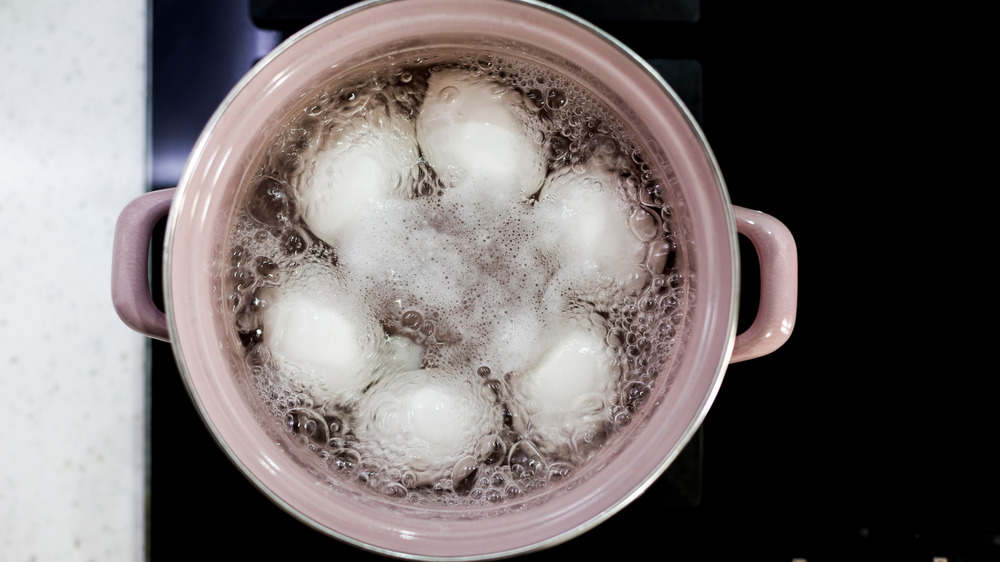 Shutterstock
If you are making this Italian Easter bread after the holiday, you might be able to skip this step, since chances are you've already got a sufficiency of colored eggs on hand. Should you need some eggs specifically for this dish, though, you'll need to boil half a dozen of these first. (You may want to make a few more, just in case there are any oopsies or you just get hungry.)
While many recipes for hard-boiled eggs begin with the eggs in cold water, Serious Eats says it's best to start by boiling a pot of water first, then carefully lowering the eggs in one by one and turning the heat down to a simmer. The idea is that a hot start allows for easier shell peeling. Hot or cold conundrum aside, let the eggs cook for 11 minutes, then remove them to a bowl of cold water where they should chill for 10 to 15 minutes before you proceed with the dyeing process.
Dye the eggs for the Italian Easter bread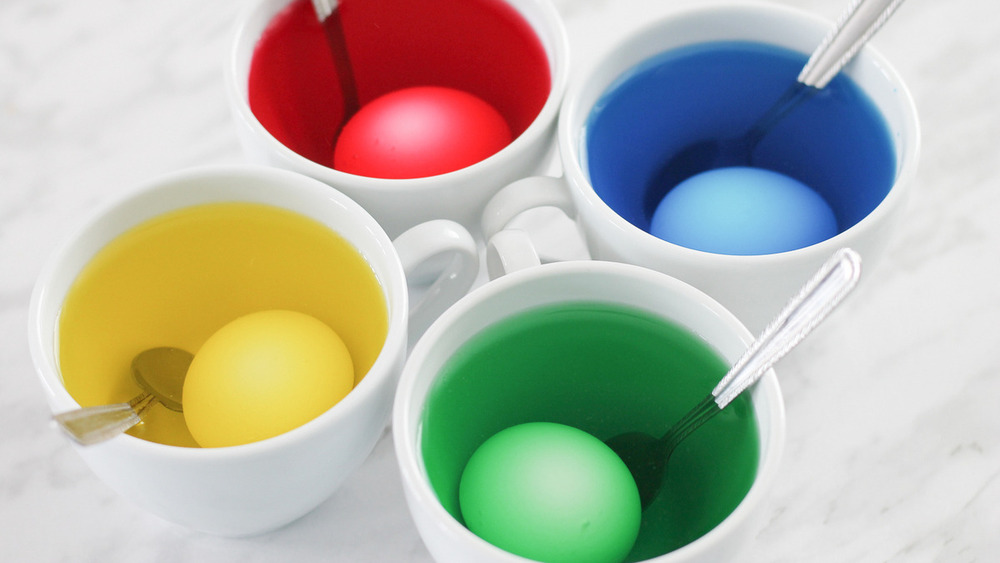 Melissa Olivieri/Mashed
Once you've boiled your eggs, you'll need to dye them, something Olivieri says can be done quite simply using only water, vinegar, and food coloring. Boil 3 cups of water, then divide it between 6 teacups, mugs, or small bowls. For the math-averse, this amounts to about 1/2 cup of water in each one, although you can just eyeball it here. Add 2 teaspoons of vinegar to each cup, then add 4 to 6 drops of food coloring -– preferably a different color in each cup. If you remember your kindergarten lessons in color mixing, you can even combine a few drops of red and a few of blue to make purple, or yellow and red to get orange. (Don't mix all the colors together, though, unless you want muddy brown eggs.) Stir until the food coloring's dispersed throughout the water, then add one hard-boiled egg into each cup. Let the eggs sit and soak up some color while you prepare the dough.
If you want to get creative, you can also create your own egg dyes using food products you may have on hand. Items such as blueberries, onion skins, grape juice, and even coffee grounds can all be repurposed to make DIY all-natural egg dyes, or you could make cool, cloudy-looking eggs dyed with whipped cream or even eggs dyed with Kool-Aid.
Make the dough for the Italian Easter bread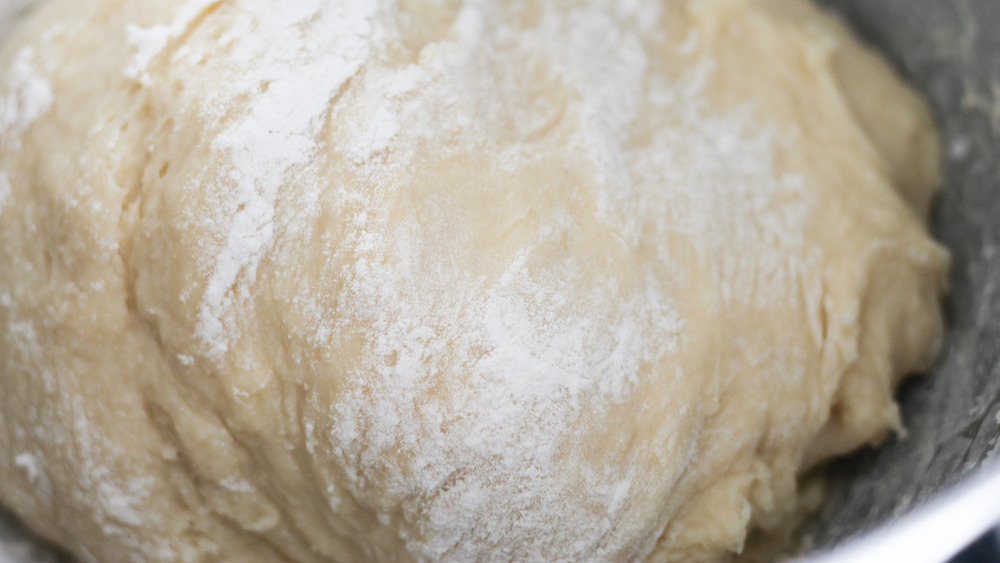 Melissa Olivieri/Mashed
Here's hoping you didn't boil all the eggs you have on hand, since you'll now need to break two raw ones and lightly beat them in a medium-sized bowl, or in the bowl of a stand mixer, should you happen to have one of those. Add the yeast, salt, and sugar, then mix until well-combined. (If using a mixer, the paddle attachment should be used here.)
In a small pot, heat the milk and the butter until the milk is warm and the butter melted -– do not let the mixture boil! Now take the warm milk/butter mix and add it to the egg mixture along with half the flour. Knead the dough until smooth (you can use the dough hook now if you're using that mixer), then add the remaining flour a little bit at a time until the dough no longer sticks to your hands. Cover the bowl with a damp towel and set it in a warm place until it's doubled in size, something that should take about an hour.
Form each individual loaf of Italian Easter bread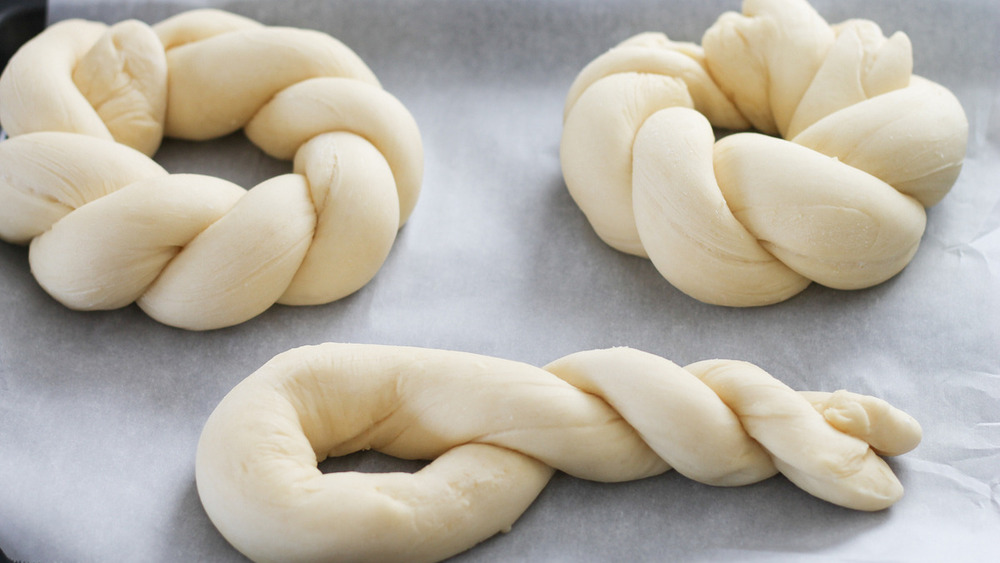 Melissa Olivieri/Mashed
Once the dough has risen, punch it back down again. Go ahead and give that bread a beatdown, it's necessary to get all the excess air out. Now cut that subdued dough into six equal pieces to make the individual bread loaves. Olivieri says you can actually cut the dough into even smaller pieces if you want to make mini-loaves, but in this case, you'll need to boil and dye additional eggs.
Assuming you've stuck with the six pieces of dough, roll each one into a 16" log. (If you've gone with 12 pieces, go with 8" logs. If you've chosen a different number, you get to do the math.) Twist each log to form a "braid," then bring the ends together and pinch them to form a ring. Place the rings on a parchment-lined baking sheet and let them rise, uncovered this time, for another hour until they've doubled in size.
Add the eggs and bake the Italian Easter bread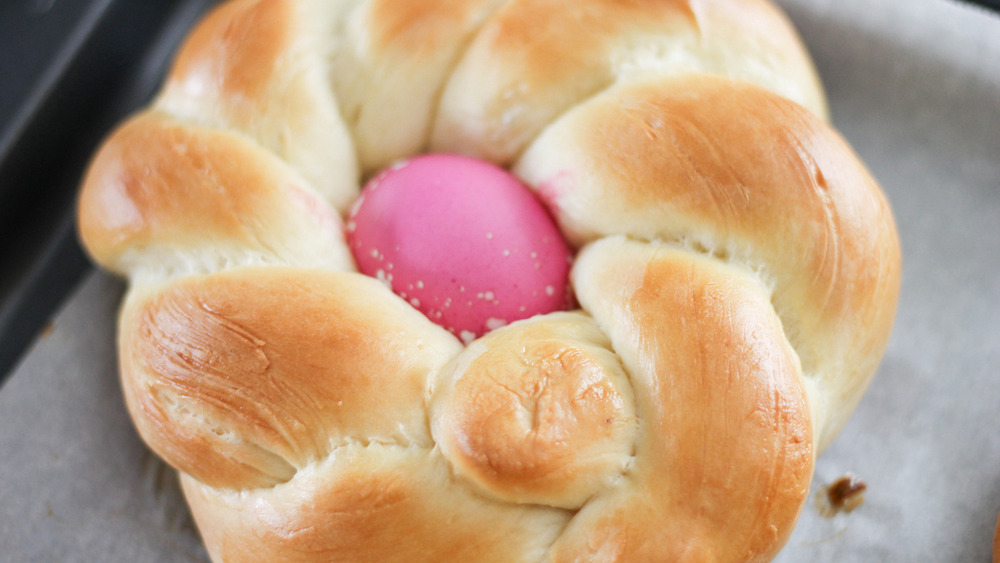 Melissa Olivieri/Mashed
After the dough has risen for the second time, preheat the oven to 350 degrees. Then make a quick egg wash by mixing that last raw egg with 1 teaspoon of water and use it to brush the bread dough. Place a single dyed egg in the center of each ring, then bake the bread loaves for 20 minutes or until they are lightly browned on top.
While the Italian Easter bread will look gorgeous as is, what with the golden-brown crust topped with pretty dyed eggs, Olivieri says you can also embellish the loaves by scattering "festive sprinkles" across the top of the unbaked dough right before it goes into the oven. This addition will give even more color to a beautiful, springtime treat.
Italian Easter Bread Recipe
Move over, Easter ham, because this beautifully braided Easter bread is the new star of the dinner table. Don't worry, this recipe's easier than it looks.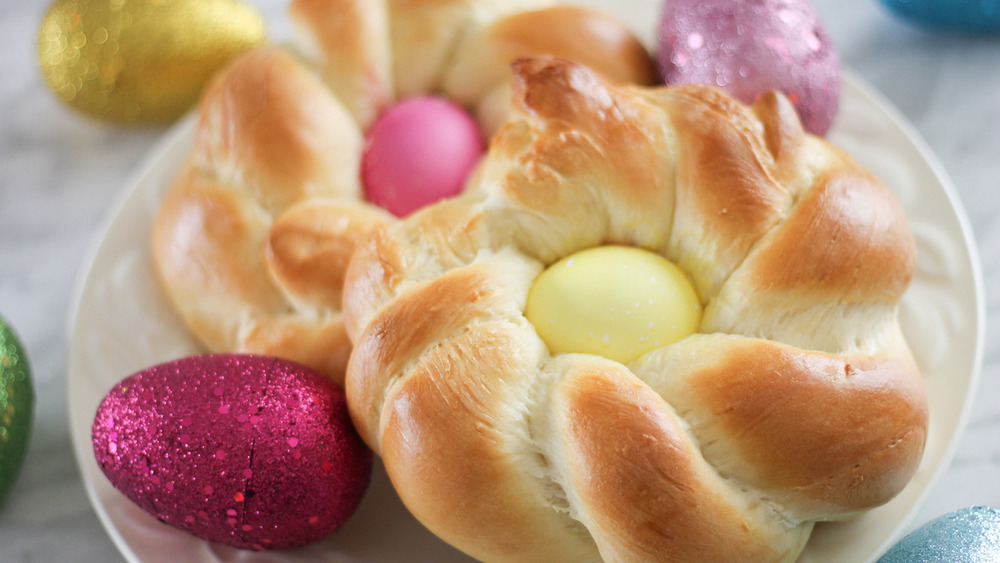 Ingredients
3 cups + 1 teaspoon water, divided (plus additional water for boiling eggs)
9 eggs, divided: 6 for dyeing, 2 to make the dough, 1 for egg wash
12 teaspoons white vinegar
food coloring
1 ¼ cups milk
⅓ cup butter (5 tablespoons + 1 teaspoon)
2 ½ teaspoons instant yeast
½ teaspoon salt
½ cup sugar
4 to 4 ½ cups all-purpose flour
Optional Ingredients
Directions
Hard boil 6 of the eggs and set aside to cool.
Boil 3 cups of water, then divide into 6 small cups and add 2 teaspoons vinegar to each cup. Add 4 to 6 drops of food coloring to each cup and stir before adding the cooled eggs to dye. Allow them to sit in the dye while you prepare the bread.
Beat 2 eggs, then combine with yeast, salt, and sugar in a bowl or stand mixer with the paddle attachment.
Warm milk and butter in a small pot until butter is melted. (Do not boil the milk, you only want it warm.)
Add the warm milk and butter mixture to the egg mixture along with half the flour. Knead until smooth by hand or using the mixer's dough hook.
Add remaining flour slowly until the dough doesn't stick to your hands anymore.
Cover with a damp towel and let rise until doubled in size, about 1 hour.
Punch the air out and cut the dough into 6 pieces. (You can cut it into smaller pieces if you want smaller loaves, but you'll need additional dyed eggs.)
Roll the pieces into 16" logs and twist each log to form a braid, bring ends together and pinch to make a ring. Place on a parchment-lined baking sheet. Allow to rise uncovered until doubled, about 1 hour.
Whisk remaining egg with 1 teaspoon water and brush dough with prepared egg wash.
Place a dyed egg in the middle of each ring. Top bread dough with colored sprinkles if desired. (Optional)
Bake at 350 degrees for 20 minutes or until lightly browned on top.
Nutrition
| | |
| --- | --- |
| Calories per Serving | 608 |
| Total Fat | 19.0 g |
| Saturated Fat | 9.6 g |
| Trans Fat | 0.4 g |
| Cholesterol | 272.2 mg |
| | |
| --- | --- |
| Total Carbohydrates | 87.8 g |
| Dietary Fiber | 2.8 g |
| Total Sugars | 19.7 g |
| Sodium | 316.4 mg |
| Protein | 19.6 g |