How Lil Nas X Is Encouraging Fans To Troll Chick-Fil-A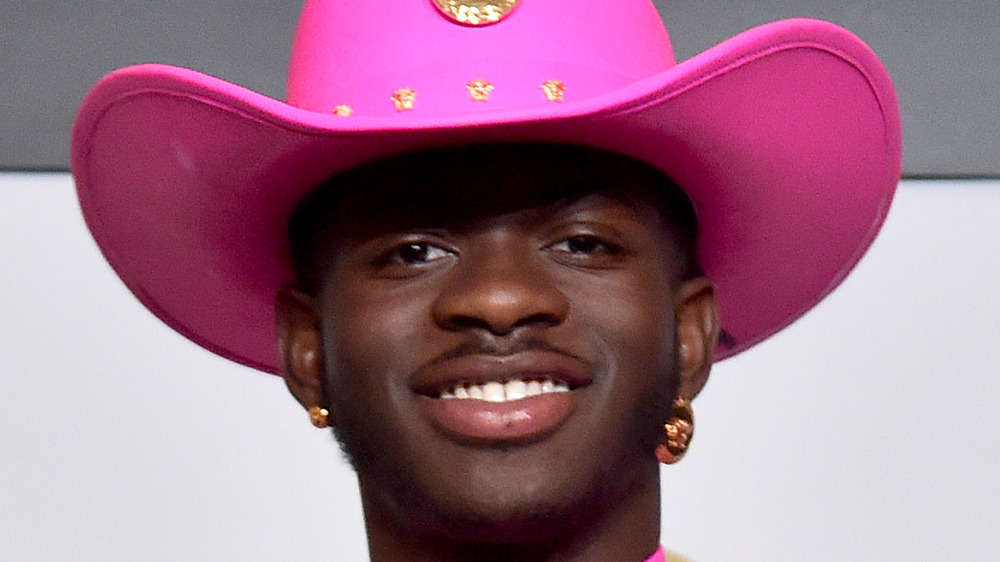 Alberto E. Rodriguez/Getty Images
Will Chick-fil-A give you a free sandwich and a lemonade if you play Lil Nas X's new "MONTERO (Call Me By Your Name)" in the drive-through? Maybe not, but that's what the "Old Town Road" artist joked on Twitter as part of his trolling spree against critics of his new song and music video, which he says is "a commentary on anti-gay messaging in pop culture" (via UpRoxx). Chick-fil-A, which is known to have donated millions of dollars to anti-LGBTQ organizations, has yet to respond, Business Insider reports.
Many fans have gone along with Lil Nas X's jokes on Twitter. "OMGGG IT WORKED! Thank u lil nas x," one user posted along with a photo of the song playing in their car at a Chick-fil-A parking lot. Amid his self-created social media chaos, which has been both positive and negative (via People), Lil Nas X seems to be in a light mood, teasing his critics. "I had 9 months to plan this rollout," he shared on on Twitter. "Y'all are not gonna win bro."
Why Lil Nas X is trolling Chick-fil-A
Lil Nas X's Chick-fil-A trolling began when he collaborated with the brand MSCHF to create 666 pairs of "Satan shoes." The sneakers, decorated with the Luke 10:18 Bible verse ("So He told them, 'I saw Satan fall like lightning from heaven'") and containing one drop of human blood, sold out in one minute (via Insider). Conservative figures, such as South Dakota Governor Kristi Noem, criticized the shoes on Twitter, which then inspired Lil Nas X to tweet a photo of fake Chick-fil-A shoes "to even the score." The red and white sneakers feature the chain's signature customer-service response, "My pleasure," as well "John 3:16."
Lil Nas X dropped the Satan shoes along with his "MONTERO (Call Me By Your Name)" song and music video, in which he appears to fall from heaven and dance with Satan. His fans have praised the project for being "unabashedly queer," (via USA Today) with some interpreting it as a clap-back to those who have told the artist he would be sent to hell for being gay. While others have denounced his song as "demonic" (via Today), Lil Nas X is defending its message, saying that he hopes the song "will open the doors for other queer people to simply exist" (via Instagram). Long story short, while Lil Nas X's new song might not get you free Chick-fil-A, it will give you a listening experience that's worthy of top spots on music-streaming platforms (via Headline Planet).