Aldi Fans Need To Try These Appetizers Coming In April 2021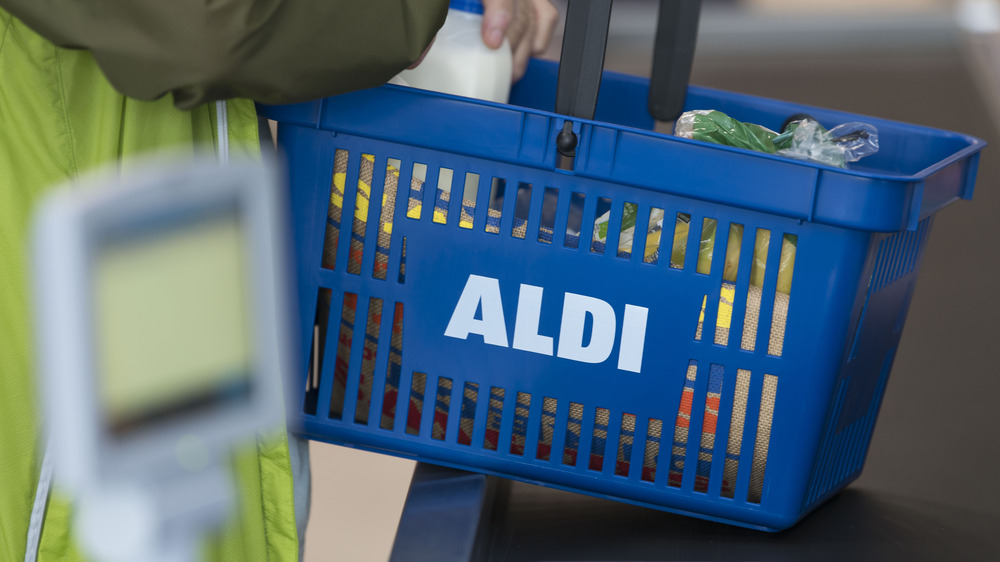 Matthew Horwood/Getty Images
Life getting you down lately? Yes, late March can be a bummer, with winter in some parts still trying to stage a last-minute comeback, Sister Jean's team losing in the Sweet 16 (via ABC7), and, oh yeah, a pandemic that hasn't gone away quite yet. Still, there are signs of hope on the horizon. Easter is near, vaccines are available, spring is more or less on the way, and today is Opening Day! (Despite the April Fool's Day start, it's no joke — the MLB season is really starting on time this year.)
Not to mention, the first day of each new month means new Aldi Finds! In fact, Aldi very cleverly spaces these out throughout the month so we always have something to look forward to. While Aldi can always be counted on for the makings of a great main course, as well as being your go-to stop for dessert in a hurry, it also does right by the starter course. Here's a sneak preview of some of the most appetizing appetizers it has in store for us in the weeks ahead.
Seafood makes for a healthy start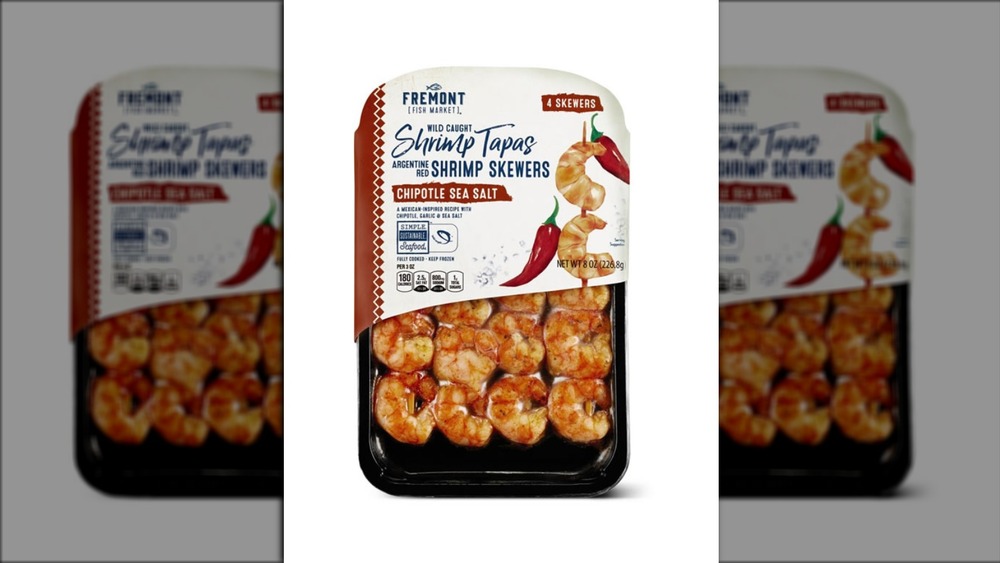 Aldi
You know what makes the perfect beginning to a steak dinner? A seafood appetizer — there's a reason (and rhyme) why surf 'n' turf remains a restaurant staple. While shrimp cocktails are an old favorite, a fresher, easier take on this classic starts with Aldi's Fremont Fish Market Argentine Shrimp Skewers. These come in packs of four skewers with what looks, as far as we can tell, like about five or six shrimp per skewer. The shrimp are pre-cooked, and come in three different flavor varieties: Salted Butter and Garlic, Citrus Herb, and Chipotle Sea Salt. They'll all be available on April 21 and priced at $6.99 per package.
If you're one of the rare breed of people who prefers squid to shrimp, Aldi's got you covered there, too. In fact, the Phillips Salt & Pepper Calamari should be in the stores right now. They come with a sweet chili dipping sauce and cost $5.99 for a ten-ounce box.
South Asian-Latin American fusion is now a thing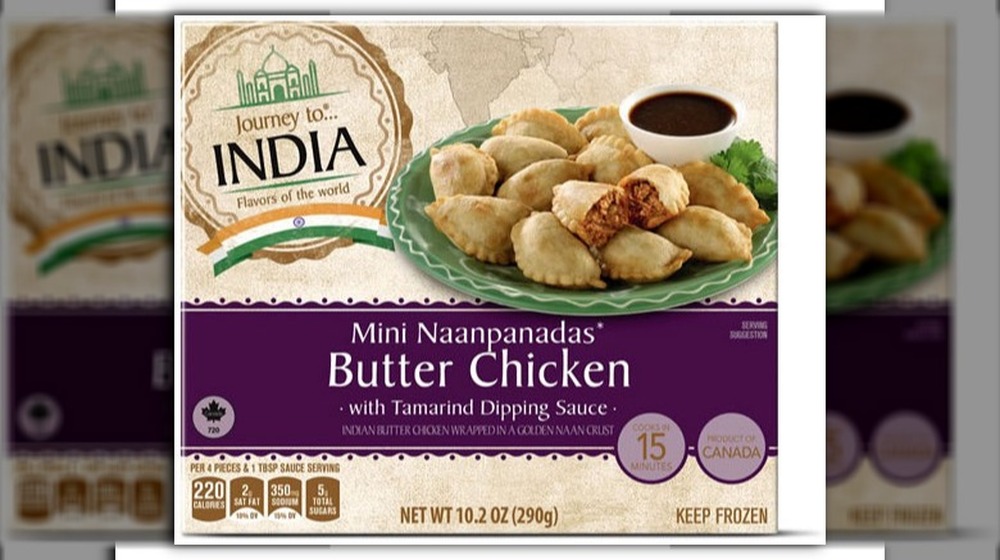 Aldi
While Aldi is European by birth, it has never been afraid to venture further afield, even into completely new territories such as Indian/Mexican mashups, like its Journey to India Naanpanadas. These two-bite treats are kind of like a cross between an empanada and a samosa, with a pastry crust made of naan and your choice of filling (either butter chicken or chickpea curry). Both varieties come with a dipping sauce made of tamarind, a fruit popular in both Latin America and South Asia. They will be available on April 14 and will be priced at $4.79 a box.
How do they taste? The Aldi Reviewer blog found both varieties to be unique, yet tasty, while Almost All Aldi described the chicken ones as "delicious, with a little more kick to them than I expected from a frozen appetizer." It is to be noted, though, that the chickpea, as well as the chicken ones, contain mozzarella cheese — sorry, vegans.
Traditional empanadas are still cool, though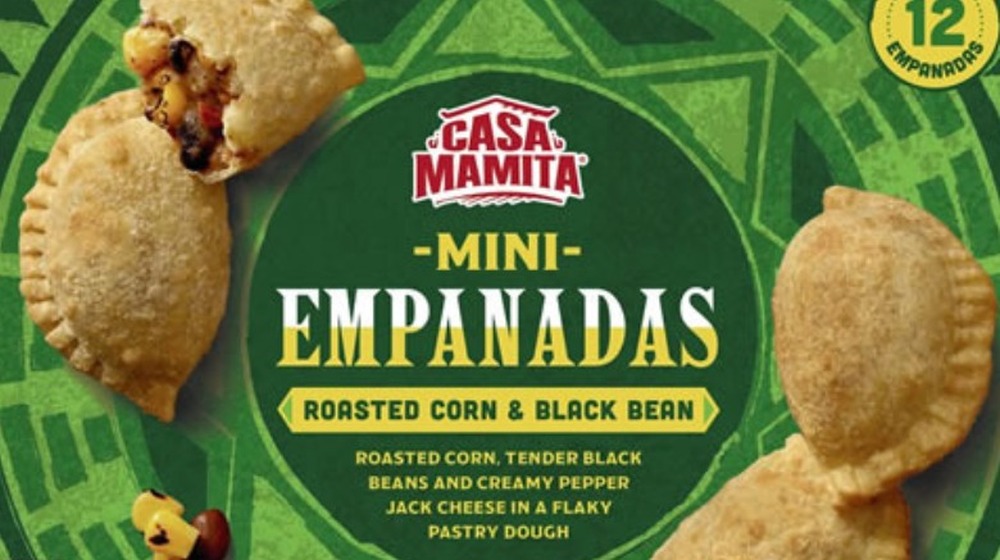 Aldi
Not a fusion fan? Aldi is offering a number of more straightforward south-of-the-border-inspired items, including frozen churros, street taco seasoning mix, and frozen elote, as well as a roasted street corn pizza (street stuff seems to be big this season). On the appetizer end of things, it has Casa Mamita mini empanadas filled with either seasoned beef or roasted corn and black beans, available April 28 and costing $4.79 for a dozen. Once again, though, the meat-free version does contain cheese, so it's vegetarian but not vegan.
A similar treat, also available on that same day and at that same price, are the Casa Mamita corn masa bites filled with cheese and either carne asada or chicken. Grab a selection of these frozen appetizers, add a bag of Casa Mamita Street Corn Dipper Chips ($2.49), and a tub of Pueblo Lindo Salsa ($2.49), and you'll have yourself a budget-priced party platter that could almost turn Taco Tuesday into Fiesta Friday.
You can never be too cheesy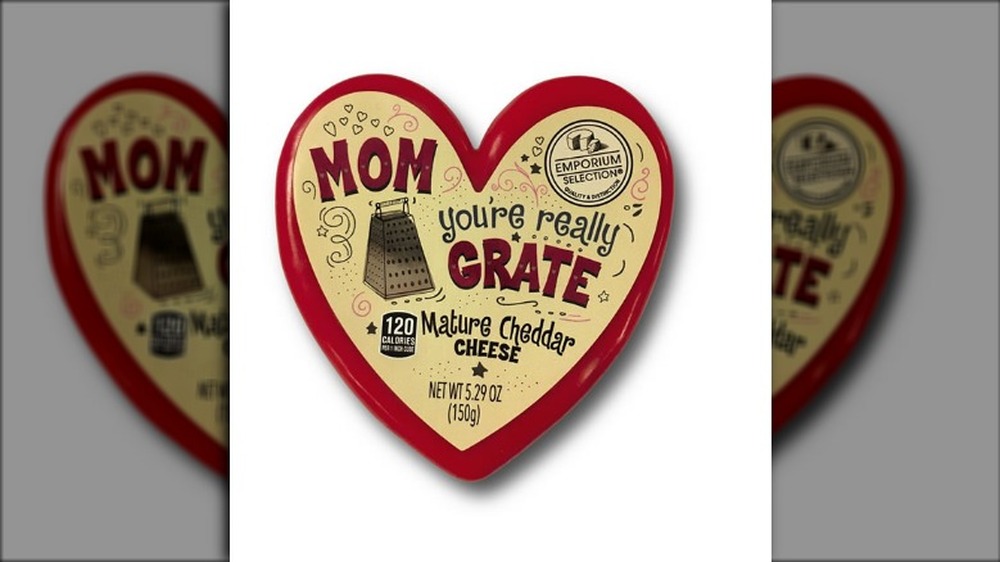 Aldi
In Europe, cheese plates are often served as a dessert course (via The Spruce Eats). Here in America, however, we are more likely to consider a cheese board to be an appetizer (and yes, wooden boards are an absolute necessity if any Instagramming is to be involved). Well, Aldi is certainly not being stingy with the cheese specials for this month. On April 7, it brings an assortment of Double Crème Bavarian Brie cheeses: one plain, one enhanced with blue cheese, and one spiced with paprika, each costing $3.89 for 4.4 ounces. On April 14, Aldi drops a scorching-hot scorpion pepper gouda as well as an applewood-smoked cheddar, priced at $3.49 for each seven-ounce wheel.
Mark your calendars for April 28, though, as this date heralds the return of Aldi's ever-popular holiday cheeses. Wait, aren't they a bit late for Easter? Yes, those cheesy chicks and eggs were last month's news. This latest offering celebrates Mother's Day, and makes the perfect present for that mom who's just discovered keto and is allergic to flowers. In lieu of the latter, you can get her Aldi's heart-shaped "mature cheddar," complete with gratuitous pun, which might make for an acceptable chocolate substitute. Still, just to be on the safe side, you might want to pick up a bottle of Winking Owl to sweeten the deal.
Strudels aren't just for dessert anymore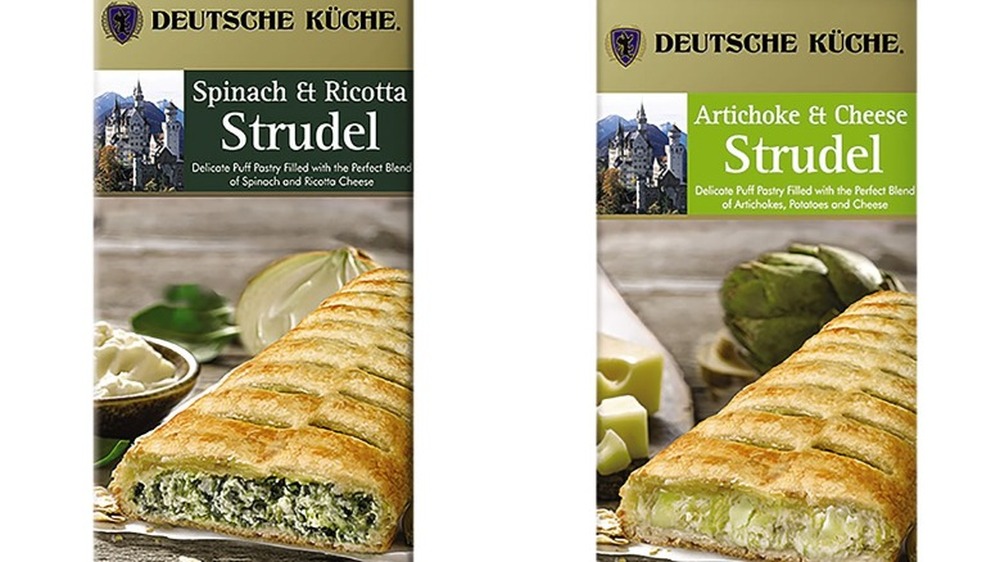 Aldi
Another dish we typically think of as being a dessert rather than as a meal starter is strudel. In fact, many of us may have been unaware that this flaky, layered pastry exists in variants other than apple. (Well, except for Toaster Strudel, but we thought that was just Pillsbury being cute.) Aldi, the grocery store that comes from strudel's home turf, is here to set us straight: Savory strudel not only exists, but it can make the perfect appetizer course for your next meal of sauerbraten, Wiener schnitzel, or even just a plain roast chicken. 
April 7 brings two types of Deutsche Küche strudel to Aldi's frozen foods section. One is filled with spinach and ricotta cheese, and the other is stuffed with artichokes, potatoes, and cheese. Both varieties are priced at $3.99 for a 10.6-ounce package, and both look simply scrummy.