What Is Pandan And What Does It Taste Like?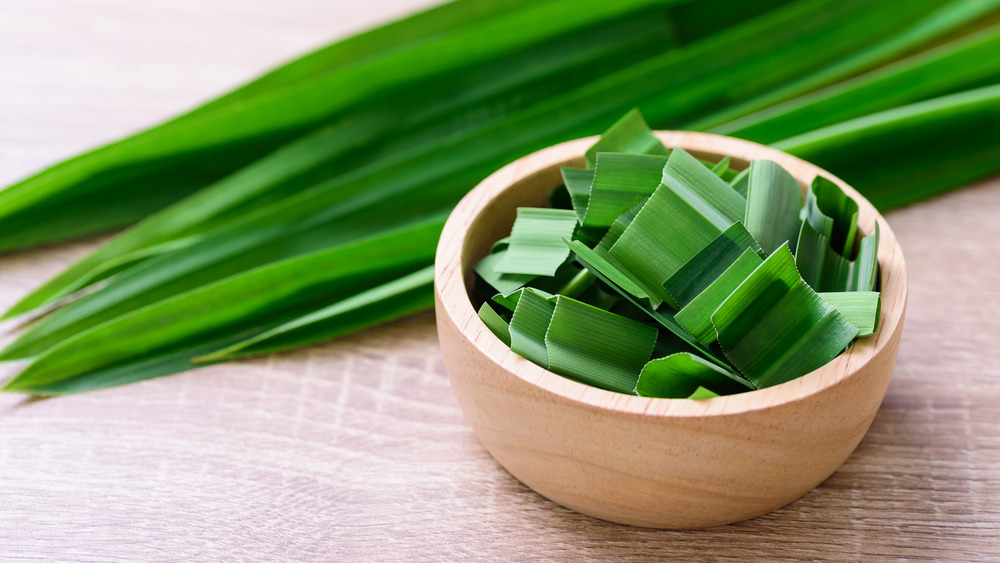 Shutterstock
Imagine this sensation on your palate: a commingling of freshly cut grass and steamed rice, enhanced with rose, almond, and vanilla, with underlying notes of coconut. That's pandan, a palm-like, cultivated plant with long, slender, spiky green leaves that are commonly used in Thai and Southeast Asian cooking (via The Spruce Eats).
The origin of pandan is unclear, but the plant is likely indigenous to Southeast Asia, where it's extensively cultivated, and the fresh and frozen leaves are sold in South India, Southeast Asia, Indonesia, Sri Lanka, and West New Guinea (via Specialty Produce).
Also known as screwpine, pandan has multiple culinary uses. Healthline explains that the leaves are often boiled or juiced and can be used to wrap and flavor meats and sticky rice. When pulverized, bruised, or raked with a fork, the leaves produce a vibrant emerald-green extract that's used in sweet and savory dishes. The Epicentre adds that leaves are often wrapped around chicken, pork, rice, fish, and desserts before grilling, roasting, barbecuing, and steaming to enhance flavor and aroma.
When the leaves are dried and ground, pandan powder can be used to add natural green color and vanilla-like flavor to a variety of recipes, including cakes, cookies, macaroons, muffins, and breads (via Blueboots Farm).
Add pandan to your recipes for unique color and flavor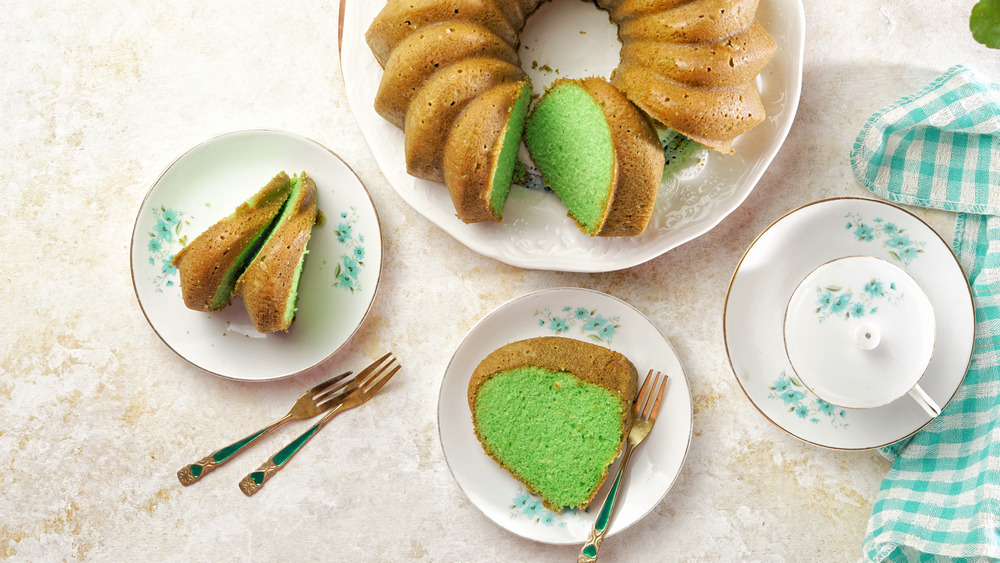 Shutterstock
Saveur dubs pandan the "vanilla of Southeast Asia" and states that if you live near a Thai, Vietnamese, or Southeast Asian grocer, you should grab some fresh or frozen pandan leaves and go to town. What should you try first? The magazine has many suggestions, from making pandan-scented water with the steeped leaves to using the bright green liquid from the leaves in place of vanilla in cakes and breads. You can also add the leaves to a pot of rice (with some coconut milk, lemongrass, and turmeric), wrap them around pieces of chicken before steaming and frying, make pandan-coconut ice cream, and add leaves to your cocktails for a nutty finish.
Food 52 adds that there's more to pandan than the leaves. A few drops of pandan extract, or a pinch of pandan powder, not only adds a "grassy-sweet" flavor and aroma to a variety of sweet and savory dishes, but it turns an ordinary dish into one with a "glorious, green glow." Can't get to an Asian market? No problem — the magazine asserts that you can find the leaves, extract, and powder online.
For more recipe inspiration, check out Devour.Asia's pandan simple syrup: It's one sweet infusion that can be used a variety of ways. What to Cook Today shares a popular, green-tinged pandan chiffon cake. And for countless pandan recipes, head over to Cookpad, where you'll find pandan's presence in puddings, cakes, breads, cookies, donuts, pancakes, and waffles.