London Broil Recipe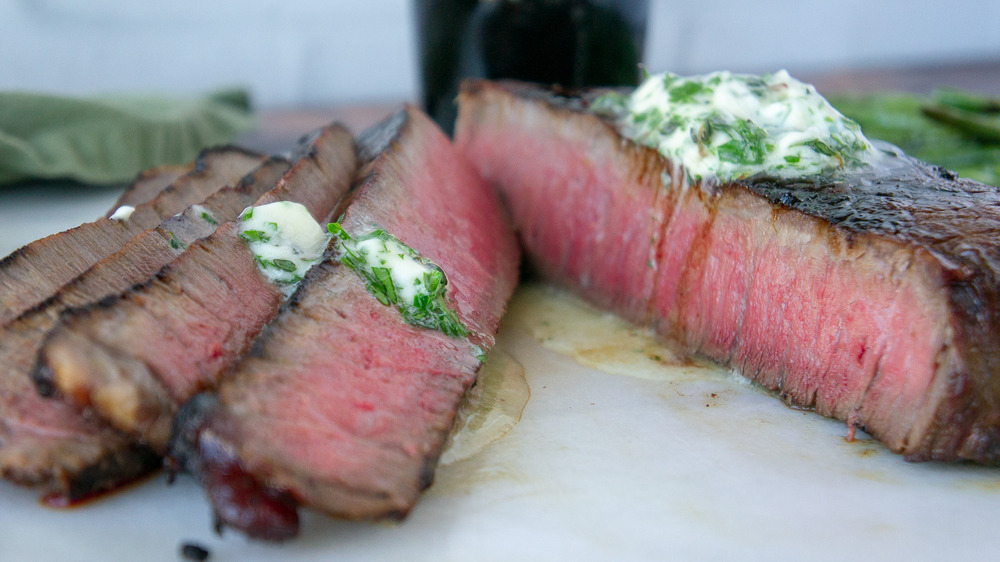 Mikayla Marin/Mashed
Today, we're going to erase every question you've ever had about the mysterious London broil. You've seen it on cuts of beef at the grocery store. You've seen it as a recipe title. You've even seen it as a marinade, so which is it?
London broil is a method of cooking that developed as a way of utilizing otherwise unloved cuts of beef by cooking them fast, over high heat, after a long bath in a flavorful, tenderizing marinade. The "broil" in the name came from the usual practice of cooking them in the broiler. Nowadays, a broiler, grill, or very hot stovetop can be used.
Just as there is more than one way to cook using the London broil method, there is certainly more than one delicious marinade. But for this recipe by Mikayla Marin of The Flour Handprint, we'll be using the common "London broil" cut of beef, a top round, a simple but delicious balsamic marinade, and a really hot grill to take a tough cut of beef and transform it into a fantastic steak dinner for the whole family.
Gather the ingredients for London broil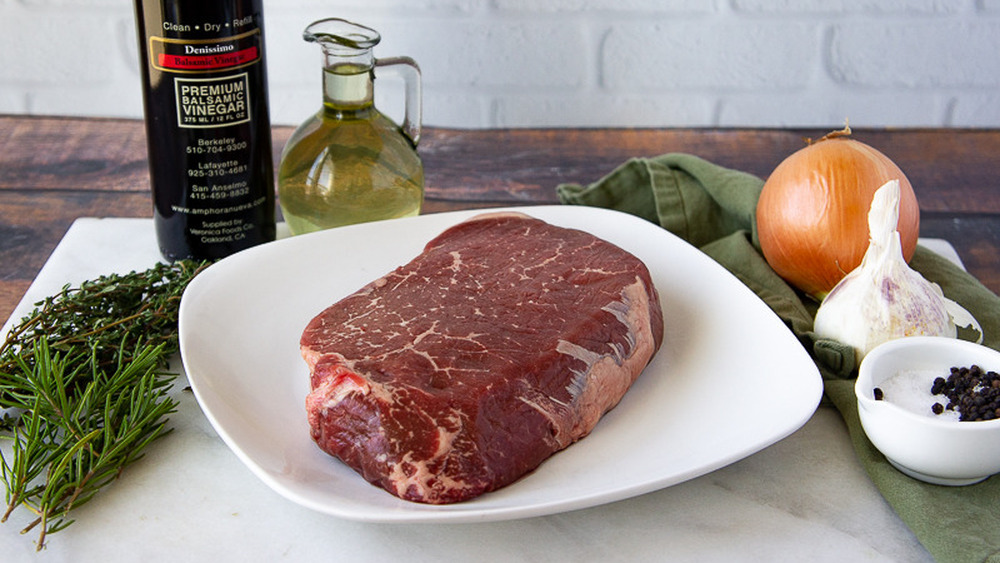 Mikayla Marin/Mashed
For this recipe, you'll need the marinade ingredients and a steak to get cooking. We're using a top round, a steak that comes from the rear leg of the cow. It's a lean cut that can be used in recipes like this one when tenderized by a marinade, but it's most commonly used as roast beef.
While you can certainly ask your butcher for a London broil cut, which will be the top round we're using, you can use pretty much any tough steak with similar results. Flank or skirt steaks are great alternatives.
For the steak, you'll be making a marinade based with balsamic vinegar and enhanced with fresh herbs for a simple but effective tenderizing mixture.
Choose a quality balsamic vinegar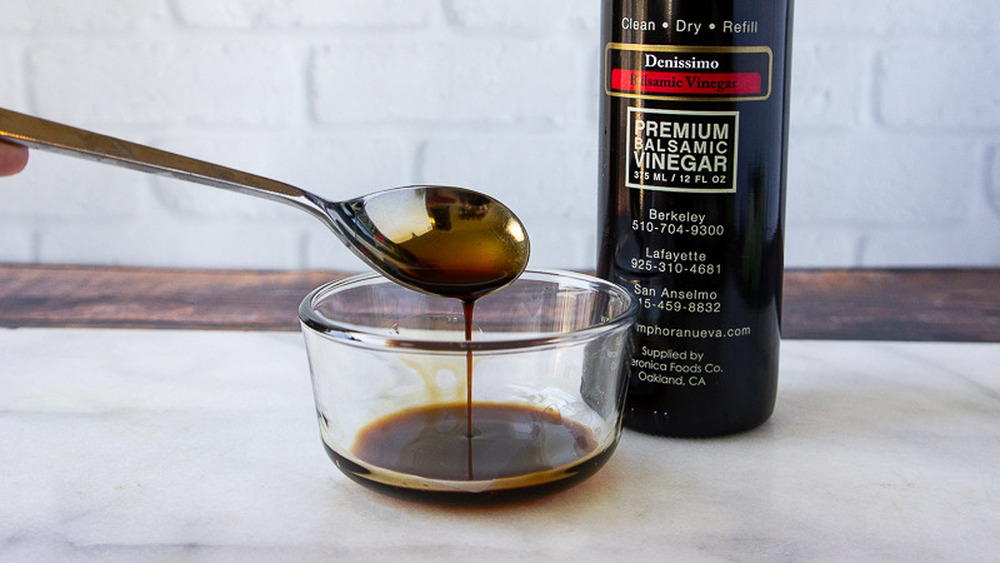 Mikayla Marin/Mashed
When cooking with simple ingredients, it's even more important to choose ones with big natural flavor. We're using an aged balsamic here that is sweet and syrupy, without being thick like molasses, as the most aged can be.
Choose something similar that's available to you. The more aged a balsamic, the thicker and more intense it will be, so we recommend a three to ten-year aged vinegar. It's also safe to choose any with the authentic balsamic of Modena label somewhere on the bottle. That means it came from the birthplace of balsamic, and it's a pretty safe bet for good quality and flavor.
The herbs that bring aroma and subtle flavor to this dish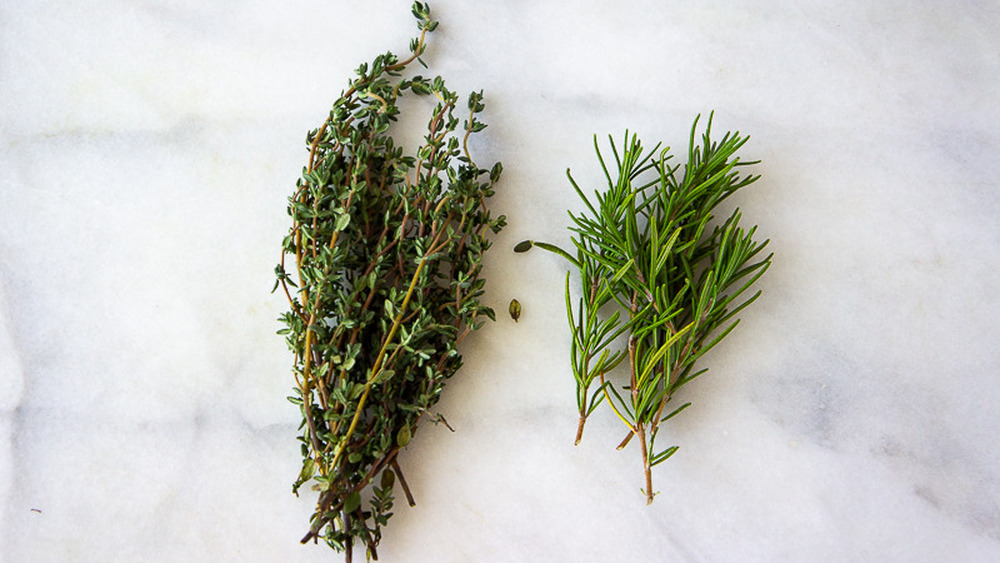 Mikayla Marin/Mashed
Herbs and balsamic are a natural pairing. Fresh herbs are an easy way to bring flavor to any marinade — there's no need to even chop or strip them.
For this marinade, we chose two classic herbs that will stand up to the acid in the marinade. Just three good sized sprigs each of rosemary and thyme are perfect for the amount of marinade we'll be making for a 1 ½ to 2-pound steak.
If you don't have or don't like one of these herbs, you can simply leave one out and add more of the other. There aren't many options that work as direct substitutes for thyme or rosemary, but feel free to experiment with your favorite herbs.
Prep the onions and garlic for the marinade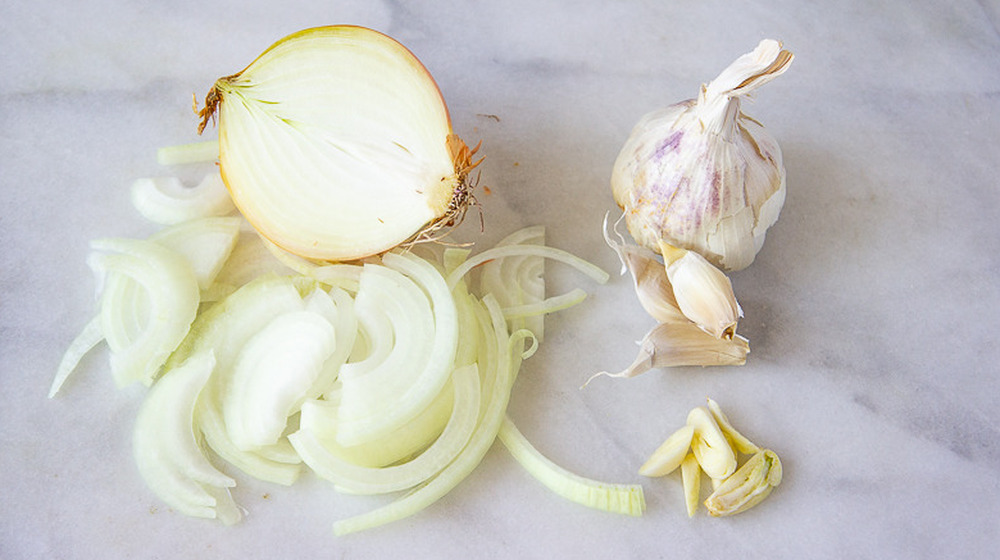 Mikayla Marin/Mashed
Another highly aromatic, but more pronounced flavor addition, are the onions and garlic. There's no cooking involved, just some slicing and chopping.
When you slice onions and chop garlic, you release the oils and enzymes that are responsible for both the flavor and aroma we love. Because you're letting this steak marinate for a while, there's no need to finely mince, either. The acid in the balsamic will break down the meat, the onions, and the garlic, allowing all the flavors to meld together.
Get the steak marinating for as long as possible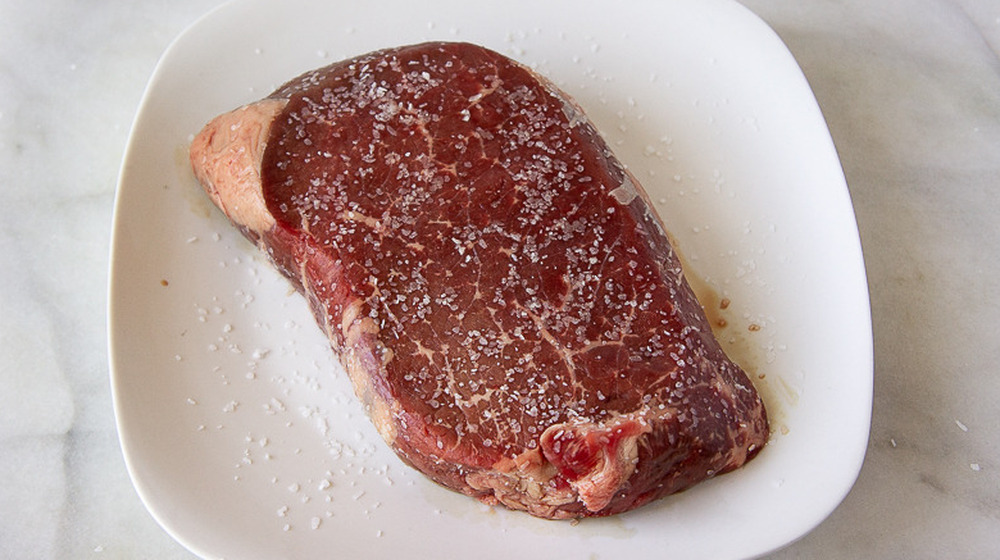 Mikayla Marin/Mashed
Before you do anything else, place your steak on a large plate or surface and season it well with salt. It takes about 1 ½ teaspoons to completely season all sides of our top round.
Then, to make this London broil marinade, simply combine balsamic and oil in a large, preferably flat bottomed bowl with a sealing or locking lid. A flat, wide bottom lets your steak sit evenly in the marinade, which is important for flavor. You can also use a zip top bag if you prefer.
Add the remaining salt and pepper to the marinade and give it a quick stir to start breaking down the salt a little. Then, add the onions, garlic, and herbs to the mixture and gently stir it around to get everything coated in the balsamic and oil. Add in the steak, and flip it over a few times in the mixture to coat it.
Place the steak in the fridge to tenderize and marinate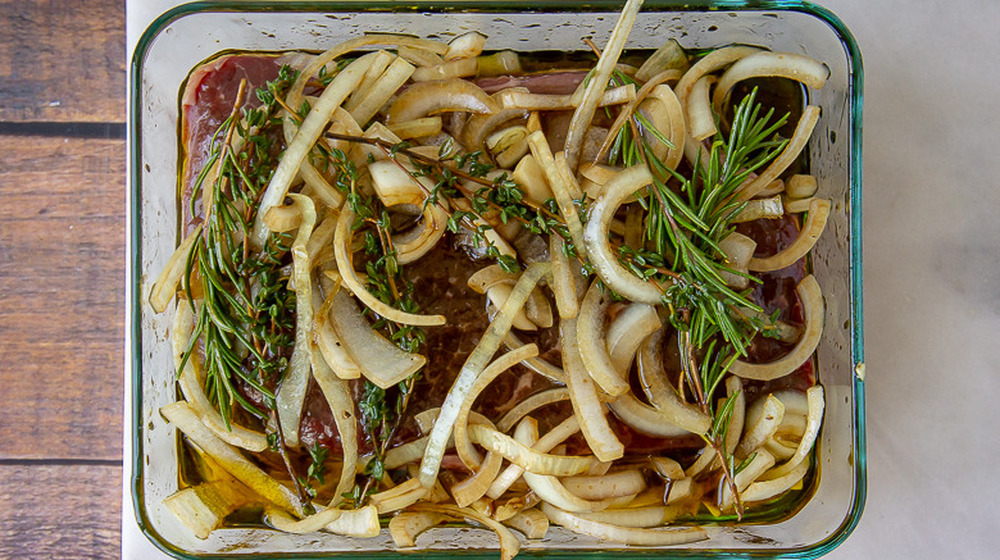 Mikayla Marin/Mashed
For a tough cut like this one, we really recommend a full 24 hours in the marinade, if possible. We prepped the steak and marinade the day before, letting it sit in that flavorful tenderizing bath for an entire day. This is important, because it gives the salt and vinegar in the marinade time to do their job and begin to break down the tough cut.
At a minimum, we recommend three hours. Either way, we suggest you take the time to either open the container and flip the steak in the marinade a few times over the course of the time you can give it.
Fire up the grill for hot, fast cooking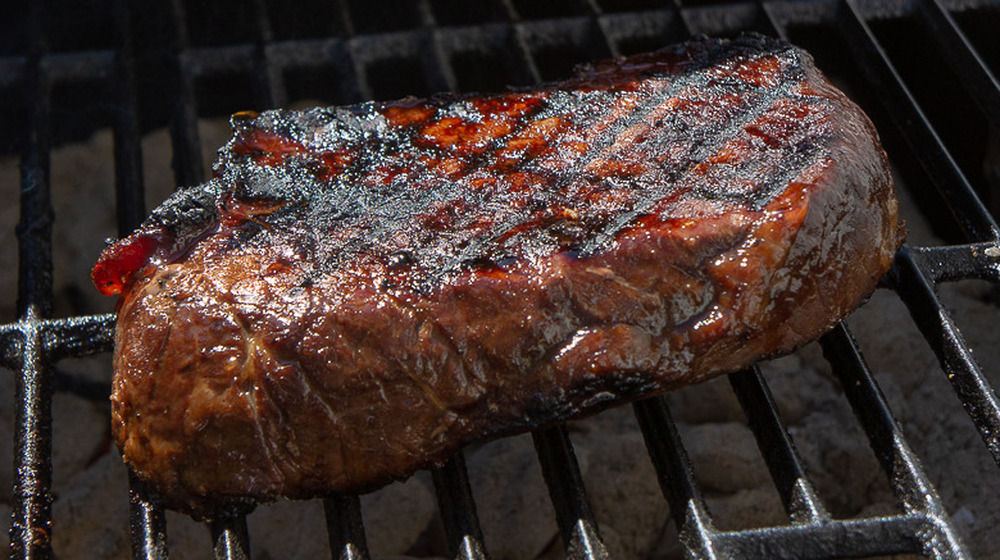 Mikayla Marin/Marin
About an hour before you want to cook your London broil, pull it from the fridge to let it come closer to room temperature. While it sits, get your grill going. If you're using a charcoal grill, be sure to create a good area of direct heat. You're looking for a temperature between 400 and 450 degrees Fahrenheit.
When your fire is ready, oil the grill lightly, and remove the steak from the marinade. Discard any onions or herbs clinging to it. Place over the hottest spot of the grill.
It'll take seven to nine minutes per side to get the temperature up to 130 degrees Fahrenheit. Depending on how hot your grill was when you started, this could take a little less or a little more time. The steak is ready to flip when it naturally releases from the grill grate and has a deeply brown crust on it.
If your steak has seared on both sides and still isn't at 130 degrees Fahrenheit, just monitor it, flipping over every other minute. It should not take long to get there.
If you don't have an outdoor grill, you can accomplish the same thing by using a broiler on high, or a grill pan on the stove. Be sure to ventilate your house if preparing it indoors with such high heat.
Give it a quick rest before slicing against the grain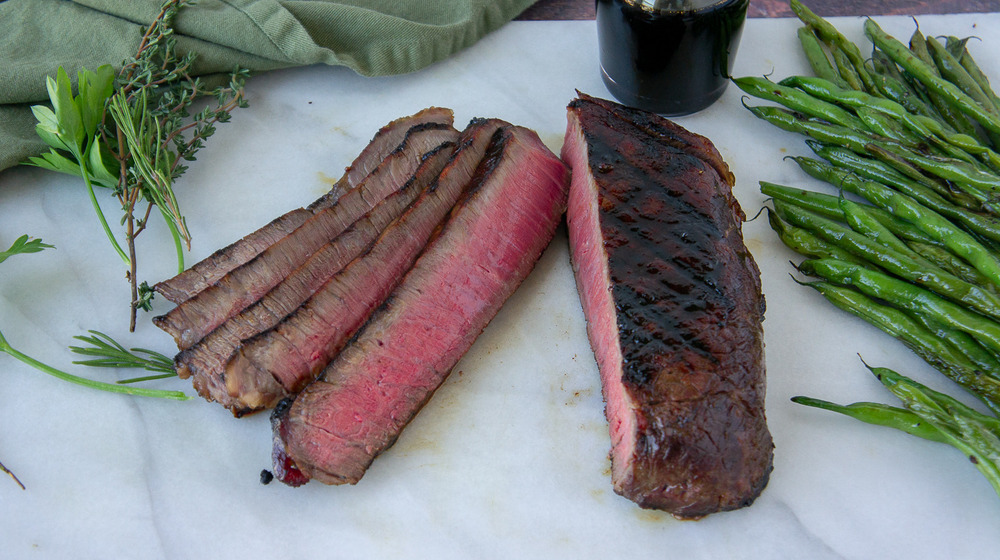 Mikayla Marin/Mashed
Two really common and easily avoidable mistakes for cooking a steak is to skip the resting period and cutting it improperly. It's very important to let your steak rest for at least ten minutes before you cut into it. This allows all the internal juices to disperse through the meat again, rather than running out when you cut into it. (There will always be some juices when you cut meat, but resting will reduce it.)
After the rest period, it's equally important to slice the steak against the grain. This slices through the muscle fibers, leaving you with more tender bites. We've seen tons of London broils cut along the short side, but the grain on top rounds usually run end to end lengthwise, so it's better to cut long, thin slices instead.
These two steps alone help transform the slightly tougher cut of steak into something much more tender.
Serve this London broil with compound butter, vinaigrette, or grilled sides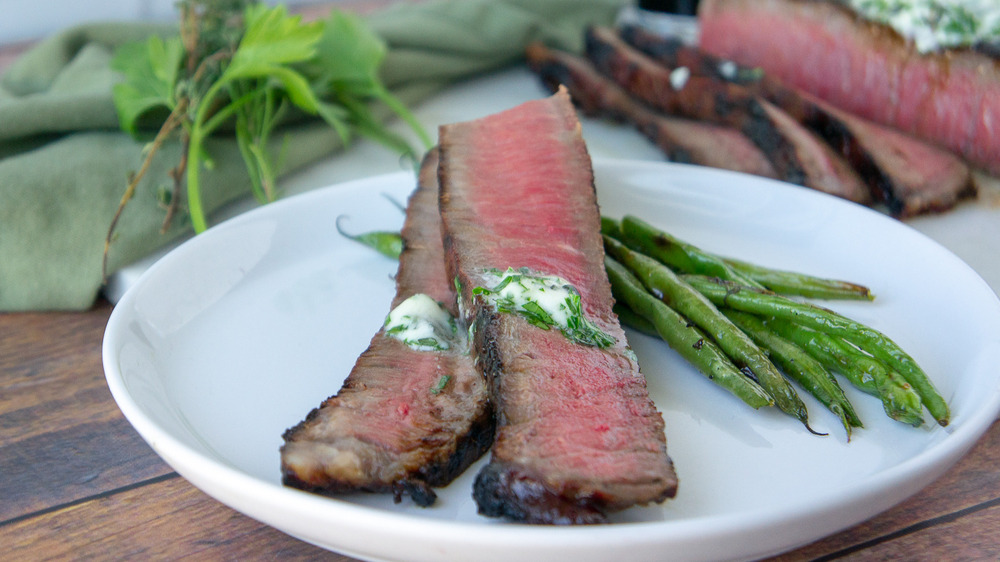 Mikayla Marin/Mashed
When you've sliced it and are ready to serve, add a dollop of herb compound butters or a drizzle of herb vinaigrette for added moisture and flavor. We also highly recommend grilling some vegetables like green beans, asparagus, or squash to serve alongside it. No matter how you choose to serve it, you'll have made a delicious steak dinner with an inexpensive cut that suddenly feels a lot more gourmet.
London Broil Recipe
Add a dollop of herb compound butters or a drizzle of herb vinaigrette to this London broil, and serve it with grilled veggies for a tasty meal.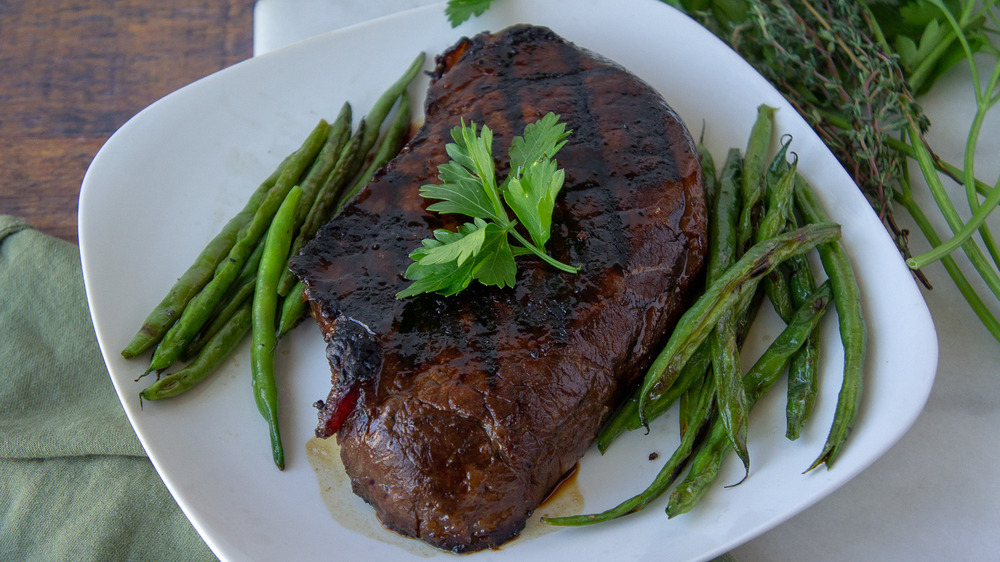 Ingredients
1 ½ to 2-pound top round steak (London broil cut)
5 tablespoons balsamic vinegar
3 sprigs thyme
3 sprigs rosemary
1 small onion
4 cloves garlic
1 ½ teaspoons kosher salt
½ teaspoon pepper
½ cup oil
Directions
Season the steak on all sides with 1 ½ teaspoons of salt.
Slice onions and rough chop the garlic.
Combine all the ingredients except the steak in a large dish or zip top bag and stir to combine and coat.
Add the steak to the marinade and turn to make sure it's well coated. Refrigerate for three to 24 hours, occasionally flipping the steak in the marinade.
Preheat and lightly oil a grill to between 400 to 450 degrees Fahrenheit, building a spot for direct heat if using a charcoal grill.
Remove the steak from the marinade and place over direct heat for seven to nine minutes per side, or until the internal temperature reaches 130 degrees Fahrenheit.
Let it rest for ten minutes, then slice and serve.
Nutrition
| | |
| --- | --- |
| Calories per Serving | 408 |
| Total Fat | 29.2 g |
| Saturated Fat | 5.7 g |
| Trans Fat | 0.1 g |
| Cholesterol | 91.3 mg |
| | |
| --- | --- |
| Total Carbohydrates | 5.1 g |
| Dietary Fiber | 0.9 g |
| Total Sugars | 2.5 g |
| Sodium | 422.6 mg |
| Protein | 29.5 g |