Costco Shoppers Are Divided On This Reversible Grill Pan
Forget the charcoal and the lighter fluid, this reversible grill pan at Costco has many people talking. With grilling season approaching, many people are ready for those burgers, hot dogs, and other summer food fare on the grill. Don't have an outdoor setup? The Instagram account @costcobuys recently spotted The Rock reversible grill pan at their local warehouse for just $21.99. Per Costco's website, the grill pan can be used on a variety of cooking surfaces including gas, electric, and other cooktops. In addition, the grill/griddle is oven and BBQ safe. Based on the product description, many buyers were excited to try the pan for its multiple uses. While the ceramic nonstick surface might seem like a smart solution to allow food to easily release from the griddle, not all users are happy with this reversible grill pan.
According to a few comments on  @costcobuys Instagram page, some users are complaining about the product. From statements like "warps easily and hard to clean" and "after 3 uses it became so difficult to clean and the surface is no longer non stick," this Costco find might be more of a cautionary tale. Even reviewers on the Costco website commented that food sticks to the surface and the reversible grill pan can be difficult to clean. While a Costco buy can seem like a great deal, sometimes that purchase needs to come with a buyer beware caveat.
Simple mistakes that can ruin a nonstick pan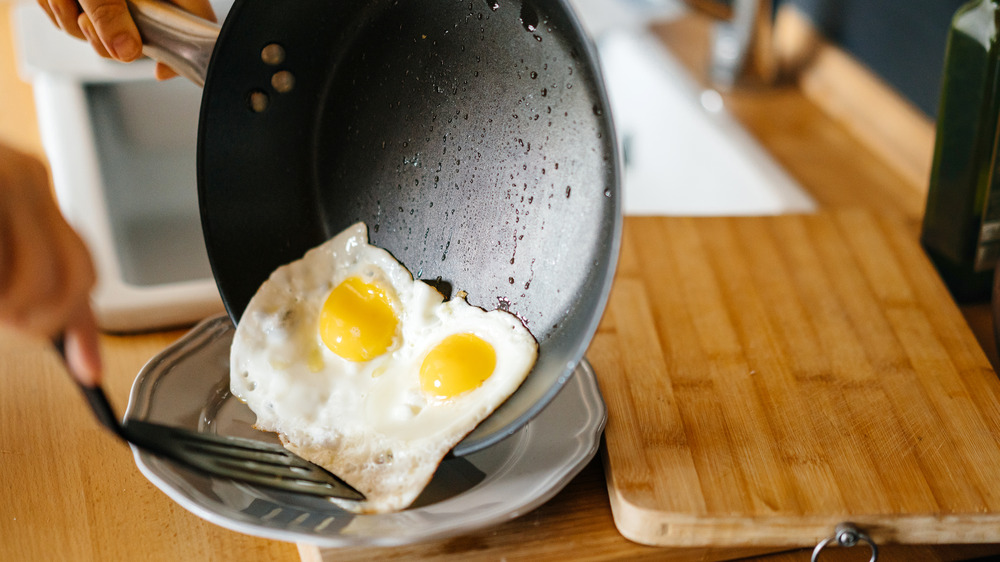 Shutterstock
According to Costco, this reversible grill pan has Rock.Tec permanent surface enhancement for even cooking and a ceramic nonstick coating for easy cleaning. For home cooks, a nonstick pan can be a kitchen essential. From eggs at breakfast to a piece of fish at dinner, the coated surface that easily releases food can make cooking a breeze. Although a pan may not make you an expert chef, keeping that kitchen utensil in prime condition is vital for optimizing its use. 
According to Today, there are some common mistakes home cooks should avoid with a nonstick pan. While some people might remember mom scolding them for using the wrong kitchen tool and scratching the nonstick surface, this mistake isn't necessarily the biggest cooking "don't." Non-stick cooking spray is often the reason why food starts to sit. Truthfully, that cooking spray isn't meant to be used in a nonstick pan. In addition, the coating can build up over time. It is best to use minimal oil, at the right time, at the right temperature to ensure the best results. Just like a cast iron pan has cooking rules, so does a nonstick pan. A well-cared-for nonstick pan might not make you the next MasterChef, but it can reduce your sticking frustration when cooking.