Mug Brownie Recipe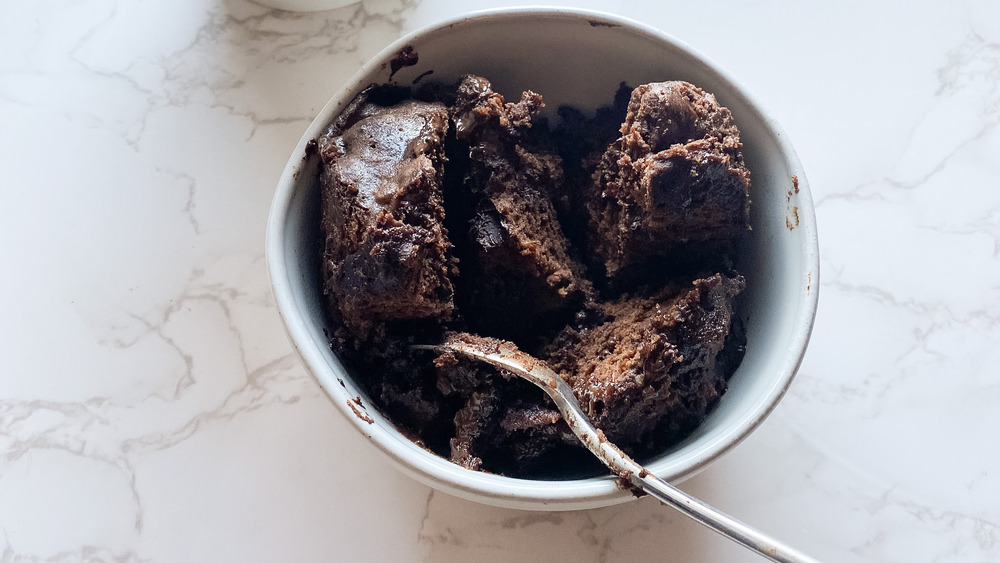 Kristen Carli/Mashed
The next time you have a craving for the gooey, chocolatey deliciousness of a freshly baked treat, but don't want to whip up a whole pan of brownies, then you're in luck. You just need this mug brownie recipe in your life. Not only will it satisfy your chocolate cravings, but you won't dirty up a bunch of dishes, and it makes a perfect dessert without being totally sinful. Just think about it — a single brownie won't overload your system with sugar, chocolate, calories, or fat, but a whole pan of them? Can you really resist having more than just one?
According to recipe developer and registered dietitian Kristin Carli, that's less of a problem with a mug brownie, as it really is ideal for a one-person serving. Plus, it's perfect for "non-bakers" or those living in dorms who don't have easy access to ovens. As long as you have a few staple ingredients on hand (and a mug and a microwave), you can go from daydreaming about chocolatey goodness to actually enjoying it in just six minutes.
Gather your ingredients for this mug brownie recipe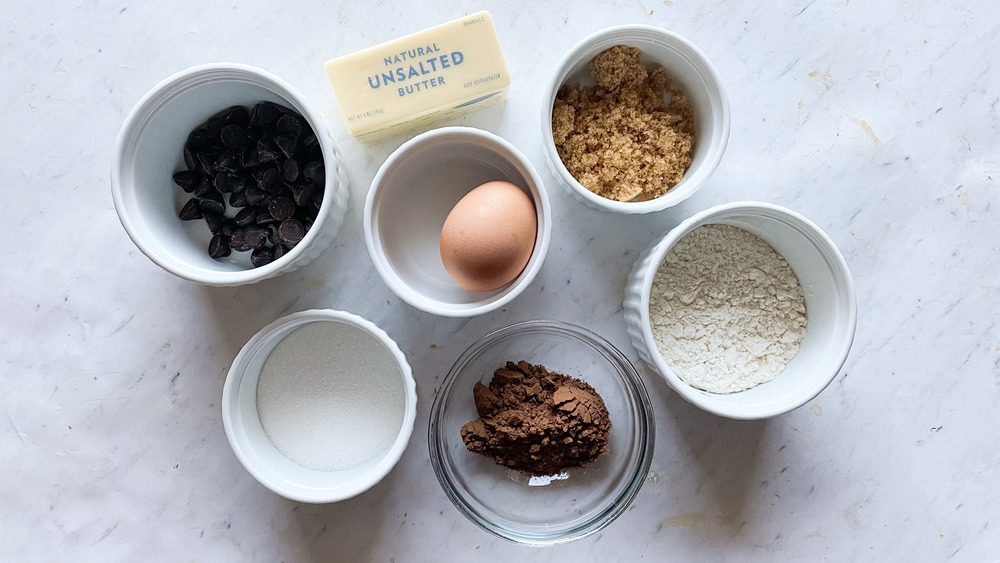 Kristen Carli/Mashed
Your prep work will go faster if you gather all your ingredients before you start mixing things together. All you need to make your mug brownie is unsalted butter, sugar, brown sugar, salt, a single egg, flour, unsweetened cocoa powder, water, and dark chocolate chips. While you might be tempted to make ingredient substitutions, like opting for salted butter in place of unsalted butter, it really is best to stick to the list for this recipe. As Carli points out, using unsalted butter allows you to better control the saltiness in your dish, which becomes even more pronounced when making a single serving size. 
Likewise, you'll want to use unsweetened cocoa powder for the same reason — you're already adding sugars and chocolate chips, so a sweetened cocoa powder could put the sweetness level over the top. And of course, if you decide after your first go-round that you'd prefer a slightly saltier or sweeter brownie, you can always make those changes with subsequent attempts.
Add butter to your mug, and melt it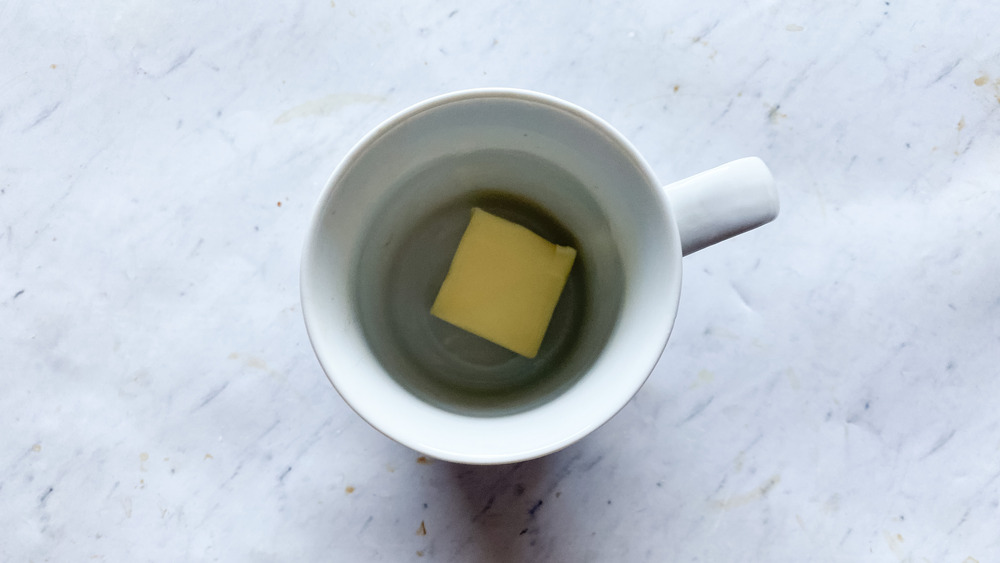 Kristen Carli/Mashed
To get started, simply add your 2 tablespoons of unsalted butter to the bottom of your mug and pop it in the microwave for 30 seconds. You want the butter melted (and a little warm) to allow it to combine well with the other ingredients — especially the ingredients that dissolve in liquids, like salts and sugars. If 30 seconds doesn't do the trick, keep adding 10 second increments until the butter is melted.
Add the sugars and salt to your mug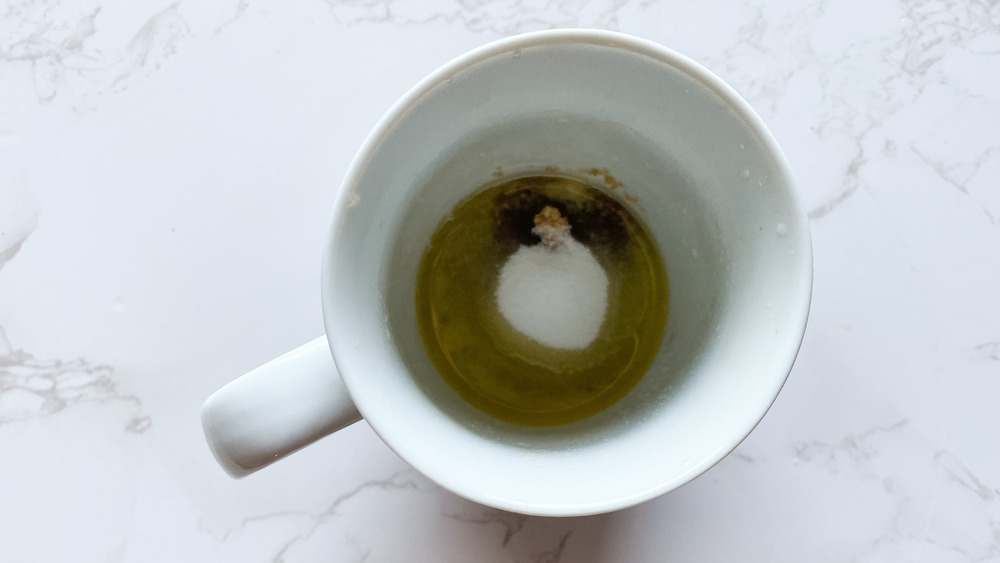 Kristen Carli/Mashed
You might be tempted to simply dump the rest of your ingredients into the mug and stir them up, but that would be a mistake. "You want to make sure that the dry ingredients are fully combined for even baking," says Carli. For that reason, it's really important to add the ingredients to your mug in a specific order, stirring after each new addition.
Since your melted butter is a little warm, you want to start by adding your 2 tablespoons of sugar, 1 tablespoon of brown sugar, and ½ teaspoon of salt to your mug. Stir well until the salt and sugars are mixed well and mostly dissolved in the butter.
Mix in the egg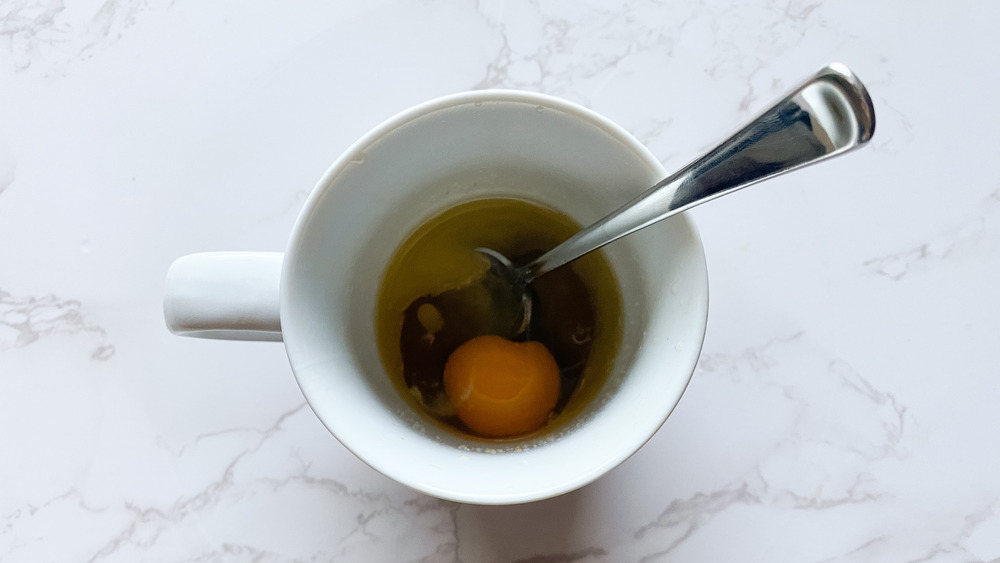 Kristen Carli/Mashed
Next up? You want to add your egg to the sugar-butter mix in your mug. Because the sugar, salt, and butter will have thickened up quite a bit, it's important to add another liquid ingredient to the mug before trying to add more dry ingredients. Simply crack your egg and whisk well with a spoon (or a fork, as the tines provide a nice whisk) until the egg is fully combined.
Stir in the flour, cocoa powder, and water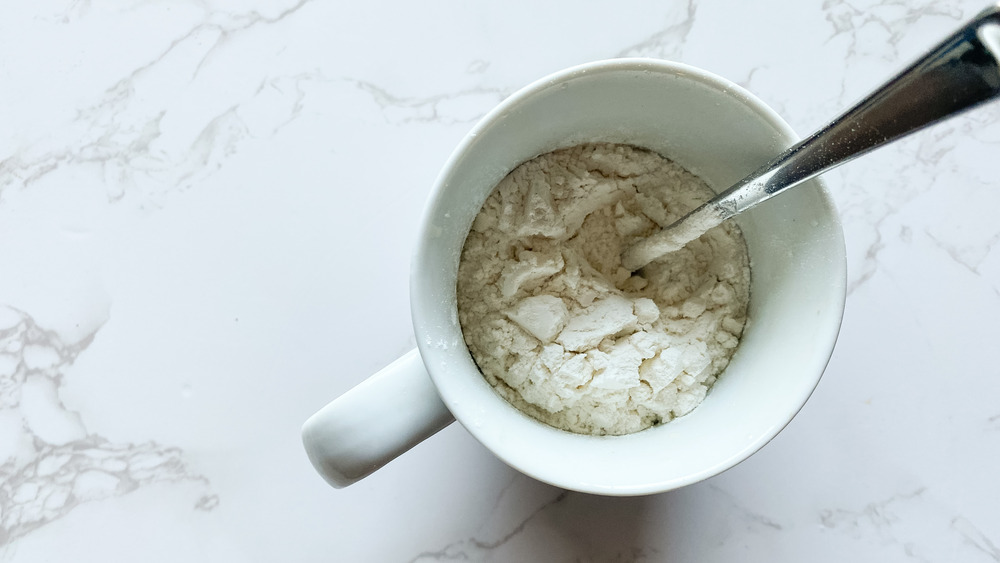 Kristen Carli/Mashed
With the egg nicely whisked in your mug, you have enough wet ingredients to take on more dry ones. Go ahead and add in ¼ cup of flour and 1 tablespoon of cocoa powder. As before, take your time to stir well and combine the ingredients fully. This will give you the smooth, even flavor you want in the finished brownie, without dry clumps of flour here and there. After stirring, add an extra tablespoon of water, and stir again to get the right consistency of the batter.
Also, even though you'll be adding chocolate chips to the recipe, Carli emphasizes that it's important to still use the unsweetened cocoa powder, as it's this ingredient that amps up the chocolate-y flavor of the batter itself.
Add the dark chocolate chips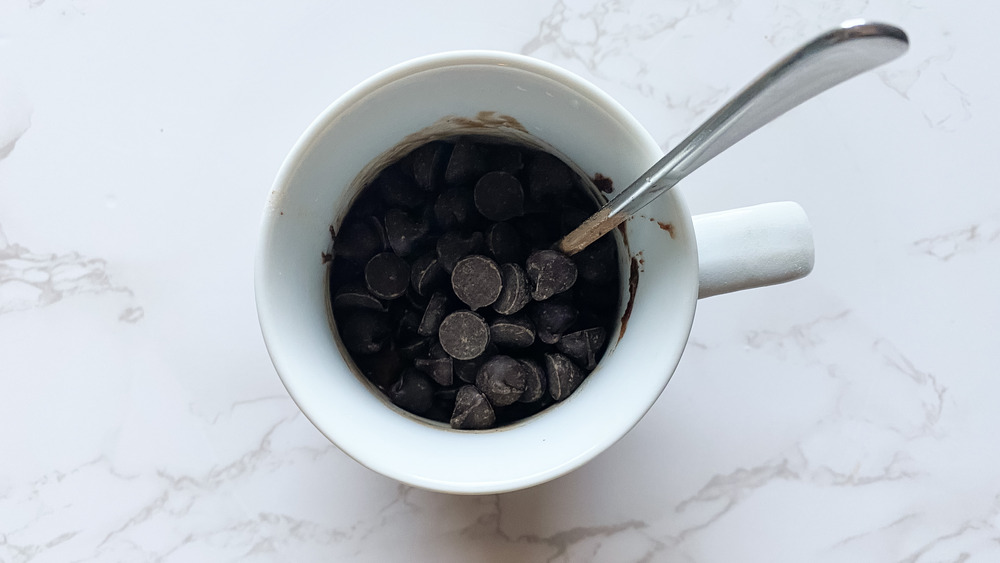 Kristen Carli/Mashed
It's time to add your final ingredient (and arguably the best one) before popping your mug into the microwave. Add 2 tablespoons of dark chocolate chips into your mug and, once again, stir them up. While dark chocolate chips will give the richest, fullest flavor to your mug brownie, it's at this point where you can let your creativity shine. Carlie says you could add semi-sweet or milk chocolate chips in place of dark chocolate, or you could use a combination. You could even try white chocolate, peanut butter, butterscotch, or sea salt caramel varieties. The choice or combination is entirely yours — just limit yourself to a total of 2 tablespoons.
Cook your mug brownie, and serve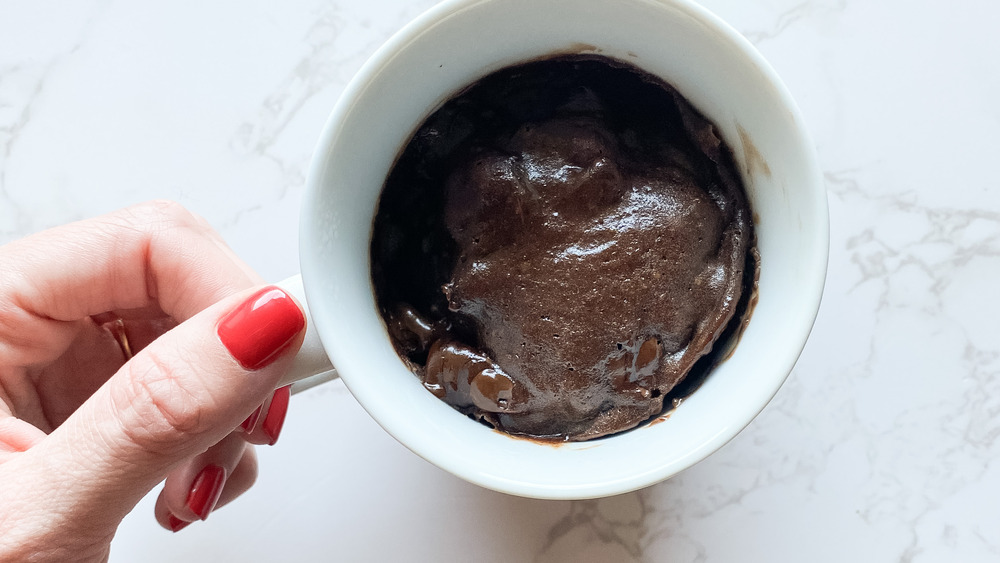 Kristen Carli/Mashed
Once you're satisfied with your chocolate chip choices, it's time to "bake." Simply pop your mug in the microwave and microwave it for a minute. To test to see if it's done (microwave times may vary), prick the center of the brownie with a fork. If the tines come out clean, it's ready. If they don't, try heating for another 15 to 30 seconds. 
Just like that, your personal brownie is ready to eat. Dig into the mug, or remove the brownie to a plate or bowl. And if desired, go ahead and add a topping like ice cream, a favorite brownie-topper. You could also smear a tablespoon of Nutella on top as "frosting," and maybe sprinkle chopped nuts on top of that. Remember, it's just a single brownie, so it's perfectly okay to indulge a little.
Mug Brownie Recipe
The next time you have a craving for the gooey, chocolatey deliciousness of a freshly baked treat, this mug brownie recipe has you covered.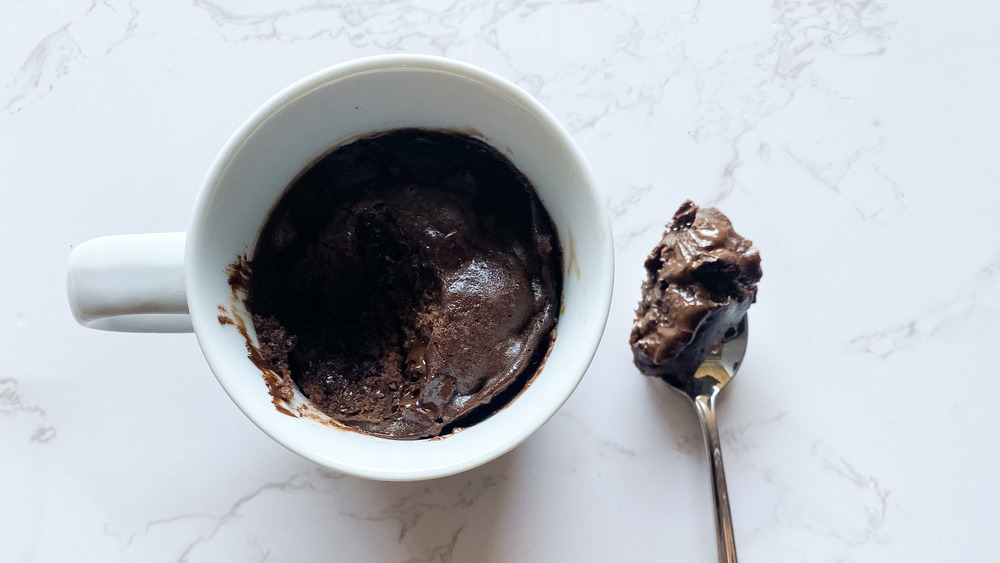 Ingredients
2 tablespoons unsalted butter
2 tablespoons sugar
1 tablespoon brown sugar
½ teaspoon salt
1 egg
¼ cup flour
1 tablespoon unsweetened cocoa powder
2 tablespoons dark chocolate chips
1 tablespoon water
Directions
In a microwave-safe mug, add 2 tablespoons of unsalted butter and microwave for 30 seconds, or until melted.
Add 2 tablespoons of sugar, 1 tablespoon of brown sugar, and ½ teaspoon of salt. Stir to combine.
Add 1 egg. Stir to combine.
Add ¼ cup of flour and 1 tablespoon of unsweetened cocoa powder. Add water. Stir to combine.
Add 2 tablespoons of dark chocolate chips. Stir to combine.
Microwave for 1 minute. Microwave times may vary.
Nutrition
| | |
| --- | --- |
| Calories per Serving | 658 |
| Total Fat | 37.9 g |
| Saturated Fat | 22.0 g |
| Trans Fat | 1.0 g |
| Cholesterol | 221.7 mg |
| | |
| --- | --- |
| Total Carbohydrates | 71.6 g |
| Dietary Fiber | 5.3 g |
| Total Sugars | 39.6 g |
| Sodium | 417.8 mg |
| Protein | 11.7 g |