The Real Difference Between Tahini And Hummus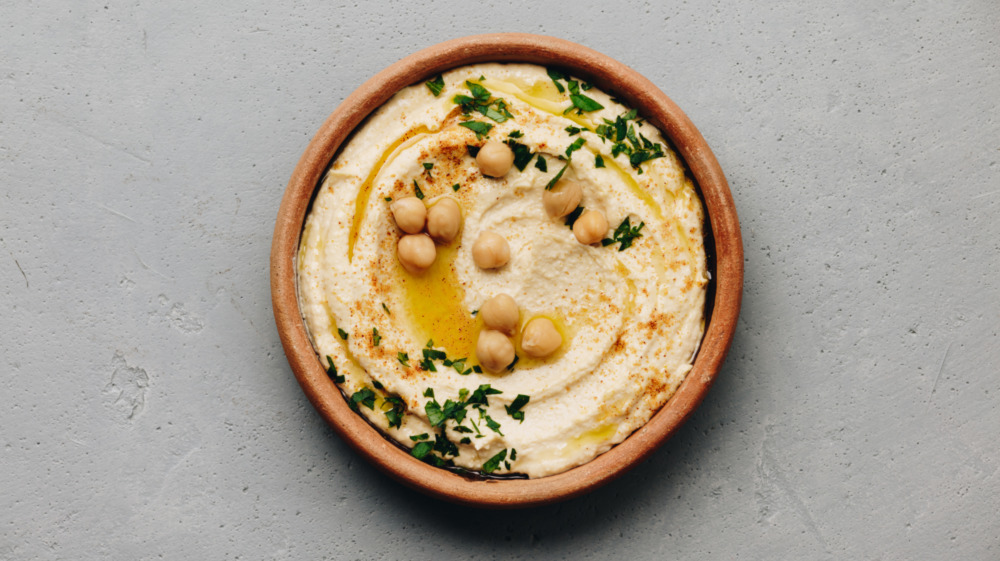 Shutterstock
The difference between tahini and hummus couldn't be simpler — while tahini is an ingredient, hummus is a finished dish that incorporates tahini. Both are incredibly versatile and have transcended the world of Middle Eastern cuisine to become a food staple around the world.
Tahini is a thick, flavorful paste crafted from ground sesame seeds, and is a key component in many Middle Eastern dishes (via Connect2Local). The simplicity of it means it's incredibly easy to make yourself if you want to experiment with the flavor without having to buy a full jar. All it takes is sesame seeds and oil — seriously, that's it. To make your own, simply toast some sesame seeds, blitz them in a food processor, and drizzle in oil until it becomes the consistency you're looking for. Tahini can keep in the fridge for a month, with just a bit of a stir needed to address any separation that may occur, according to the Minimalist Baker.
Hummus, on the other hand, uses tahini as a primary ingredient, combining it with chickpeas, garlic, lemon juice, olive oil, salt, and pepper (via The Kitchn). While it is possible to swap in another nut or seed butter if you don't have tahini on hand, be wary of doing so — there's just something about the rich, slightly bitter taste of sesame that adds a crucial flavor to hummus. If making your own, The Spruce Eats shares you can also add other ingredients to create flavors like roasted red pepper hummus, sundried tomato hummus, and more.
How versatile are tahini and hummus?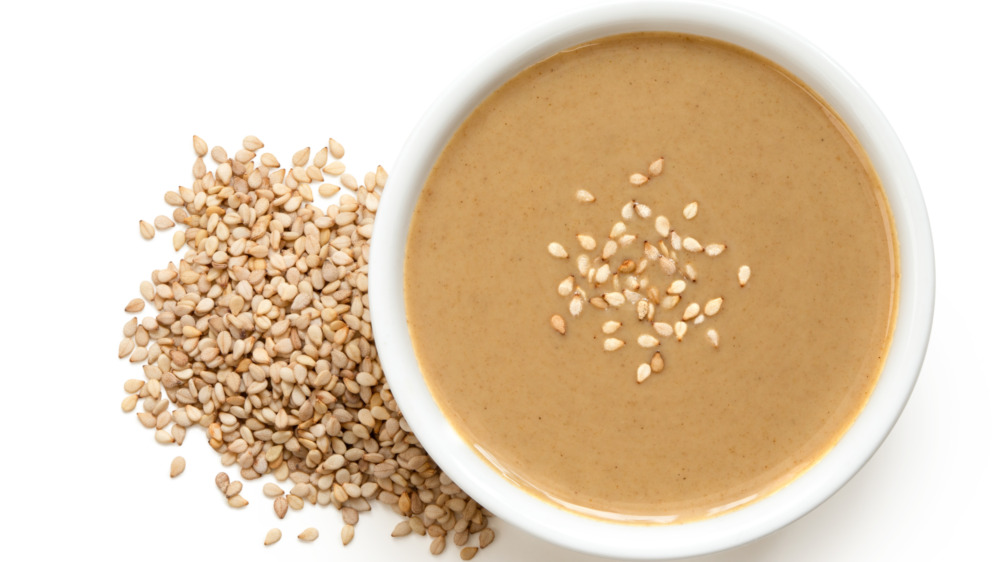 Shutterstock
Although there's nothing wrong with eating tahini and hummus with some pita bread or crudités, they can be used as far more than a dip. 
The chickpeas and the blending of flavors mean that hummus is a bit better suited for savory dishes, and can be a component in anything from pasta dishes to flatbread pizzas (via Bon Appétit). You can even slather it on burgers and sandwiches for a bit of a Middle Eastern flair, or combine it with additional chickpeas to create unique croquettes with a bit of a falafel vibe.
On the flip side, the nutty, rich flavor profile of tahini makes it a fantastic addition to sauces and dressings. MasterClass suggests adding a bit of liquid to your tahini, such as Greek yogurt or olive oil, to thin out the paste, then incorporating a hint of acidity to freshen up the flavor for a perfect salad dressing. Since it's an ingredient rather than a prepared dish, tahini is also better suited for desserts. Enjoy that toasted, nutty sesame flavor in treats such as brownies, ice cream, and more (via Brit + Co).