What Is Sorrel And What Is It Used For?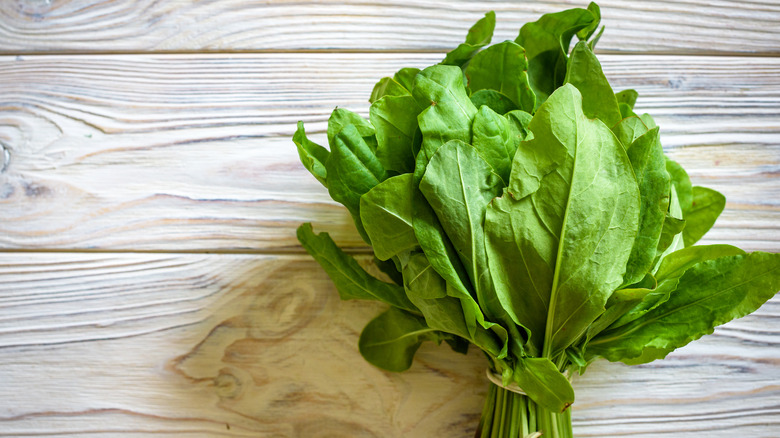 Shutterstock
If you're getting tired of adding the same leafy greens to your salad again and again, it might be time to try sorrel. It's a wonderful addition to meals that need a little bit of brightness or a lemon-y flavor. Though sorrel may not be common in American food, according to Food Republic, you can find the ingredient in Nigerian, Vietnamese, Hungarian, Romanian, Russian, and Indian cuisine.
There are a few different types of sorrel (sometimes called dock), which The Spruce Eats breaks down for us. You're mostly likely to find common sorrel in grocery stores or farmers' markets. Common sorrel has a stronger and sharper flavor than milder varieties like French or red-veined sorrel, and any of them can be used in cooking. There's also an ingredient called Jamaican sorrel — but don't get this mixed up with the leafy green kind! The Kitchn says that Jamaican sorrel is actually another name for hibiscus blossoms.
Epicurious explains that sorrel season starts during the spring can be harvested all the way through fall, though the leaves become more bitter over time. The outlet also mentions that sorrel is an easy plant to take care of and grows quickly, making it a great crop to add to backyard gardens.
How to enjoy sorrel in any meal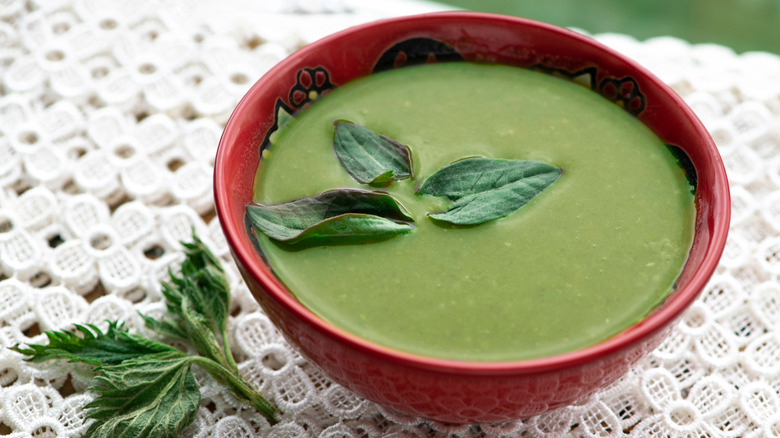 Shutterstock
Wondering how to add sorrel to your meals? You can eat sorrel raw or cooked, and The Spruce Eats says that sorrel is a bit of an in-between of herbs and greens. Epicurious shares that smaller sorrel leaves are better for eating raw, while larger leaves should be cooked.
While you might not want to use sorrel as an entire salad base, try adding some to top off a summer strawberry salad. Another easy way to use sorrel is to toss in a few handfuls of the greens to add some color and freshness to hearty stews, or enjoy the spring flavors while staying warm by making sorrel soup. There are plenty of variations of this dish across Eastern Europe, like this recipe from Peter's Food Adventures.
According to the USDA, sorrel is full of health benefits, like vitamins A and C, potassium, and calcium. Since sorrel is nutritious and versatile, it's the perfect way to change up what's on your plate while getting in your daily serving of greens. For anyone looking to try a new vegetable, sorrel should be at the top of your list.