The Store Bought Canned Peppers Bobby Flay Swears By
Shutterstock
Bobby Flay is one of the most respected and accomplished celebrity chefs on the Food Network. He's won the title of Iron Chef more than any other competitor, written countless cookbooks, entertained the world with his ThrowDown! with Bobby Flay, and garnered many an award and accolade in the process. Per People, Flay has been a mentor to the likes of Alex Guarnaschelli and even produced her cooking show. The grill master also has a great friendship with Giada De Laurentiis, and together they recently gifted us with Bobby and Giada in Italy, letting us walk the streets and enjoys the Italian eats right along with the dynamic duo. And when you ask everyone's favorite Barefoot Contessa Ina Garten about Flay, she gushes, "How does he do it? He blows me away. He has restaurants all over the world, cookbooks, television shows. I can't imagine how he does it, and he does them all well" (via the Food Network). Flay is well-liked indeed.
So, it only seems natural that Flay would make a guest appearance on Rachael Ray's show; there he took viewers on a trip to the Whole Foods he shops at to purchase the perfect ingredients to make his fried chicken, collard greens, and black eyed peas dinner. If you've watched the episode, then you might feel like you learned a lot about Flay, particularly when he shared what type of canned peppers he buys and why he likes them.
San Marcos Chipotle Peppers in Adobo Sauce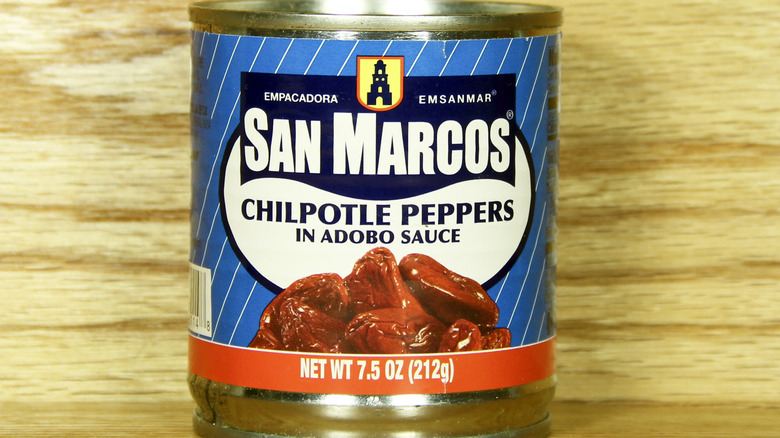 Shutterstock
First, who wouldn't want to go grocery shopping with a celebrity chef like Flay, even if it's just for ingredients for one meal? You know he's going to pick-out food items you probably walk past all the time and would never think of tossing into your cart. The next best thing, of course, is to watch him do his shopping on The Rachael Ray Show and show us all his tips and tricks. Flay reveals that he always starts with a list or he'll buy everything in the store and practices what he calls "precision shopping." So relatable, right? 
When Flay makes his way to the canned goods aisle, he shares that when people cook collard greens, they traditionally cook them with a smoked ham hock. But Flay says he's going to cook his collard greens and black eyed peas without pork, but without sacrificing that smoky goodness. His solution? Canned San Marcos Chipotle Peppers in Adobo Sauce. Flay explains that he can achieve quite the tastebud popping flavor with a can of these babies. He adds that these peppers provide "smokiness" and a "little bit of heat" to his collard greens and make them taste, "Oh, so good." We're sold!