The Genius Way Kardea Brown Turned Lasagna Into A Dip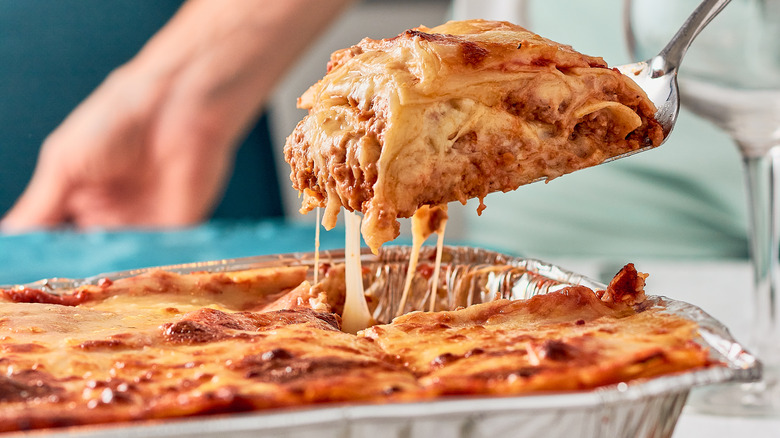 Shutterstock
Lasagna is a delicious, hearty dinner that can serve a crowd easily. But if you want to include the classic dish without making it the centerpiece of your meal, Kardea Brown might just have the best trick for you. The Charleston-born celebrity chef and Food Network host shared a video on her Instagram that explains how she turned lasagna into an appetizer. More specifically, a dip. 
She posted the video on April 14th, and within a week it had received nearly 18,000 likes. The caption read, "my love for lasagna has no limits ... that's why I made this lasagna dip. That's right I deconstructed a traditional lasagna and made it into a dip!!! I made an Italian gravy with onions, green peppers, garlic, ground beef, mild Italian sausage, and tomato purée. I added a cheesy bechamel sauce, dollops of ricotta cheese and shredded Italian cheeses on top! I fried strips of lasagna and seasoned it with an herb and garlic mixture....then dipped it in the oooey goooey lasagna dip!!!! INSANELY DELICIOUS!!!! This appetizer would be a hit at any party!!!" While she lists out her ingredients in the caption, the video was helpful for seeing how she brought it all together.
This is how lasagna dip is made
As her Instagram video shows, Brown started her lasagna dip by sweating the green peppers, onions, and garlic together in the pan. Then she added in her Italian sausage and ground beef and let them brown. Once those components were ready, she started layering all of those delicious cheesy ingredients. A bit of tomato puree or marinara went over the meat mixture, followed by a thick layer of bechamel sauce. Then, the ricotta was scooped over the sauces as well as a blend of Italian cheeses and a sprinkle of parsley.
For dipping, Brown boiled and fried the lasagna noodles, which she cut into bite-sized pieces perfect for scooping that amazing dip up. You could, however, turn to another Food Network star at this point. Giada de Laurentiis has a recipe for fried ravioli that would be another perfect (and cheesier) alternative for dipping into the lasagna dip once it's been baked in the oven.
So give Kardea Brown's lasagna dip a try. It just might be the best way to kick off your Italian dinners from now on.