Why Bobby Flay Fans Are So Confused About This Show's Timeline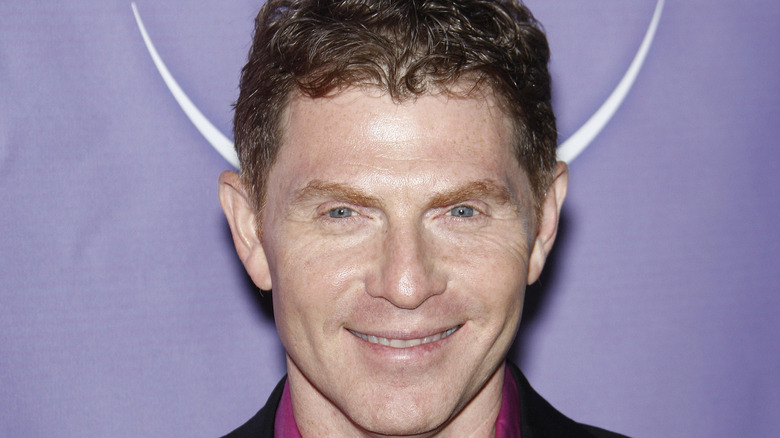 Shutterstock
Over one year after the coronavirus pandemic halted nearly all television production, things seem to be back to their regularly scheduled programming. Amongst other cable channels, the Food Network has been serving up a slew of new episodes for several months now. Some programs have a totally new look, such as Diners, Drive-Ins And Dives, which host Guy Fieri was able to continue filming during quarantine by bringing restaurant owners into his own home via video chat rather than traveling to them in his iconic red Camaro.
Another popular Food Network show, Robert Irvine's Restaurant Impossible, was able to return to filming on-location in June 2020, according to Variety. The new protocols implemented strict health guidelines for cast and crew that can be seen in the latest installments.
Bobby Flay's popular competition series Beat Bobby Flay has also returned to the lineup, airing new episodes since the beginning of 2021 (via Showbiz CheatSheet). However, one Reddit thread in r/FoodNetwork noted that the program has appeared completely unphased by COVID-19, leaving many viewers confused about its timeline production entirely.
Were Beat Bobby Flay new episodes filmed in pre-Covid times?
As pointed out in the aforementioned Reddit thread, the latest installments of Beat Bobby Flay show a lack of social distancing and a totally unmasked audience, causing many to question how the program was filmed. Some theorized that the "new" episodes were actually filmed during pre-Covid times. They also speculated that the program generally films as many as 600 episodes a year, with only "the best" being aired during each new season.
This theory could very well be true. Kathleen Finch, the chief lifestyle brands officer at Discovery that oversees Food Network, told Variety back in April 2020 that several of the channel's programs are "produced in bulk." Finch even admitted that she had "enough Chopped episodes to go well into 2021."
Redditor u/delightfullyunhinged added some more insight to the theory, sharing that they were in the audience during filming of Beat Bobby Flay months before the pandemic began in October 2019. Producers apparently told them that the episode would air in September 2020. As of February 2021, however, they still had not seen the episode on television, lending credence to the theory that all those unmasked, un-socially-distanced episodes were filmed in advance of the pandemic. Hopefully, that means we will get to cheer for competitors to take down Bobby Flay for many seasons to come.