This Is The Easiest Type Of Mushroom To Grill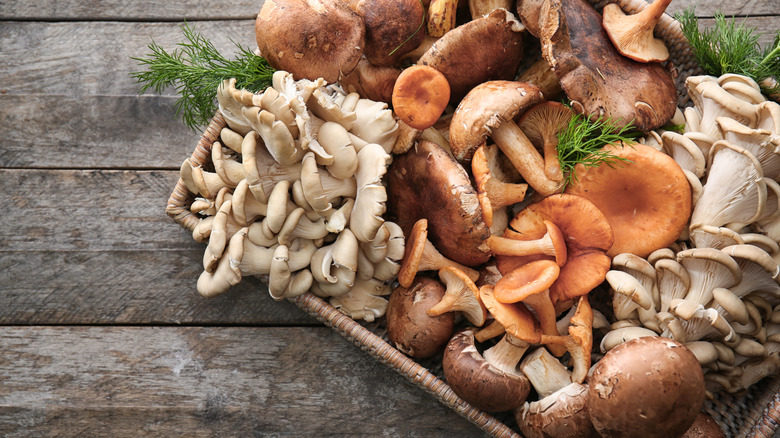 Shutterstock
During the summer, one of the best ways to enjoy a meal with your family and friends is to host a backyard BBQ. Often, burgers or seafood might be the stars of the show, but don't forget to grill some vegetables. They can be just as juicy and flavorful, and it's always a good idea to include some vegetarian or vegan options for guests with different preferences.
When you grill mushrooms correctly, they can be a tasty side dish or even the main meal. If you're cooking many meats and vegetables, grilling may seem overwhelming, so to make things easier, pick an easy type of mushroom to prep and sear.
Serious Eats has a guide on how to grill different varieties of mushrooms, but the easiest types of mushrooms to use at a BBQ are big-cap mushrooms. That's because larger mushrooms can be placed right on the grill since they won't fall through the grates. You can flip them just as you would a burger, cooking for about five to eight minutes on each side. This means lots of delicious flavor without the meticulous prep of placing your caps on skewers.
The best big-cap mushroom varieties to grill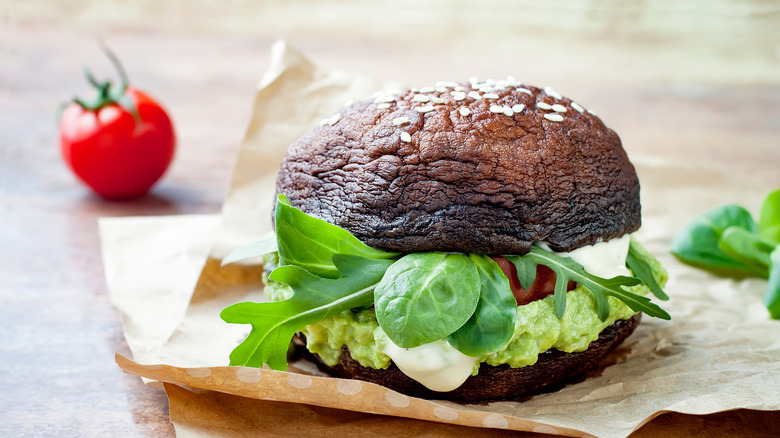 Shutterstock
So what exactly is a big-cap mushroom? Serious Eats provides two examples of big-cap mushrooms: portobellos and large shiitake mushrooms. According to Epicurious, portobello mushrooms make great meat alternatives because of their umami-filled density. Their large size makes their caps an easy substitute — not only for the meat — but for the hamburger buns as well. Series Eats also offers up the king trumpet mushroom, which you can slice through their thick stems, as an easy-to-grill patty.
Since you might find grilled portobello mushrooms on more menus, grilling a larger-sized shiitake mushroom is a simple way to try something new. One recipe from Saveur pairs grilled shiitake mushrooms with thyme leaves and dried serrano chilies. You can also use whatever spices, marinades, and seasonings you like to add more flavor to your big-cap grilled mushrooms.
Now that you know the best mushrooms for grilling, brush up on tips and tricks for cooking so you avoid any mushroom-grilling mistakes.