Krispy Kreme Is Bringing Back These Fan-Favorite Strawberry Doughnuts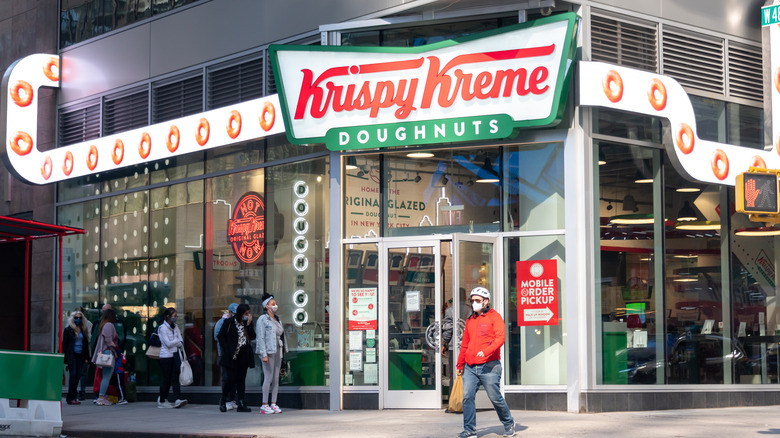 Noam Galai/Getty Images
Do you like sugar and shiny things? If your answer is a resounding yes, then Krispy Kreme's limited-run duo of strawberry doughnuts should be a winning combination. The chain announced in a press release that two glossy pink confections — Strawberry Glazed and Strawberry Kreme Filled — will be available for a limited time at participating locations beginning April 26 (via Business Wire).
If these treats sound familiar, you may remember them from Krispy Kreme's "Glaze Craze" promotion in 2020, when the chain released limited-edition lemon, key lime, and strawberry-flavored doughnuts. Evidently, the berry flavor was a standout. "Last year, fans couldn't get enough of Strawberry Glaze and have been asking for it to come back ever since," Krispy Kreme Chief Marketing Officer Dave Skena said in the press release. "So we're bringing it back. Hurry in and enjoy!" The Glaze Craze doughnuts are the only strawberry-flavored items on Krispy Kreme's menu, besides the strawberry iced doughnut and strawberry-filled powdered doughnut, so mark your calendar if you have a thing for berries (via Krispy Kreme).
What Krispy Kreme fans think of the strawberry doughnuts
Krispy Kreme shared an Instagram photo of the Strawberry Glazed doughnuts being covered in a lustrous sheen of glaze on a conveyor belt, and more than 700 commenters expressed their opinions. "I can eat a whole box of 12 easy," wrote @evanasfitnessdiary, while @ball_like11 said they look "bussin." Plenty of other users tagged their friends in the comments and urged them to make a trip to Krispy Kreme.
Can't wait until April 26 to find out how the doughnuts taste? YouTube has plenty of video reviews from last year's Glaze Craze release. The channel Our Life in ADHD said the Strawberry Glazed is "just like the Original Glazed with a hint of strawberry," while the Strawberry Kreme Filled (which is also glazed) "bursts" with strawberry flavor and made them happy dance in the car. And if you need a mesmerizing video to inspire sugary dreams tonight, Krispy Kreme shared a YouTube clip of their doughnuts being showered in shiny, pink glaze.