Costco Shoppers Are Obsessed With This Zebra Popcorn
Popcorn is delicious, but there's only so much plain, air-popped variety a person can snack on before they want something a little more ... flavorful. If that rings true for you, you might want to check out this latest deal at Costco. According to a post on Instagram from @costcodeals, the Popcornopolis brand now has a huge bag of their zebra flavor on sale. We're talking $3.99 for a giant 24-ounce bag — which is $2.80 off the usual price. The deal can be found in this month's Costco savings book, and expires May 9, according to the post.
If you're not familiar with zebra popcorn, it's a little slice of heaven that involves caramel corn drizzled with stripes of white and dark chocolate for incredibly sweet flavor. While it might not be the healthiest snack, there are some things you can feel good about when digging into this bag. Popcornopolis is non-GMO, gluten-free, and sans high fructose corn syrup (via Costco). 
Why people really love zebra popcorn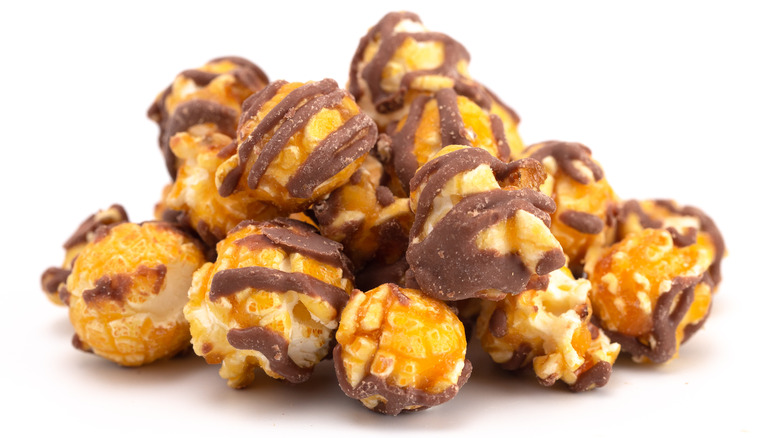 Shutterstock
Unlike some of Costco's more controversial snack foods — we're talking about you, Palmetto Cheese (via Eat This, Not That) — zebra popcorn seems to be tempting just about everyone in the comments section of @costcodeals' post on Instagram. One person affirmed, "This popcorn is amazing." Meanwhile, others are making the most of the deal by stocking up now for holidays. As one person noted, "I buy these at Christmas, throw a bow on ... and give them to co-workers." Not a bad idea, and it's sure to make you more popular at work.
The vast majority of commenters tagged a friend about the promotion. However, at least one person saw the savings as a potential threat, commenting, "Ohh this is dangerous popcorn! Lol Looks delicious!" Although, to be fair, wandering around the snack aisles at Costco is never a good idea if you're looking to cut back on calories. After all, it's the home of the 7-pound tubs of Nutella and 180-serving buckets of mac and cheese, among other bizarre Costco finds.