Why You Should Avoid Cracker Barrel's Pecan Pancakes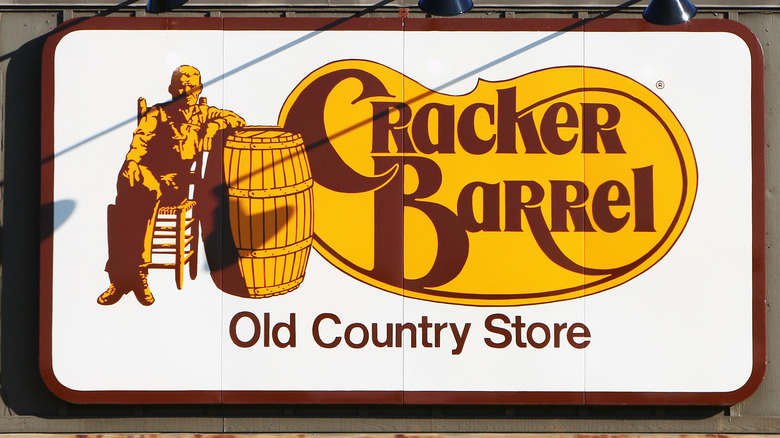 Shutterstock
Cracker Barrel is an old-time favorite for many customers across the U.S. As noted by Country Living, the first Cracker Barrel shop was founded in Lebanon, Tennessee in 1969 and expanded from there, mostly around interstates where travelers could get a good home-cooked meal and even some gasoline in the early days. Since then, it has grown by leaps and bounds. Currently, there are more than 650 restaurant locations across the country (via Statista) and the chain serves more than 11 million orders of its famous Chicken n' Dumplins every year, says Country Living.
Cracker Barrel prides itself on this type of homestyle comfort food and Southern dishes. According to Spoon University in its list of the top 10 best Cracker Barrel menu items, other favorites include the Macaroni n' Cheese, Double Chocolate Fudge Coca-Cola Cake, Gravy n' Biscuits, Country Fried Shrimp, and the Pecan Pancakes from the breakfast menu.
But, if you're trying to eat healthy, you might want to reconsider what you order and take a look at the nutritional information for each dish — especially those fluffy pancakes.
Skip the pancakes -- here's why
There's one big problem with ordering the pecan pancakes at Cracker Barrel – they're not very good for you. According to a nutrition expert, it can actually be one of the worst items to order off the menu. One serving has quite a bit of calories, fat, and sodium, per Cracker Barrel's website. In just three pancakes, there are 1,130 calories, 2,720 milligrams of sodium, and 70 grams of fat. That's more than half the daily recommended amount for caloric intake and an entire's day worth of fat and sodium requirements all in one sitting. 
Adds Eat This, Not That, there are an extraordinary 119 grams of carbs in this dish and it's loaded with "empty calories," especially when you start adding in the butter and maple syrup. So, what should you eat instead? According to the article, opt for the Good Morning Breakfast that offers egg whites, grits, and fruit — and more than 30 grams of protein to boot. For dinner, you might want to consider the Grilled Sirloin Steak or Grilled Chicken Tenderloins — just remember to choose the sides wisely, too.