Costco Fans Are Loving Its Teriyaki Salmon Meal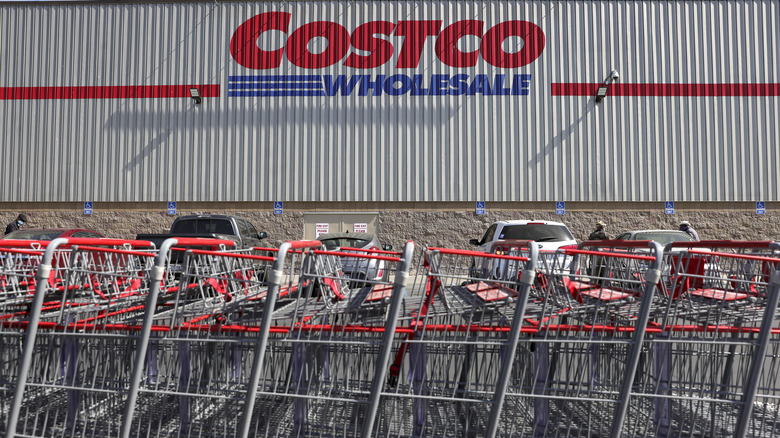 Mario Tama/Getty Images
It's a fact that Costco caters to those that want a quick dinner but would rather not cook it. It's obvious in the popularity of its food court selections and plethora of frozen foods — but also in the array of ready-to-cook dinner packages featuring hearty proteins and sides. The grocery chain's Teriyaki Salmon tray, for example, offers pre-portioned fish filets with assorted sliced vegetables and a delicious sauce, reports Midwest-based fan Instagram account @costcobuys. Throw this dish in the oven or a skillet, and you'll have a salmon feast reminiscent of Gordon Ramsay's version (via YouTube) in a fraction of the time.
According to the post, the pre-packaged meal costs $6.79 per pound and contains three pieces of uncooked farm-raised salmon with raw broccoli, red onions, and a variety of bell peppers. The salmon is sprinkled with fresh herbs and comes with a small side container of teriyaki sauce, which commenter @missboutbusiness said is highly sweet and potent and should be used conservatively.
Costco fans also recommend these picks from the seafood section
Some Costco fans are very into the flavor of this Teriyaki Salmon meal. "Delicious!!! We ate it all in one sitting," Instagram user @lovelynutty31 commented on @costcobuys' post. Others especially appreciate the pick for its convenience. "This would be so perfect for college students!" said @myhealthoagelol_, adding, "You can make everything in the air fryer and don't have to worry about portioning out salmon." Their comments were enough to convince a few customers to try and find it on their next run.
But, if you can't find it at your local Costco, some commenters offered ideas for other seafood options at the store. If you prefer to stock your freezer with quick dinners, take a cue from @ja2896: "I buy their frozen salmon whenever it's on sale and it's always good." For those that love sushi and crudo, @winowithwieners recommends Costco's "amazing" ahi tuna poke and ceviche. Availability varies by region and season, so your best bet is to simply explore the seafood section of your nearest Costco and see what you discover.