Slow Cooker Butter Chicken Recipe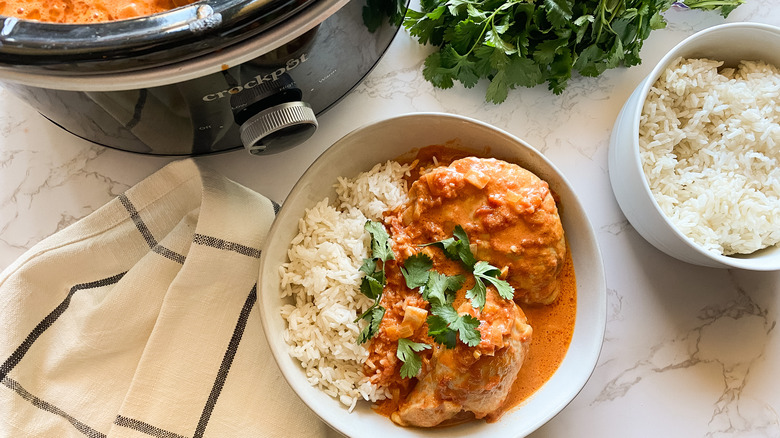 Kristen Carli/Mashed
It's probably not all that surprising to hear that when you combine a couple of tablespoons of butter, a cup of heavy cream, some spices, tomatoes, garlic, and onion, you get a sauce that's rich and delicious. And when you slow cook chicken in said sauce over the course of multiple hours, you get a dish that's tasty, tender, and an absolute crowd-pleaser. It's called butter chicken, and it's good news for anyone trying to impress a dinner guest or placate a picky eater.
And in equally good news, chef, recipe developer, and registered dietician Kristen Carli says: "This dish is very easy to make. Any time you have a slow cooker dish, the difficulty level is fairly easy, so this makes a great weeknight meal," provided you plan ahead and get things cooking toward the end of lunch time. Fortunately, you'll only need to budget out about 10 minutes to get things in the slow cooker and on their way toward a delicious dinner.
What to pair with butter chicken to make the best dinner? "This is best served with rice or naan bread," says Carli, adding: "I love this with a big side of roasted broccoli."
The backstory of butter chicken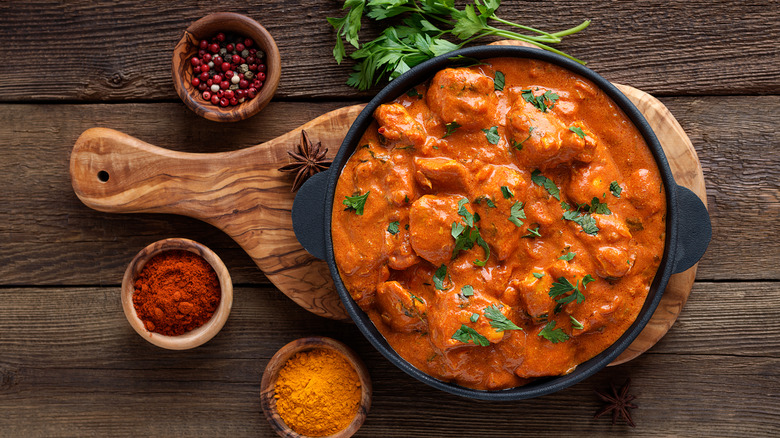 Shutterstock
According to Fodors, butter chicken, one of the most beloved Indian dishes on earth, hasn't been around all that long in the scheme of things. It's unclear who exactly gets credit for the dish: It may have been a chef named Kundan Lal Gujral who left Peshawar, Pakistan, settling in Delhi where he opened a restaurant that soon offered butter chicken. Or it might have been the brainchild of one of grandfather's of Lal's partners in the restaurant, a man named Kundan Lal Jaggi.
Who gets the credit is murky. That butter chicken emerged from an Indian restaurant called Moti Mahal is clear. And one taste will make it clear why the dish went on to sweep the globe.
Gather your ingredients for this slow cooker butter chicken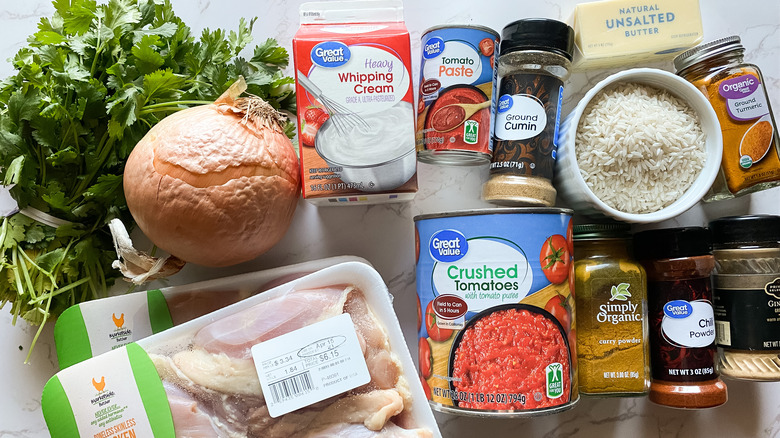 Kristen Carli/Mashed
While this dish may trace its roots to Northern India, you won't need to visit a speciality grocery store to scoop up all the ingredients needed to make a batch at home — you'll find everything needed at any decent supermarket, and in fact, you may already have most of it on hand.
You'll need diced yellow onion, melted butter, a 28-ounce can of crushed tomatoes, tomato paste, heavy cream, minced garlic, ground ginger, curry powder, ground turmeric, ground cumin, chili powder, boneless skinless chicken thighs, salt, pepper, some cilantro leaves for garnish, and ideally rice and naan bread for serving.
Make the sauce in the slow cooker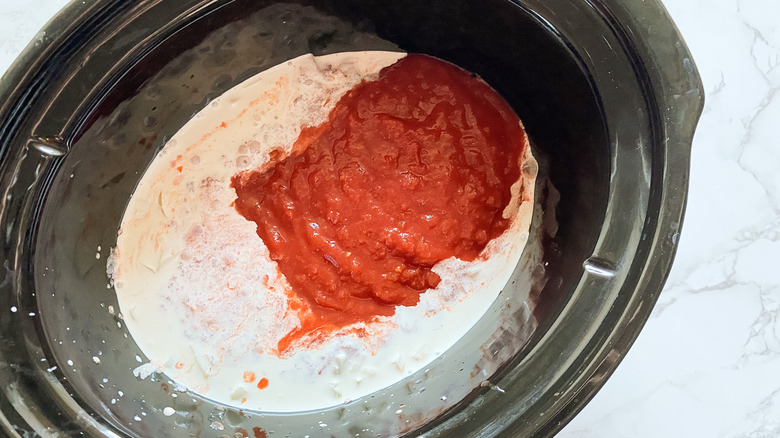 Kristen Carli/Mashed
First things, first, crank that slow cooker up to its high heat setting.
Now, add the melted butter and diced half of a yellow onion to the slow cooker (or add the butter and let it melt, then proceed), and stir to combine the two. Then, add the can of crushed tomatoes, the tomato paste, and the cup of heavy cream. Stir to combine everything well.
After that, you can add the minced garlic, ground ginger, curry powder, turmeric, cumin, chili powder, salt, and pepper, and again stir to combine everything well. The sauce should be thick and rich.
Add the chicken, let it cook, then enjoy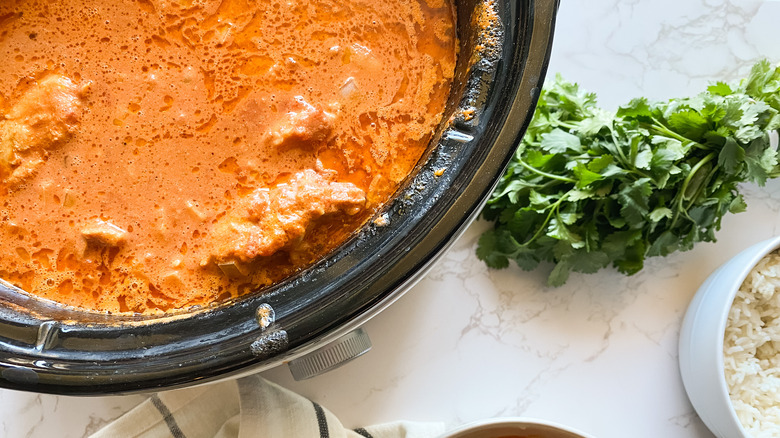 Kristen Carli/Mashed
Assuming you already trimmed excess skin, fat, and gristle off the chicken thighs (and if not, do so now), you basically have one step left with this entire recipe. Add the chicken thighs to the slow cooker, and make sure to submerge meat fully in the mixture. Now pop the top on the slow cooker and cook the dish on high for four hours.
And that's it! Serve your slow cooker butter chicken over rice and garnish it with cilantro, pairing the dish with naan bread. Then enjoy! And if you have any leftovers, Carli says: "It will keep in an airtight container in the fridge for up to five days, and it reheats well in the microwave."
Slow Cooker Butter Chicken Recipe
This slow cooker butter chicken is very easy to make. It makes a great weeknight meal to share with family and friends. Give it a try!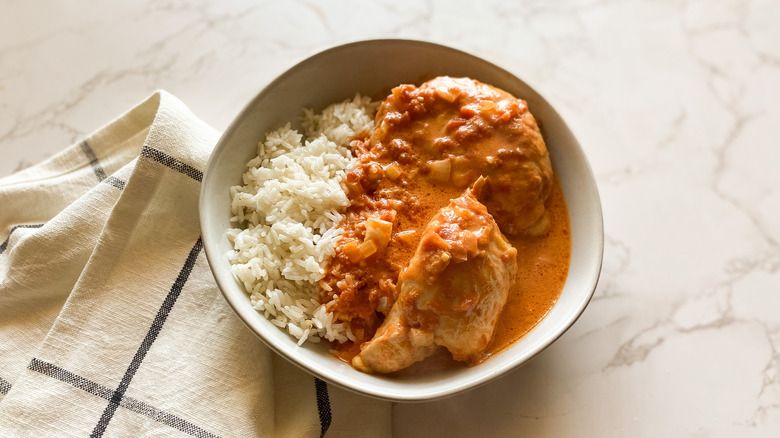 Ingredients
2 tablespoon butter, melted
½ yellow onion, diced
28-ounce can crushed tomatoes
2 tablespoons tomato paste
1 cup heavy cream
2 teaspoons minced garlic
½ teaspoon ground ginger
1 teaspoon curry powder
½ teaspoon ground turmeric
1 teaspoon ground cumin
1 teaspoon chili powder
1 teaspoon salt
½ teaspoon pepper
8 boneless skinless chicken thighs
1 teaspoon cilantro leaves, for garnish
1 cup jasmine rice, for serving
Directions
In a slow cooker, add melted butter and onion and stir.
Add tomatoes, tomato paste, and heavy cream. Stir to combine.
Add garlic, ginger, curry powder, turmeric, cumin, chili powder, salt, and pepper. Stir to combine.
Add chicken thighs, making sure to submerge chicken in mixture.
Cook on high for 4 hours.
Serve over rice and garnish with cilantro.
Nutrition
| | |
| --- | --- |
| Calories per Serving | 489 |
| Total Fat | 22.5 g |
| Saturated Fat | 10.9 g |
| Trans Fat | 0.2 g |
| Cholesterol | 229.8 mg |
| | |
| --- | --- |
| Total Carbohydrates | 29.0 g |
| Dietary Fiber | 2.9 g |
| Total Sugars | 6.1 g |
| Sodium | 713.9 mg |
| Protein | 42.3 g |