How Ina Garten Keeps Her Sheet Pans So Spotless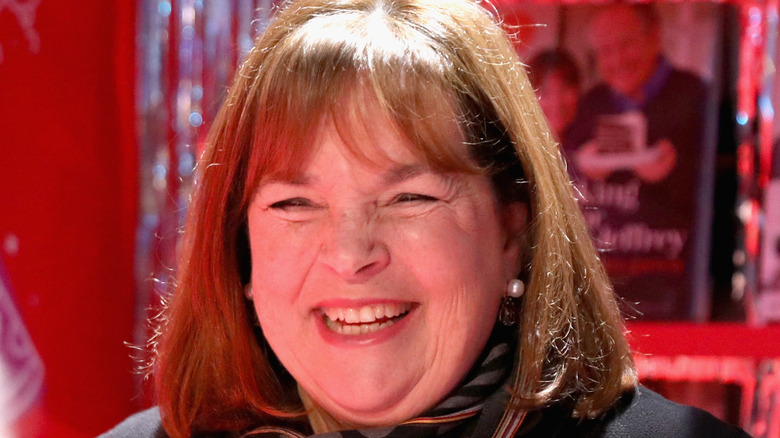 Amy Sussman/Getty Images
Longing for spotless sheet pans just like Ina Garten? The queen of the kitchen seems to have the perfect solution at her fingertips, so that dingy pans will be forever banished from the cabinet. As shared on the Ask Ina page of the Barefoot Contessa website, one curious cook asked how Garten keeps her sheet trays clean. Garten's response was two-fold. First, she recommended Brillo pads to scrub away the grime. Second, she washes those pans in the dishwasher. 
The dishwasher recommendation is an curious one, because as The Spruce advises, most sheet pans don't do well when placed in the dishwasher. The site explains that the appliance can cause pitting, corrosion, and alkaline spots. Still, can you really discount advice from Garten? 
While proper washing is important, Garten did recommend using a parchment paper lining to help avoid messes. Although the disposable liner can make for easy clean-up, there are other reasons to use parchment paper on a sheet pan. The Pioneer Woman suggests that parchment paper helps for more even baking, reduces spreading, and makes for clean edges. In some ways, that parchment paper could be the simple solution to preventing both your washing conundrum and dirty sheet pan problem.
Uses for sheet pans outside of the oven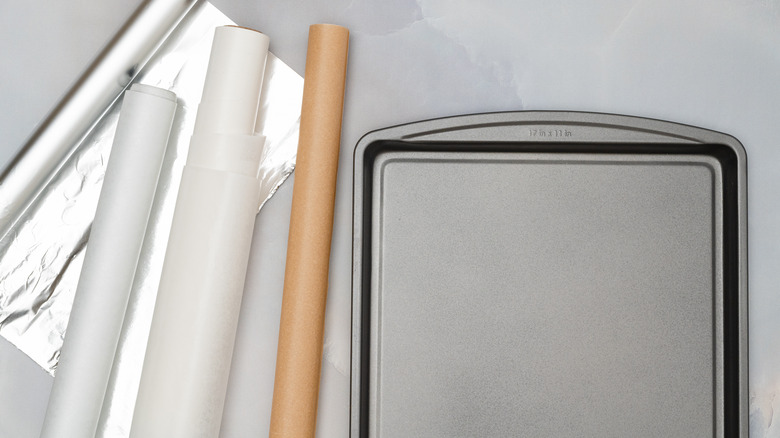 Shutterstock
While many people use a sheet pan for one-pan dinners, that rimmed kitchen essential can be more than just an oven workhorse. According to Taste of Home, there are many other uses for this kitchen item. For example, a sheet pan can be the ultimate kitchen organizer. From lining pantry shelves to corralling baking ingredients to being the tray that brings all the ingredients to the counter, it could be the new must-try hack. Baking sheets can also be used in the refrigerator to keep food organized on the shelf thanks to its built-in lip that prevents items from slipping off.
That's not all, of course. Taste of Home explains that sheet pans are fabulous as dip trays, herb drying surfaces, and oven protectors, too. They're also ideal for freezing food. Instead of throwing everything into a bag or container where it sticks together, the flat surface allows for even freezing. In many ways, the humble sheet pan is one of the most versatile kitchen tools out there — no wonder why Ina Garten takes such good care of hers!