Carlota De Limón Is The Mexican Ice Box Cake Your Cinco De Mayo Celebration Needs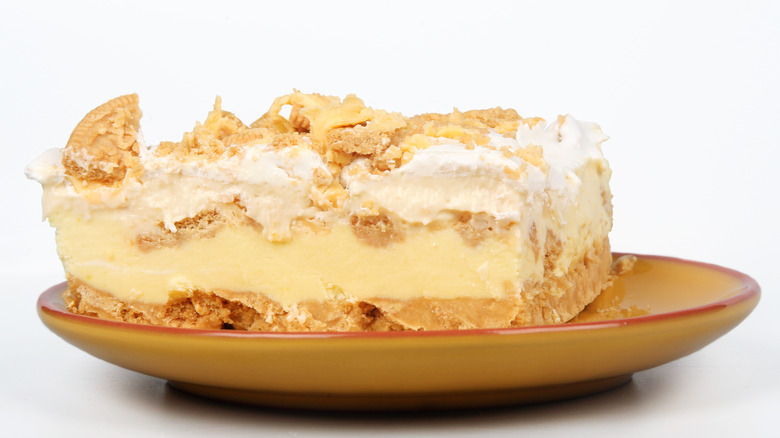 Shutterstock
Preparing a big bash for Cinco de Mayo? This year, set yourself up to celebrate with minimal preparation — meaning less cooking, more drinking, and more fun. Cholula already has their burrito bases covered with their DoorDash deal to land you some free Mexican fare for the day, but what about dessert?
That's where this classic concoction comes in: carlota de limón (sometimes referred to as postre de limón). Carlota translates to Charlotte, which is a no-bake ice box cake. While some parts of this traditional Mexican dessert resemble any other Charlotte cake, a carlota is different because it contains fruit (via The Other Side of the Tortilla). The most popular variation come spring and summertime is carlota de limón, which uses galletas María cookies and lime juice or lemon juice to make a fresh and fun dessert worthy of your Cinco de Mayo festivities.
Don't waste a beautiful, early spring day meant for celebrating sweating over a stove. Instead, impress your guests with this freezer cake, which only requires a handful of staple ingredients. Besides, as much as we love a good Mexican hot chocolate, nothing can beat the bright burst of flavor of a homemade carlota.
Make Cinco de Mayo fuss-free with a no-bake carlota
Lemon or key lime carlotas are top picks at most dessert tables, but traditionally, carlotas are made with any sort of fruit. You can try making this with apples in the fall or peaches in the summer for an easy recipe to keep on hand for those last-minute cookouts when you have minimal time (and energy) to prepare. While you can change up the fruit to your liking, one ingredient is a must: galletas María cookies.
According to Mexican Made Meatless, María cookies are a popular Latin American digestive biscuit that are just the right level of sweetness to balance out the tartness of your cake. Some might make the swap for ladyfingers, but to make this as authentic as possible, you'll want to stick with galletas María.
My Latina Table's simple spin on carlota de limón is as effortless as they come. Squeeze about five of your lemons or limes, and blend the citrus juice with one can of evaporated milk and one can of sweetened condensed milk. Some recipes, like Mexican Made Meatless, toss in a small splash of vanilla for an extra level of sweetness. Once that's blended, fill a baking dish with alternating layers of the María cookies and the mixture. Pop it in the fridge for at least two hours, and then serve and celebrate!