Honey Garlic Slow Cooker Chicken Thighs Recipe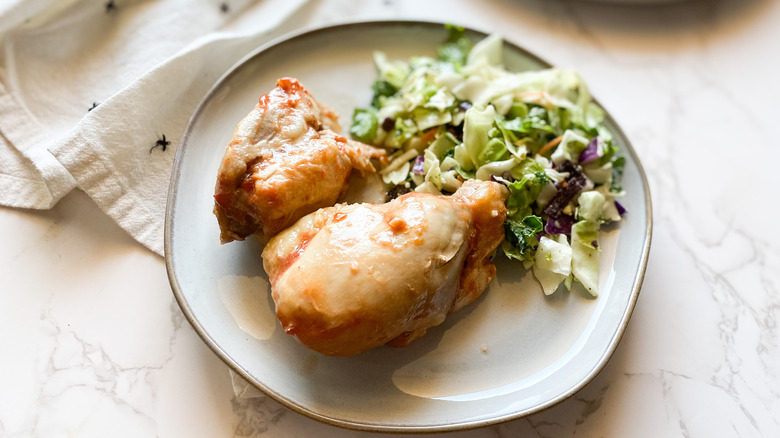 Kristen Carli/Mashed
These slow cooker chicken thighs are seriously the easiest to whip up when you're having a busy week. Cooking chicken at home can be surprisingly daunting. It's hard to get it right without ending up with meat that's dry or rubbery. That's why we were so excited to learn you can do the bare minimum of prep work, stick the meat and marinade in a slow cooker for four hours on high, then experience extreme relief with the resulting tender, tasty chicken. This recipe will certainly make you wonder why you haven't always made chicken this way.
"This flavor is so delicious. It is reminiscent of BBQ flavors for sure," says recipe developer and private practice registered dietician Kristin Carli of Camelback Nutrition & Wellness. The recipe calls for thighs that are skin-on, and bone-in, so you know they'll be easy to prep and very flavorful. Keep reading for more details on how to make chicken thighs that you'll want on weekly rotation — we promise!
Gather the ingredients to prepare slow cooker chicken thighs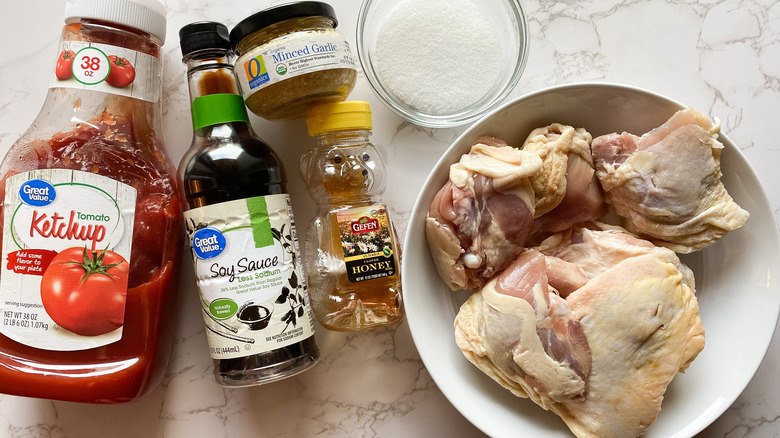 Kristen Carli/Mashed
The first step is to gather all the ingredients for the slow cooker chicken thighs, to make sure you have everything you need.
Thankfully, this recipe does not require a long list of ingredients, and what it does call for, you probably already have in your pantry or fridge. For the chicken thigh marinade, you will need soy sauce, ketchup, sugar, minced garlic, and honey. Then, of course, you'll need six bone-in, skin-on chicken thighs.
This recipe yields six servings, so if you know you're feeding a group that will want more than one thigh, you might want to double up on the ingredients.
Make the marinade for this tasty slow cooker chicken recipe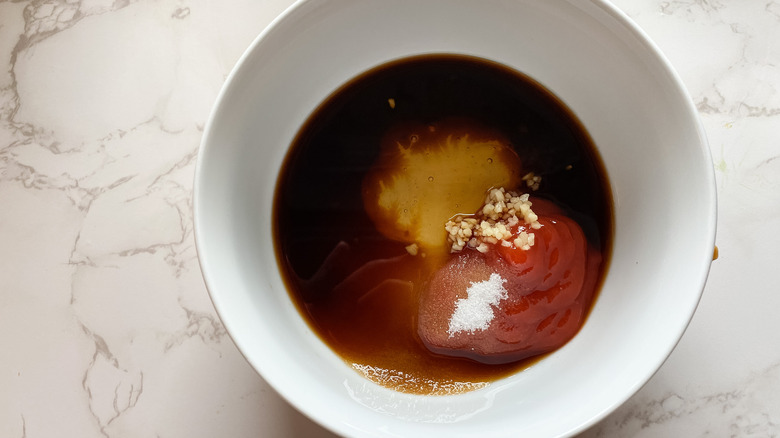 Kristen Carli/Mashed
The marinade for these slow cooker chicken thighs is criminally easy to make. All you have to do is combine the ketchup, soy sauce, sugar, garlic, and honey in a small bowl. Whisk everything together until the mixture is smooth. 
If you are gluten-free or looking to avoid wheat, instead of soy sauce, you can make the marinade with tamari, which contains little to no wheat and is often used in place of soy sauce for those living that gluten-free life. The final flavor will still have that incredible BBQ/Asian fusion flair with the tamari subbed in instead. And, of course, double-check that ketchup label, but ketchup is usually gluten-free already.
Add the chicken thighs and marinade to the slow cooker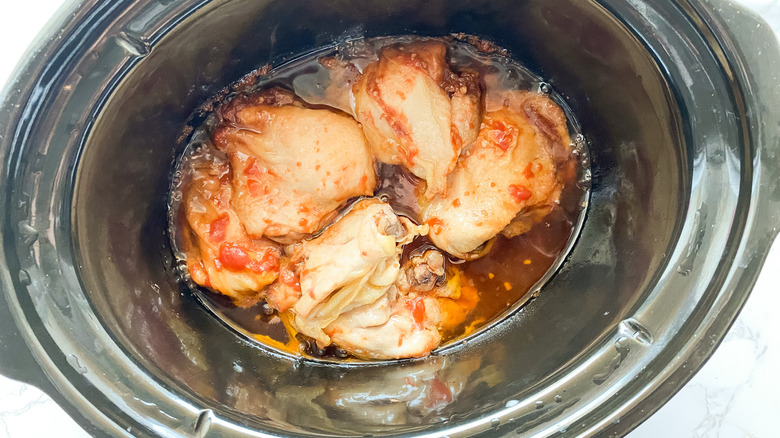 Kristen Carli/Mashed
Add the six chicken thighs to the slow cooker, and cover with the marinade you've prepared. Cook the chicken on the high setting for four hours. 
It's important to note that this recipe specifies using a small, 4-quart slow cooker. We'd only advise using a larger slow cooker if are planning on doubling the recipe. Carli confirms, "The sauce will not cover the chicken if you use a big [slow cooker], because it will not fill up the whole slow cooker. I recommend using a small slow cooker or doubling the recipe to use in a big slow cooker." So, if you only have a bigger-sized one, more chicken thighs for everyone!
Serve the slow cooker chicken thighs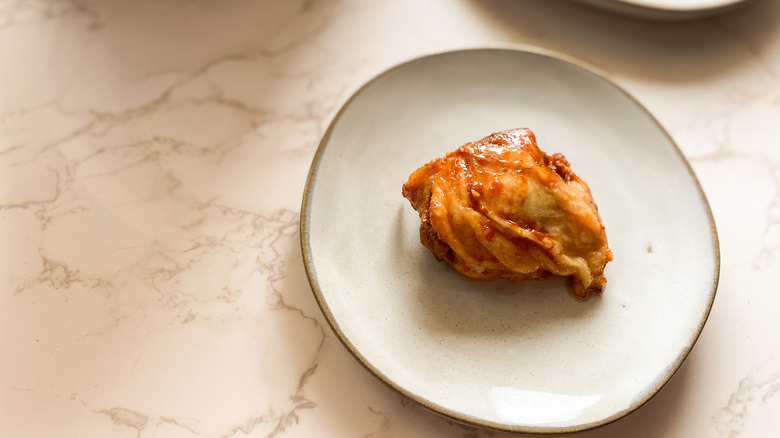 Kristen Carli/Mashed
After four hours of cooking on the high setting, the chicken should be ready to serve up and enjoy. Remove the thighs from the slow cooker with tongs, then use a spoon to spread any leftover marinade onto the chicken. The chicken should keep in an airtight container in the fridge for about three days.
And if you're wondering what to serve on the side of this protein, Carli says, "This goes great with salad and mashed potatoes or roasted veggies." We also think it would taste great with traditional BBQ sides like baked beans, collard greens, mac and cheese, and/or cornbread. The sky is truly the limit, as this chicken is a pretty versatile main course.
Honey Garlic Slow Cooker Chicken Thighs Recipe
These slow cooker chicken thighs are so easy to whip up when you're having a busy week. This recipe would pair well with a fresh salad and mashed potatoes.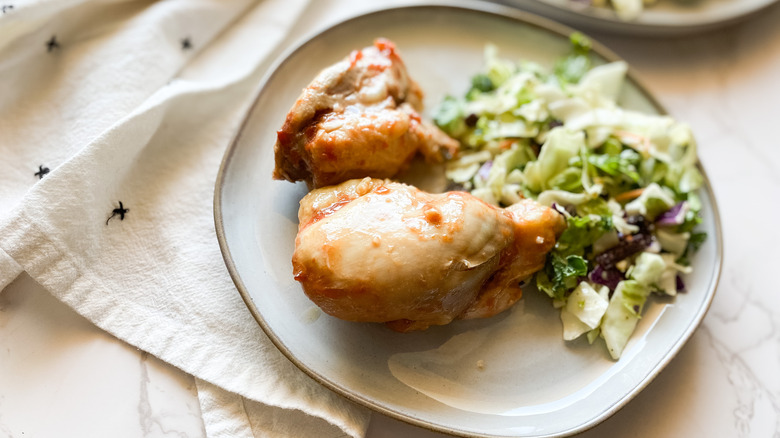 Ingredients
6 bone-in and skin-on chicken thighs
2 tablespoons soy sauce
2 tablespoons ketchup
1 teaspoon sugar
2 teaspoons minced garlic
2 tablespoons honey
Directions
In a small bowl, add the soy sauce, ketchup, sugar, garlic, and honey. Whisk to combine.
In a small 4-quart slow cooker, add the 6 chicken thighs. Pour sauce on top.
Cook on high for 4 hours.
Serve, and enjoy!
Nutrition
| | |
| --- | --- |
| Calories per Serving | 460 |
| Total Fat | 32.1 g |
| Saturated Fat | 8.7 g |
| Trans Fat | 0.2 g |
| Cholesterol | 189.1 mg |
| | |
| --- | --- |
| Total Carbohydrates | 9.1 g |
| Dietary Fiber | 0.1 g |
| Total Sugars | 7.7 g |
| Sodium | 501.1 mg |
| Protein | 32.5 g |