Guilt Free Ground Turkey Tacos Recipe
Mikayla Marin/Mashed
When it comes to tacos, eating just one is almost never an option, especially when you're tucking into a crispy pan-fried shell and juicy, spiced turkey taco meat fresh from the stove.
We all love and expect big flavors from our taco fillings, but you don't have to turn to beef to get it. Lean turkey meat makes for some seriously delicious ground turkey tacos. This is particularly true when you use our tried and true seasoning blend and cooking technique that delivers juicy meat with classic taco flavors. The best part is that ground turkey is healthy enough to reduce the guilt over reaching for that second (or third) taco.
So forget the beef for a night, and try out ground turkey in your tacos, complete with crunchy corn tortilla shells and any topping under the sun, though we might have some suggestions.
Get more recipes from Mikayla on her blog The Flour Handprint.
The ingredients you need to make perfect ground turkey tacos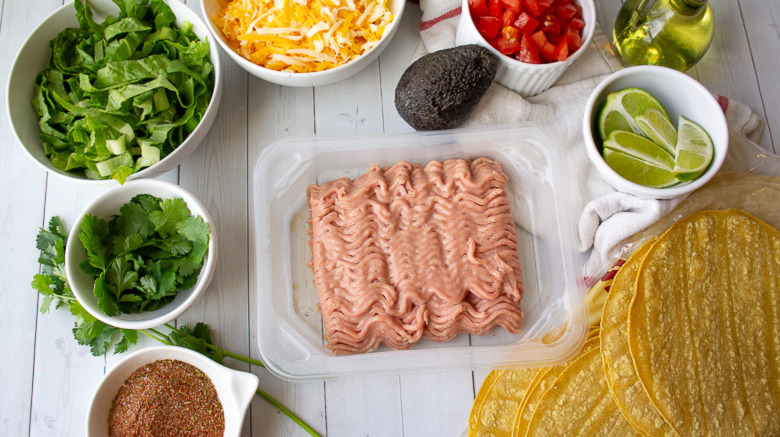 Mikayla Marin/Mashed
It's important to note that there are different types of turkey you can purchase. The 99% lean ground turkey is most common, as we're usually after low fat when we're cooking with turkey. But you can also buy a 93% lean that has some fat left in it. Neither has enough fat to cook without the addition of oil, so go ahead and get whichever one you prefer.
Beyond the ground turkey, there are a few other things you'll need to have on hand to make your tacos.
First come the spices. You'll want a blend of common pantry spices like cumin and chili powder, mixed beforehand for easy addition to your cooked meat. You'll also need oil and water for the cooking, a variety of fresh toppings, and some sort of vessel or taco shell to wrap around all the flavorful goodies.
A mixed spice blend makes ground turkey delicious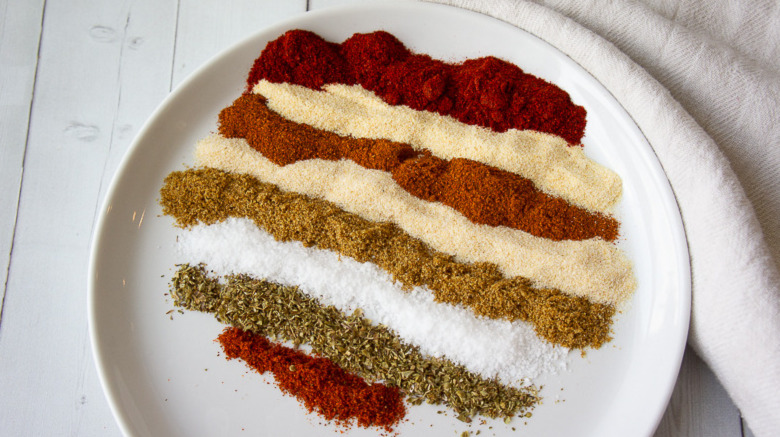 Mikayla Marin/Mashed
Ground turkey on its own is rather bland, which is why it gets an undeserved rap for being a boring alternative to beef. But it's simply not true! Ground turkey is a blank canvas, like white rice or pasta — whatever spices you add, it'll drink up.
To create that taco meat flavor, use a combination of chili powder, smoked paprika, cumin, onion powder, granulated garlic, cayenne, dried oregano, and of course, kosher salt.
There are tons of ways to make a taco seasoning, of course, and if you're missing one of the listed ingredients, there are a few alternatives. You can always grind cumin seeds down if you only have the whole spice. A coffee grinder works great for that, and you can just add in the rest of the spices and pulse it to mix.
You can also use regular paprika, but we'd avoid sweet paprika for this recipe. The cayenne does add heat, so if you're looking to lower any spice, reduce or remove the cayenne altogether. Red pepper flakes make a nice alternative to cayenne if you need it.
It's really important to note that you'll need just over a quarter cup of water nearby when it's time to cook with those spices, so get it ready while you mix them up.
You have choices for taco shells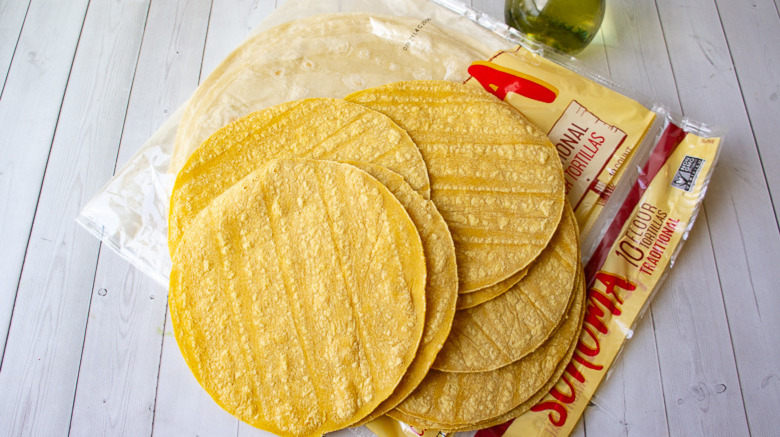 Mikayla Marin/Mashed
We opted for crispy, pan-fried corn tortilla shells for our ground turkey tacos. They're crunchy and delicious and a perfect contrast for the texture of the meat and fillings.
You can, of course, buy pre-made crunchy shells or prep your corn tortillas how you like them — the grill is a great choice to heat them up but keep them soft. It's also totally fine to swap corn tortilla for flour tortillas to have soft tacos or burritos instead. If you're into homemade versions, please, go ahead and whip up some tortillas — the filling makes it worth it!
Heck, this recipe is so flexible, you can ditch the shells, go for chips, and make everything else exactly the same for some really tasty nachos. In fact, if there are any leftovers at the end of the meal, that's exactly what we recommend you do with that turkey meat!
How to pick the all-important toppings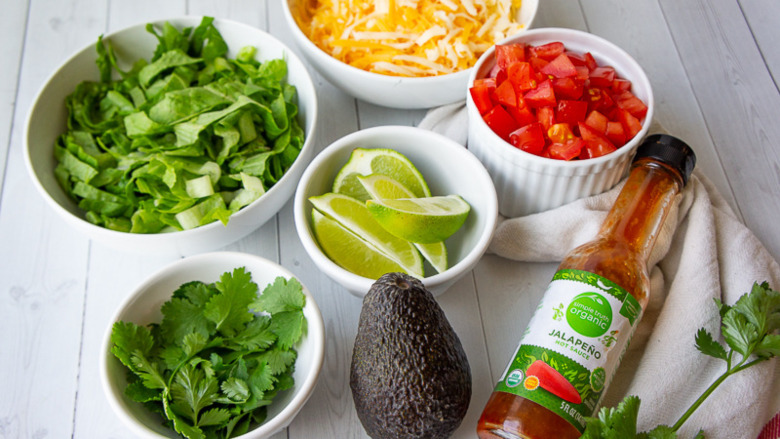 Mikayla Marin/Mashed
In the interest of simplicity and hungry stomachs, we kept our toppings simple this time. Shredded cheddar and Monterey jack cheeses, chopped ripe tomato, and shredded lettuce are just right to top your ground turkey tacos.
But we've also enjoyed toppings like cilantro, fresh lime juice, avocado, onion, pico de gallo, sour cream, and guacamole on top of turkey tacos before, and they're just as lovely!
You can experiment with different combinations, or go for your favorites if you prefer. All that really matters is that you're building upon the spiced meat to create that perfect bite. We recommend choosing toppings that give you a variety of textures — from melty to crisp to soft — and help round out the spices. A mixture of cheese, fresh produce like avocado or tomatoes, and some sort of herb or green usually does the trick.
Start with the key ingredient, ground turkey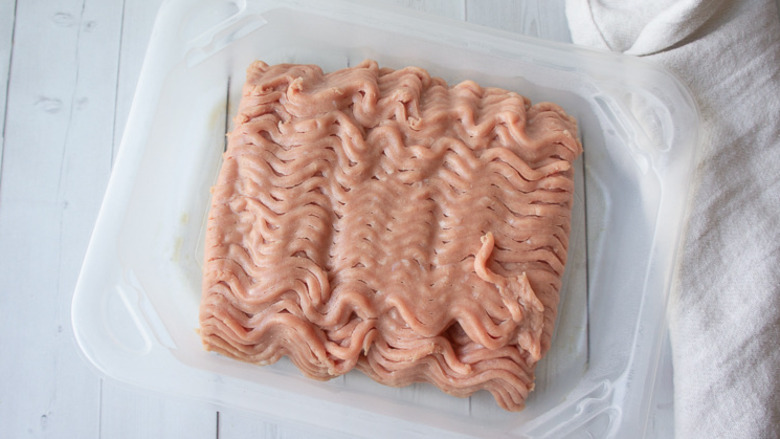 Mikayla Marin/Mashed
To get perfect tacos on the table, we need to start by creating the perfect ground turkey taco filling. Turkey is lean and needs the help from oil to not stick to the pan but also to caramelize and deliver better flavor. Using a nonstick pan is helpful, but you can use also your favorite stainless steel or enameled cast iron skillet. 
Before we add any spices or do any other cooking, we just need to get that meat browned, and there are a few key steps to doing it. The pan should go over medium heat, and once the pan is hot, add in three tablespoons of oil and let it heat to a shimmer. It's really, really important to let the pan and the oil both get hot before adding the turkey. Adding it too early will lead to more steaming than sautéing, which will affect the texture and appearance of your turkey.
Add water and spices to create the best flavor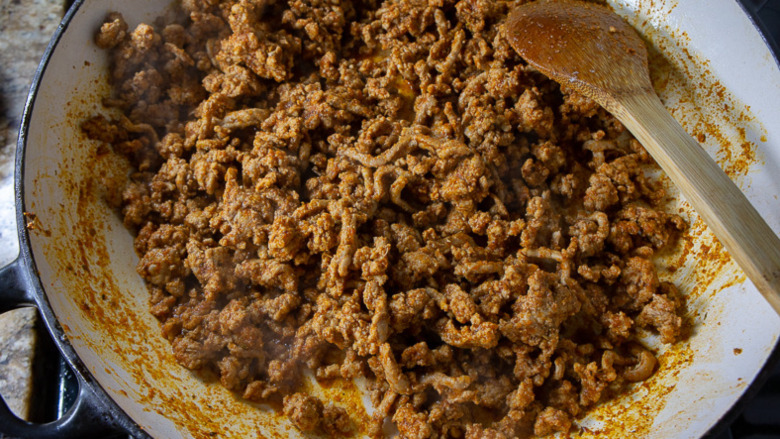 Mikayla Marin/Mashed
Once everything is hot, the turkey goes in. Let it sit in the oil for a minute, which will help create even browning and reduce sticking. Then, begin to break the meat up with a sturdy spoon to create the ground meat texture you're looking for. Stir occasionally until everything is browned and delicious.
Then, turn the heat down to low and add in all the spices and the water at once. This will create a wet sort of slurry with the spices and the residual oil in the pan. Keep stirring until all of the ground turkey is coated with the spices. They will darken the meat, so it's usually fairly simple to see when it's been distributed evenly.
At this point, it will look like there's a lot of liquid in the pan. Simply turn the heat down to medium-low and let the pan simmer so the meat absorbs the water and spices. Stir frequently until all the water is gone.
Cook or prep your taco shells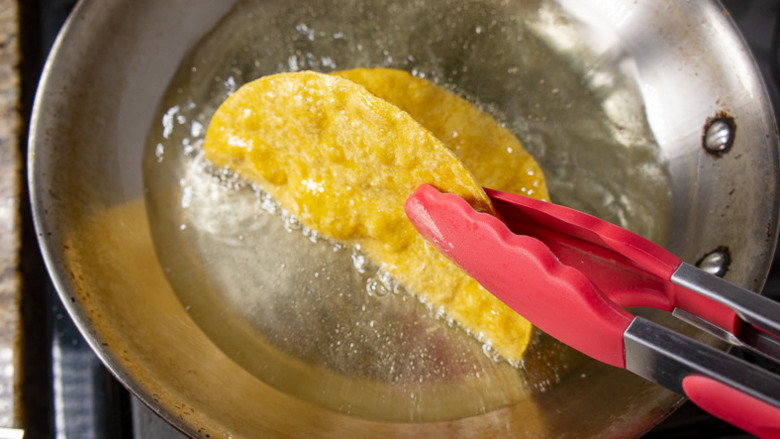 Mikayla Marin/Mashed
If you're opting for another taco shell route, do your thing, but if you're making these delicious pan-fried shells, it's time to get cooking. With practice, this can totally be done while your turkey cooks, but the shells require some attention and cook quickly, so we recommend waiting until the meat is cooked to fry them up.
Pour the remaining oil into a small sauté pan and let it heat over medium-high heat until the oil shimmers. You can always test the oil before you drop in your first tortilla by dipping just the edge of one in at first. If it sizzles rapidly at the touch, the oil is ready.
Simply slide the tortilla under the oil and let it fry for 15 seconds or so. Then, using tongs to grip one edge, carefully flip the tortilla in the oil and bend it in half. Keep hold of the shell and gently move it in the oil, flipping every 20 seconds until the shell is crispy and golden brown on both sides. Place finished shells upside down on a paper towel-lined baking sheet or plate while you finish frying.
Top with any or all of the toppings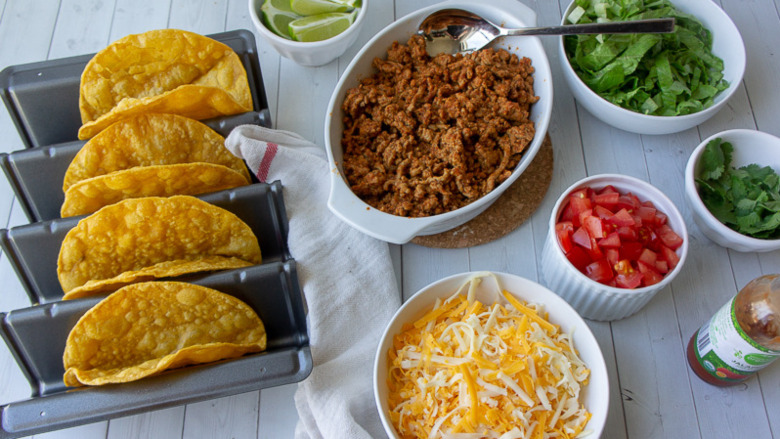 Mikayla Marin/Mashed
Once your shells are fried and the meat is cooked, it's time to serve! Assemble them however you like, but we like meat in the shell first, topped with cheese and tomatoes, and finished with a light layer of crisp, cold lettuce.
That first bite of crunchy shell and perfectly seasoned ground turkey is heaven, and we know you'll enjoy it, no matter the toppings you go for.
Be sure to store any leftovers in the fridge within two hours of cooking, except for the shells which can be kept at room temperature in an airtight container. It's almost impossible to retain that crisp texture overnight, so if possible, we recommend cooking fresh shells each time. The ground meat will hold in the fridge for about three to five days and can be reheated for more tacos (or nachos) whenever you please. If it seems dry, you can add a splash of water while reheating.
Guilt Free Ground Turkey Tacos Recipe
When it comes to tacos, eating just one is almost never an option, especially when you're tucking into a crispy pan-fried shell and spiced turkey taco meat.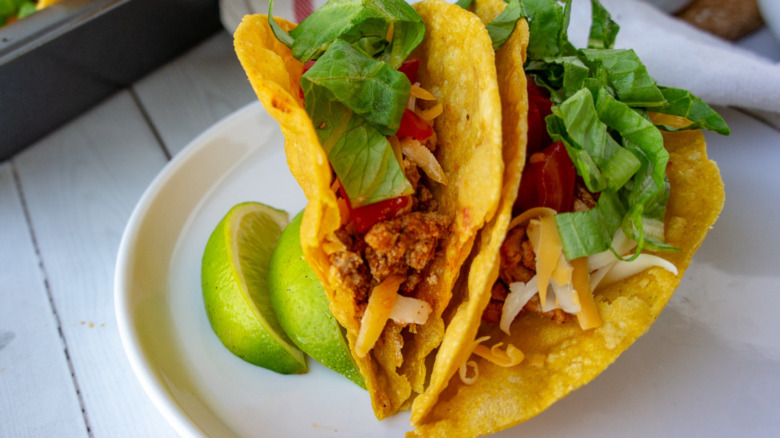 Ingredients
1 ¼ teaspoons chili powder
1 ¼ teaspoons cumin
1 ¼ teaspoons onion powder
1 ¼ teaspoons garlic powder
1 ¼ teaspoons smoked paprika
¾ teaspoons dried oregano
1 teaspoon salt
¼ teaspoon cayenne pepper
¾ cups oil, divided
1 pound ground turkey
5 tablespoons water
12 corn tortillas
1 cup shredded lettuce
2 tomatoes, diced
1 ½ cups shredded cheese
Directions
Combine all the spices, including salt, into a bowl and stir. Prep any toppings as needed.
Heat a large skillet over medium heat. When pan is hot, add 3 tablespoons of oil and allow it to heat until it shimmers.
Add ground turkey to the pan and allow to brown, stirring occasionally to cook it evenly and break it up.
When turkey is browned, turn the heat down to medium-low and add in the water and spices.
Cook, stirring to evenly distribute the spices, until the turkey is well-coated and all the water has evaporated.
Heat another small skillet (as big as the tortillas you're using) with the remaining oil.
When the oil is hot, slide one tortilla into the oil and allow it to cook for 15 seconds, then use tongs to flip and gently fold it into a taco shape.
Cook, flipping the side of the taco shell is in the oil every 20 seconds or so until the shell is crisp.
Remove the cooked shell to a paper towel-lined plate, placing it upside down, and repeat with remaining shells.
Serve with the tacos shells, ground turkey, and desired toppings.
Nutrition
| | |
| --- | --- |
| Calories per Serving | 590 |
| Total Fat | 44.3 g |
| Saturated Fat | 9.3 g |
| Trans Fat | 0.5 g |
| Cholesterol | 81.0 mg |
| | |
| --- | --- |
| Total Carbohydrates | 25.3 g |
| Dietary Fiber | 4.2 g |
| Total Sugars | 1.8 g |
| Sodium | 568.4 mg |
| Protein | 25.3 g |