Shake Shack Has A New Shrimp Burger. Here's What You Need To Know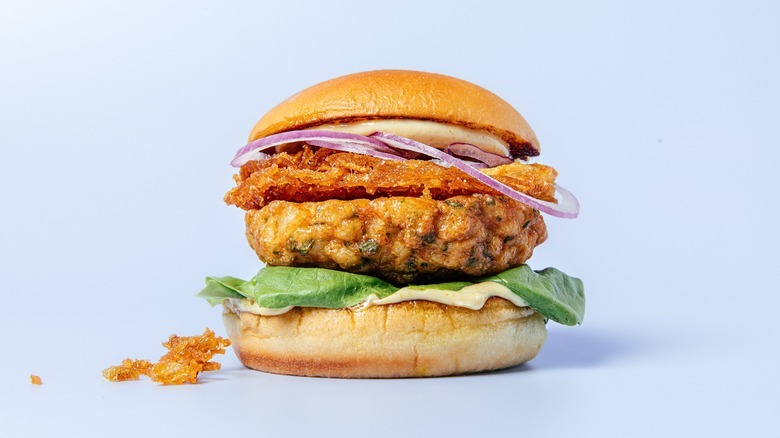 Shake Shack
Get ready to start shakin'. Shake Shack announced the famous eatery will partner with star chef Junghyun "JP" Park and his crew at Manhattan restaurant Atoboy to make the limited edition Atoburger. The $7.49 shrimp burger will be available for one day only, Thursday, May 6, at the Madison Square Park Shake Shack, which is located in the same neighborhood as Park's Atoboy. 
Shake Shack's description of the Atoburger is seriously swoon-worthy: a tasty shrimp burger with a crunchy hash brown on top, Atoboy's signature Grenada pepper sauce, thinly sliced red onions, crisp butter lettuce, all served up on a toasty potato bun. Sadly, the restaurant will have only a limited supply on hand, Shake Shack said in an announcement.
Locals take note: The first 40 customers to buy an Atoburger at the store (read: not via a meal delivery service) will also receive a free bottle of Atoboy Grenada pepper sauce.
Earnings from the special event will be donated to the charity Heart of Dinner, a non-profit that assists Asian restaurants in their effort to eradicate food insecurity and feelings of isolation among New York City's older Asian American population.
Chef Park's vision for the Atoburger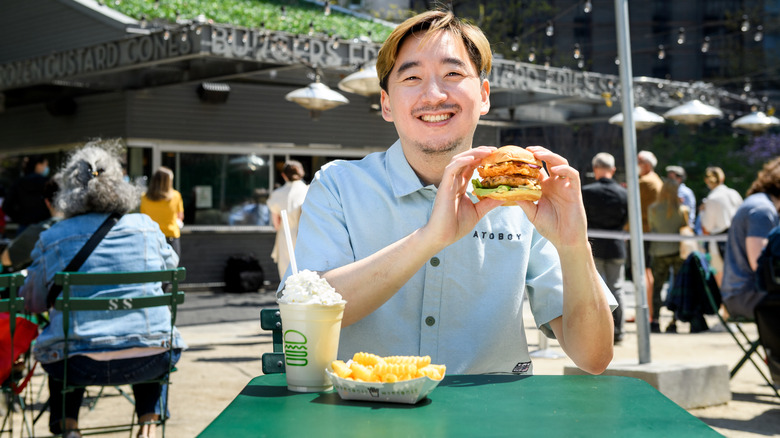 Shake Shack
Chef Junghyun Park of Atoboy noticed that shrimp burgers were incredibly popular in Korea, so he opted to create a dish just like that for Shake Shack and Atoboy's fans in New York City. With Atoburger, Chef Park is incorporating seafood into the Shake Shack menu for only the second time in the restaurant's history, per an official press release.
"I am thrilled to be partnering with Shake Shack to present our Atoburger, inspired by the contemporary trend of shrimp burgers in Korea, with added elements such as the crispy hash brown and Atoboy's hot sauce," said Chef Park. "We're grateful for the philanthropic core of the Now Serving series to highlight the amazing work of Heart of Dinner, providing food security to seniors in the local Asian American community."
The partnership with owner and executive chef of Atoboy and Atomix's Junghyun 'JP' Park is part of Shake Shack's "Now Serving" series, in which the brand partners with local chefs across the country. 
Park's Atoboy features a banchan-inspired tasting menu and received a Michelin Bib Gourmand in 2017. Atomix, Park's newest venture, received a James Beard nomination for "Best New Restaurant" and a 3-star review from The New York Times. Atomix also was awarded two Michelin stars.