The Real Reason Bobby Flay Cooks Burgers On The Griddle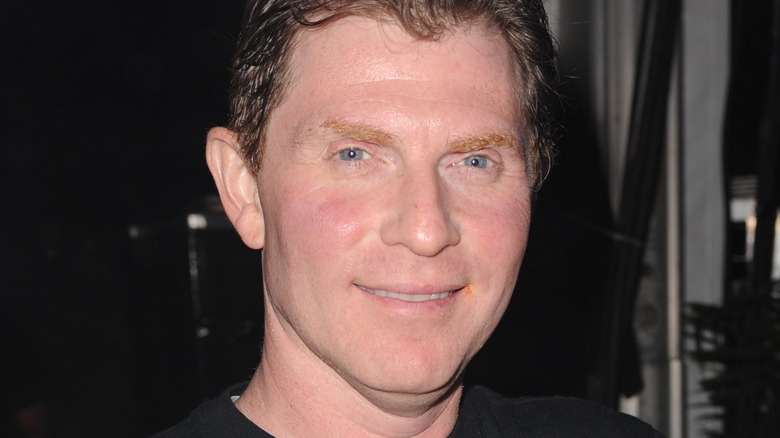 Larry Marano/Getty Images
Bobby Flay has spent a considerable amount of time behind a grill during his illustrious career, one of his most notable times working the appliance on-screen being as host of his first Food Network show "Grillin' and Chillin'" in 1996 (via Food Network). According to his website, the New York native then went on to have several other programs centered around the cooking method in addition to authoring a number of cookbooks specifically focused on grilling as well. Flay even gets to show off his impressive grilling techniques from time to time on his current Food Network competition show, "Beat Bobby Flay."
Of course, if you know anything about Flay, you know that one of his favorite foods to both make and eat is a burger, which also happens to be the menu staple for his restaurant chain Bobby's Burgers Palace. Therefore, it only seems natural that the chef would combine his two affinities when whipping up his signature meal, right? Not quite. As it turns out, the winningest Iron Chef actually pulls out a griddle to flip his patties on rather than firing up the grill, and his reason for employing the technique is actually inspired by one of his favorite places to get a burger for himself.
Bobby Flay's favorite burger in New York City inspired how he makes his own
Bobby Flay has likely eaten more burgers than he can count during his lifetime, but the one from J.G. Melon's in New York City holds a special place in his heart. "Nothing fancy — just a simple burger with American cheese cooked on the griddle," he told Eater about his favorite place in the Big Apple to grab the meal.
Flay explained to First We Feast that he "literally grew up" in the iconic restaurant on the Upper East Side that opened in 1972. However, it has gone beyond being his go-to spot to grab lunch or dinner, as the griddle-cooked J.G. Melon's burger is also the inspiration behind Flay's own decision to make burgers on the griddle. "The patty gets a great crust on it that way," he explained to Eater about his borrowed technique. The method of cooking burgers on a griddle's flat surface also lets it cook in its own juices, which he told Food Network "keeps it really nice and moist."
The chef has employed a few other techniques from J.G. Melon's for the burgers served at Bobby's Burger Palace, like using a soft bun, and even credits the restaurant as his inspiration behind "crunchify-ing" his burgers with potato chips (via First We Feast). "All of those experiences at J.G. Melon helped define what I love about a burger," he told First We Feast. Sounds like a good burger to us, too!