Here's What Aldi Shoppers Are Saying About This 'Pearsecco' Hard Cider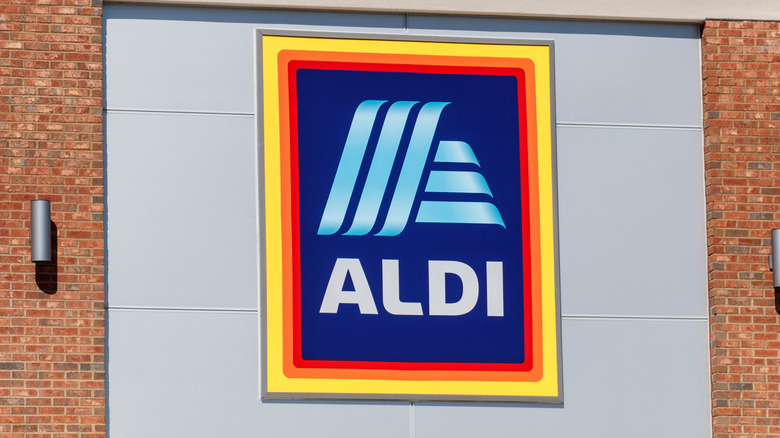 Shutterstock
What if you could combine your love for light, lively prosecco with the fruit-forward notes of hard cider? You can, thanks to the Wicked Grove Hard Cider "Pearsecco" beverage available at Aldi. The bubbly and dry cider is inspired by crisp and light sparkling wines, the pastel blue can reads (via Instagram). As its name suggests, the flavor aims to mimic the experience of biting into a crunchy, juicy, refreshing pear — but with a sip of booze rather than a piece of fruit.
Pearsecco comes from the Wicked Grove hard cider producer in Middlebury, Vermont, the small town's "one cidery" and "the real deal," said one Reddit user in a thread about the product. Aldi has worked with the cidery before to carry its bottled Crisp Apple and Elderflower hard ciders, which got a 90-point rating from the Beverage Tasting Institute, according to Aldi's website. Head to your nearest Aldi to see if the canned Pearsecco lives up to the Wicked Grove name. Prices and availability may vary based on state liquor laws, Redditors advise.
What Aldi's Pearsecco tastes like
Some commenters on the Reddit post about Pearsecco were concerned about potential sweetness overload, having been scarred by other hard ciders' saccharine taste. "Sometimes ciders are out of this world," one Redditor explained after asking about the sugar content. 
According to the nutrition facts, each 160-calorie can of Pearsecco has just three grams of added sugars and contains only hard cider, pear juice, citric acid, and natural flavors. The original poster was "pleasantly surprised" to find that Pearsecco is not overly sweet, and others agreed. "I hate super sweet ciders and I'm probably gonna stock up on these," one user shared. "So good and not sweet, if you like Vista Bay you gotta try this!" they added, referencing the Vista Bay Hard Seltzer that's also available at Aldi in four flavors. 
If you can get your hands Pearsecco, which has 5% ABV and costs $6.99 per six-pack (via Instagram), it just might replace White Claw as your canned booze of choice. And if not, maybe your liver will thank you. "Glad my Aldi doesn't carry alcohol or I would be in trouble!" another Redditor revealed.