Mint Chocolate Chip Cookies Recipe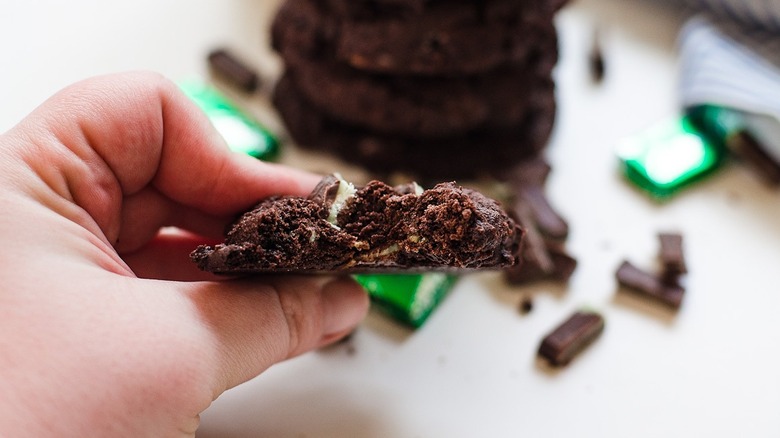 Mackenzie Ryan/Mashed
Chocolate chip cookies are a classic dessert that combines sweetness, warmth, and the perfect touch of chocolatey goodness. While the classic cookie is great on its own, it also allows for plenty of innovation — and these mint chocolate chip cookies really take it up a notch. By adding cocoa powder and Andes mints, you'll get a batch of cookies that have an ideal flavor combination of sweet and minty. 
Thanks to recipe developer Mackenzie Ryan from Food Above Gold, it's never been easier to improve your cookie game in the comfort of your own home. With a few basic ingredients and less than an hour of time, you can put a minty twist on the cookie classic. And, with a yield of more than 20 cookies per batch, this recipe is also great for families or for your next gathering. Have regular chocolate chip cookies gotten a little boring? Try out this recipe to put a fun and incredibly refreshing twist on your cookies — one that will no doubt keep you coming back for more!
Start by grabbing your ingredients for these mint chocolate chip cookies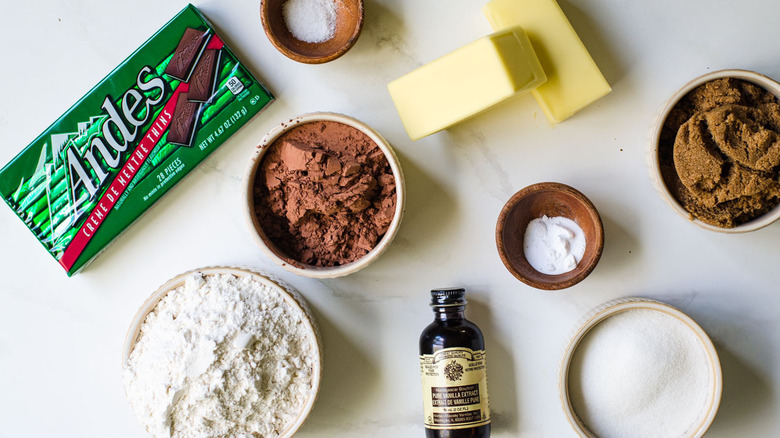 Mackenzie Ryan/Mashed
To get started on this mint chocolate chip cookie recipe, you'll want to gather and measure all of your ingredients. This recipe calls for many classic cookie ingredients: flour, butter, baking soda, salt, an egg, brown and granulated sugar, and vanilla extract. To add that extra layer of mint and chocolate, you'll also need some Andes mints and cocoa powder. When you measure out your Andes mints, be sure to set half a cup aside to garnish your cookies after they bake. 
There are a few ingredient substitutes that you could use, though Ryan suggests sticking with the original ingredients for the best results. If you don't have any brown sugar, you could substitute a tablespoon of molasses or honey to help mimic that flavor profile. Also, you could use mint-flavored M&Ms, though Ryan strongly suggests sticking with Andes mints as they help add a melty, chocolatey goodness to the cookies. 
Preheat your oven, prepare your baking sheet, and mix the dry ingredients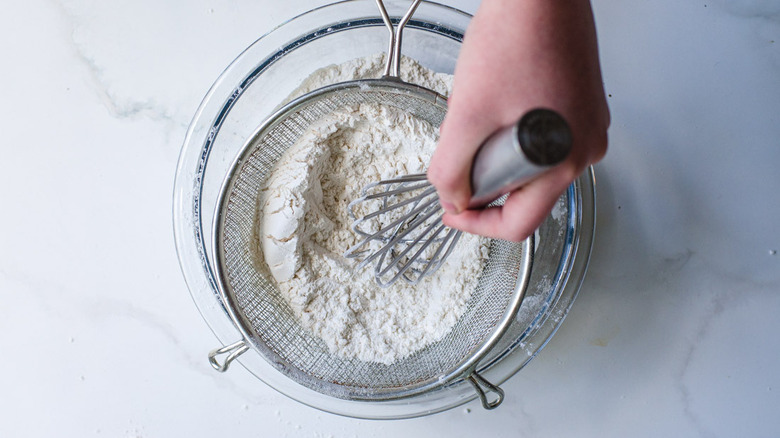 Mackenzie Ryan/Mashed
Once you have your ingredients measured out, you'll want to start by preheating your oven to 350 F. Also, go ahead and get your baking sheet prepped by adding a silicone liner or parchment prepare to ensure that your cookies come off cleanly. 
As for preparing the cookies themselves, you'll start with the dry ingredients. Sift your flour, baking soda, and salt and ensure that they're all mixed together thoroughly. Then, you can set that mixture aside and get going on the sugar and butter mixture. 
Mix your sugars, butter, and then add in the egg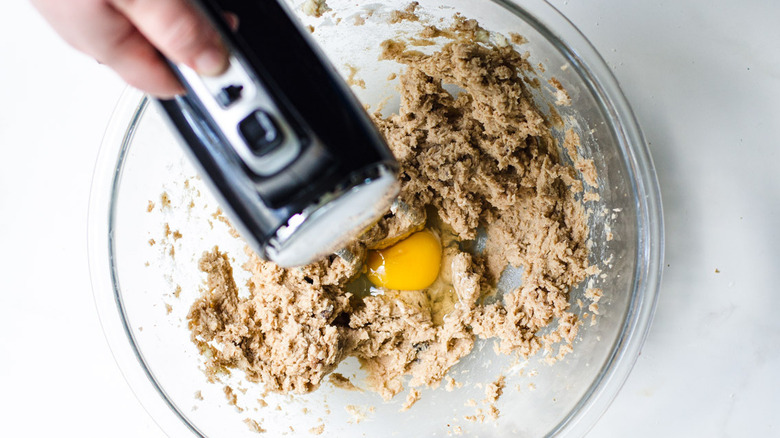 Mackenzie Ryan/Mashed
In a bowl, add in your granulated and brown sugar as well as the butter. Using an electric hand mixer, cream them all together until smooth. At that point, you can add in your egg and beat the mixture once again, until the egg is completely incorporated. Finally, add in your vanilla extract and beat once again, ensuring that everything is evenly mixed and nice and smooth. Don't make the rookie cookie-making mistake of not scraping the bowl and thoroughly mixing those ingredients. 
Combine your mixes and add in the Andes mints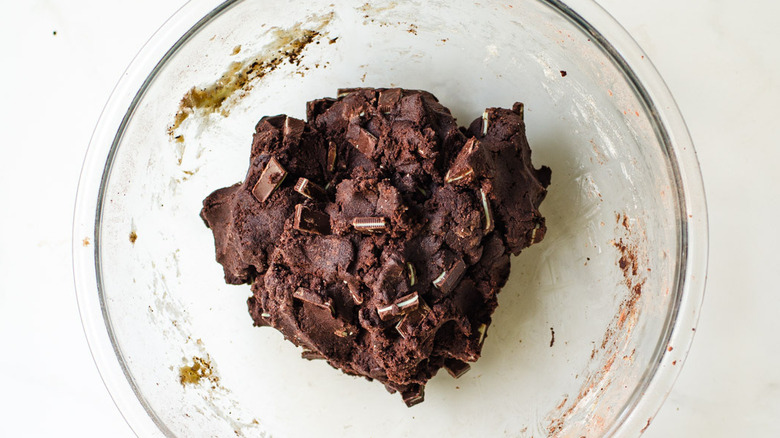 Mackenzie Ryan/Mashed
Grab your set-aside flour mixture and add that into your sugar, butter, egg, and vanilla extract mixture. Also, take your cocoa powder and dump that into the mix. Using your electric mixer, combine the ingredients until you don't see any white anymore and it forms a dough. Then, add in your Andes mints and use your hands to incorporate them into the dough. Be sure to use your hands and not the electric mixer for this part so you don't crush the mints. You want to keep them in chunks so each bite of your cookies will have a delicious chunk of Andes mint inside of it!
Bake your cookies and garnish with even more Andes mints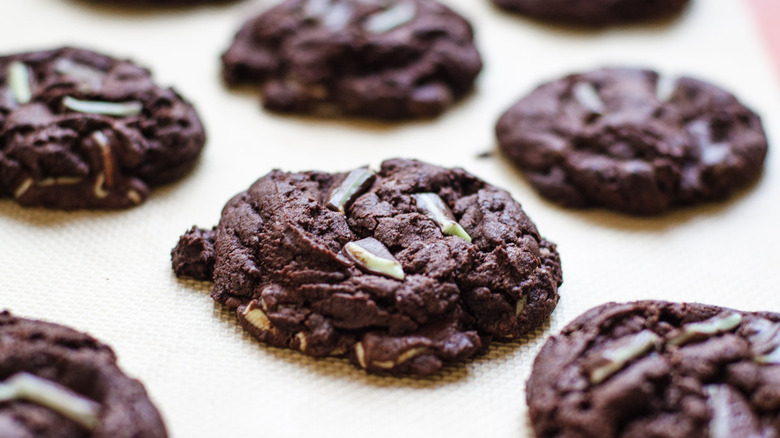 Mackenzie Ryan/Mashed
Using your prepared baking sheet and a cookie scoop, portion your dough about 2 inches apart and pop them in the oven. They'll need about 8-12 minutes to bake, so you'll want to look out for a set center in each cookie, but make sure they still look moist and glistening. Once you pull them out of the oven, let them cool on the sheet for about five minutes before pressing in some of the Andes mints as garnish. Then, transfer the cookies to a wire rack to allow them to cool completely. 
Remove the cookies from the cooling rack and enjoy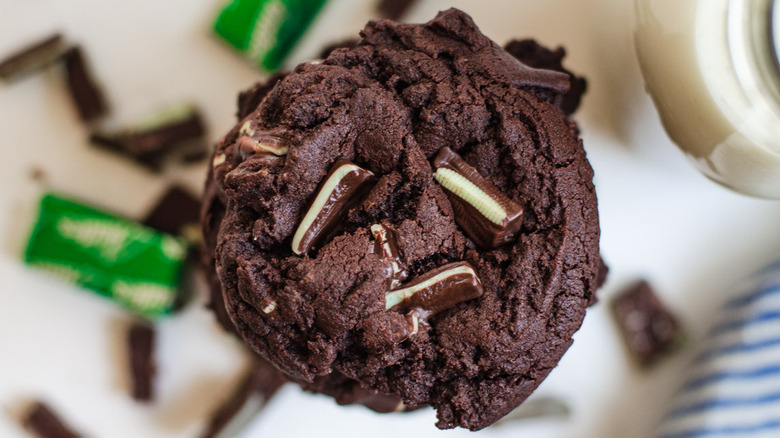 Mackenzie Ryan/Mashed
Once you have garnished your cookies and allowed them to cool completely, you're ready for the best part: eating them! You'll notice that, despite the use of cocoa powder, the mint helps perfectly offset any bitter notes, making for a rich bite every time. Once you've enjoyed the cookies, you may notice that you have some leftovers — just store them in an airtight container at room temperature, and these cookies will be good to go for up to five days afterwards. If you want to switch up from typical chocolate chip cookies, this mint chocolate chip cookie recipe may be exactly what you're looking for.
Mint Chocolate Chip Cookies Recipe
Chocolate chip cookies get a minty, fudgy upgrade with this recipe that uses big chunks of Andes mints. The result is one seriously tasty tray of cookies.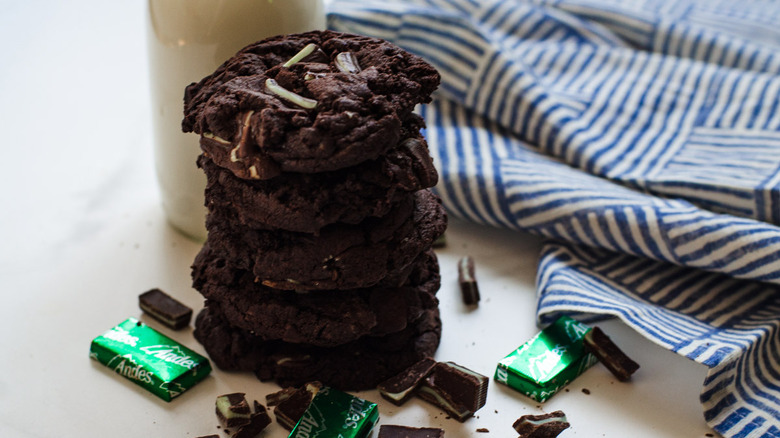 Ingredients
2 cups all-purpose flour
⅔ cup cocoa powder
1 teaspoon baking soda
½ teaspoon salt
1 cup butter
¾ cup dark brown sugar
¾ cup granulated sugar
1 egg
2 teaspoons vanilla extract
2 cups cut Andes mints ( 2 8-ounce packages), reserve ½ cup for the end
Directions
Preheat the oven to 350 F. Prepare a baking sheet with a silicone liner or parchment paper.
Sift together the flour, baking soda, and salt. Set aside.
Using an electric mixer, cream together the brown sugar, granulated sugar, and butter until smooth.
Beat in the egg until completely incorporated then add in the vanilla.
Add in the flour mixture and cocoa powder and mix until the dough has come together and you don't see white. Pour in the Andes mints into the dough and use your hands to mix them in.
Use a cookie scoop to scoop the dough and place each cookie 2 inches apart on the prepared baking sheet.
Bake for 8-12 minutes or until the center is set but still glistening and fudgy. Let the cookies cool for 3-5 minutes on the pan, press in some of the reserved mints for garnish, then transfer to a wire rack to finish cooling.
Nutrition
| | |
| --- | --- |
| Calories per Serving | 197 |
| Total Fat | 10.1 g |
| Saturated Fat | 6.2 g |
| Trans Fat | 0.4 g |
| Cholesterol | 32.4 mg |
| | |
| --- | --- |
| Total Carbohydrates | 26.0 g |
| Dietary Fiber | 2.9 g |
| Total Sugars | 12.9 g |
| Sodium | 134.7 mg |
| Protein | 3.0 g |