Slow Cooker Chicken Cacciatore Recipe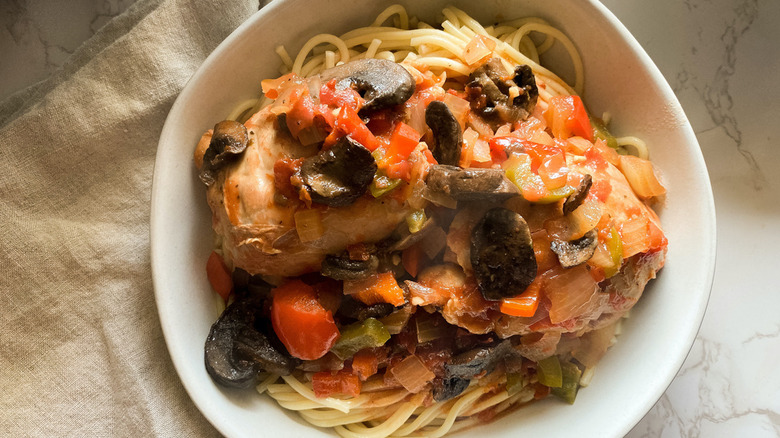 Kristen Carli/Mashed
Some of the greatest slow cooker recipes have three things in common: They're easy to make, require little prep work, and they're so delicious to eat. So, it should come as no surprise that this slow cooker chicken cacciatore recipe checks all three of those boxes off the list.
Cacciatore means "hunter" in Italian, but don't worry, there's no actual hunting involved. The only skills you'll need to know are your basic slicing, dicing, and mincing for the vegetables and mushrooms. As a matter of fact, there's very little prep work involved at all in this recipe from recipe developer and private practice registered dietician Kristen Carli of Camelback Nutrition & Wellness.
"[This slow cooker recipe] is super easy, which is a major plus," Carli says. "Aside from boiling the pasta, this dish is essentially a dump and cook meal. I love to prepare the ingredients before work, and then come home to a ready meal." The best part of slow cooker recipes is coming home to the scrumptious aromas of an already-prepared meal waiting for you to enjoy. The next best part is putting it on a platter and giving the appearance that you spent all day in the kitchen.
This hearty chicken cacciatore recipe feeds six, making it perfect for a family meal or a dish to bring to a potluck or dinner party. And, if you don't eat it in one seating, you can fully enjoy the leftovers for the next few days at lunch or dinner.
Gather the ingredients to prepare this slow cooker chicken cacciatore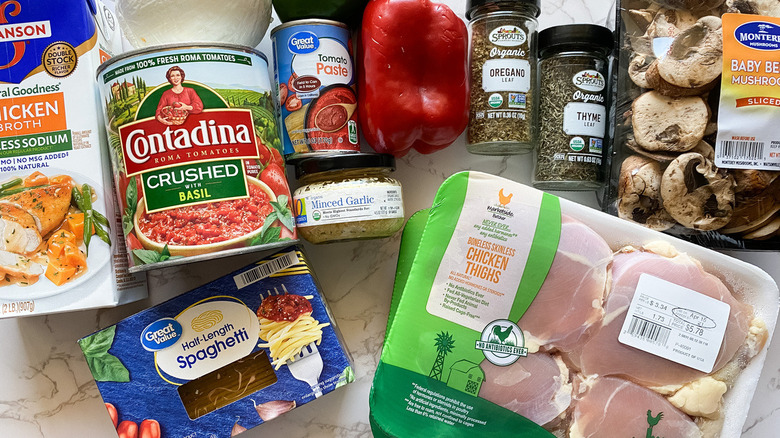 Kristen Carli/Mashed
The list of ingredients for this recipe may look a little longer than your everyday simple slow cooker meal, but it's for perfectly good reason: The sauce is homemade right in the pot with the chicken. This means you get to control the flavor and ingredients more than if you opted for a jarred, pre-made tomato sauce.
The first thing you'll need is the chicken. This recipe calls for eight boneless and skinless chicken thighs, though you can switch it up if you prefer. "Chicken thighs are best for traditional chicken cacciatore," Carli says. "If you don't want to use chicken thighs, you can absolutely use chicken breasts."
The sauce will require mushrooms and a number of vegetables and aromatics, including garlic, onion, red bell pepper, green bell pepper, a can of crushed tomatoes with basil, and tomato paste. Chicken broth, salt, pepper, dried thyme, and dried oregano round out the rest of the sauce ingredients. Lastly, you'll need a box of dried pasta. That's everything, and you are well on your way to getting started!
Prepare your vegetables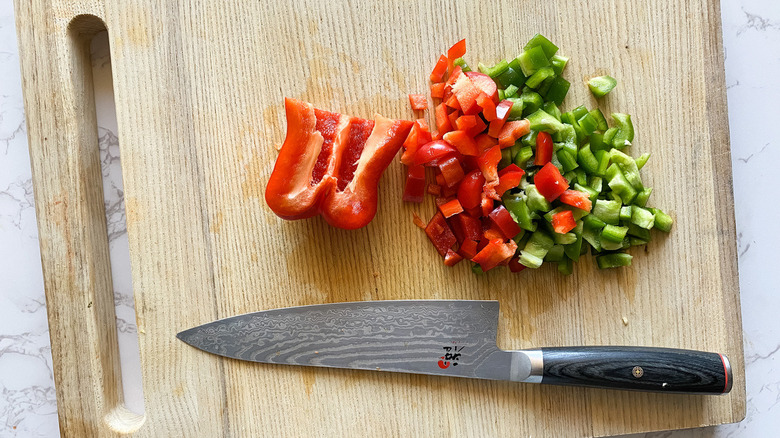 Kristen Carli/Mashed
Cutting the mushrooms down to size is the easy part. Simply slice an eight-ounce package of baby bella mushrooms (also known as cremini mushrooms, which are the same as button and portobello mushrooms, just in different stages of growth). 
There are several options for mincing garlic. You can chop the cloves finely with a knife, or you can easily mince the garlic in a food processor by dropping cloves in one at a time until you've reached about a tablespoon. Another option is a helpful hand-press garlic mincer, if you have one.
The next step is to dice one white onion, one red bell pepper, and one green bell pepper. To dice each of these veggies, cut them into small blocks that are bigger than when you mince, but more uniform and smaller than something you've sliced. The peppers will add beautiful color to this chicken cacciatore recipe.
Add your ingredients to the slow cooker, and turn up the heat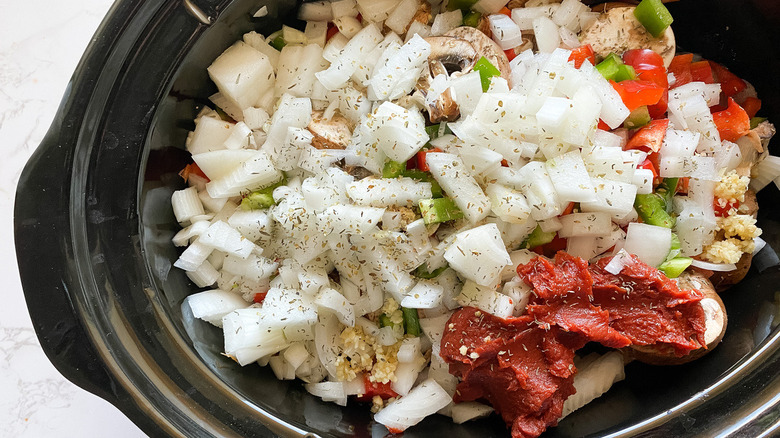 Kristen Carli/Mashed
Once you have your chicken and vegetables cut down to the correct size for the recipe, it's time to layer it all into the slow cooker. Start by adding the chicken thighs, and then season the meat with salt and pepper. Next, toss in the mushrooms, garlic, onion, bell peppers, tomato paste, broth, tomatoes, thyme, and oregano.
Slow cooker recipes are designed to be quick and easy, and that ease extends to the order of the ingredients you place in after the chicken. Add them into the slow cooker in whatever order is most convenient for you. "Order really doesn't matter here," Carli says, adding to "be sure to stir before serving."
Once you've got everything inside your slow cooker, it's time for the best part of using this handy dandy appliance: set it and forget it. For this recipe, cook everything on high for four hours. In the meantime, you can go to work, run errands, or whatever else you'd like, because guess what — you're using a slow cooker for this meal.
Cook the pasta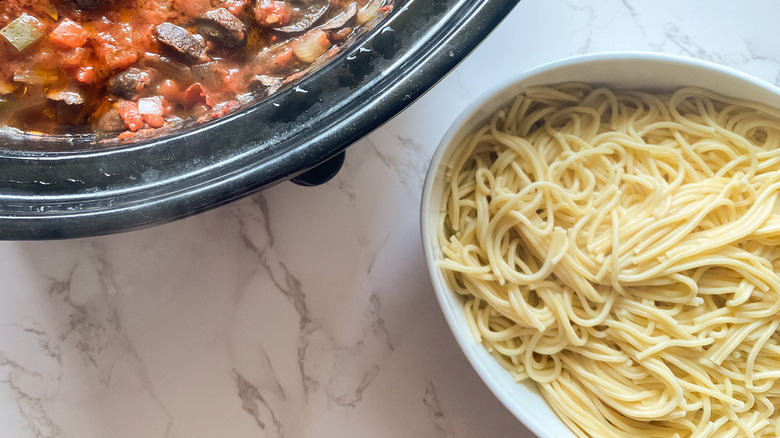 Kristen Carli/Mashed
There's a good chance you're already well aware with how to cook dried pasta. The good news is that this recipe doesn't require you to do anything fancier than the directions on the side of the pasta box: boil the water, add the pasta, and cook for the time listed on the package. (You can taste it to check if your pasta is done at the perfect al dente level.) Make sure to drain your pasta as soon as it's done so that the pasta doesn't get too waterlogged and gummy.
Note that this recipe calls for spaghetti, but don't feel limited. You can branch out to other shapes and styles of pasta as well, so feel free to cook up your favorite or whichever you're in the mood for. "Spaghetti is traditional, but my personal favorite is penne," Carli says. "I don't love slurping long noodles, and much prefer to get a perfect bite with a fork using a shorter noodle." You can switch it up and use one this time you prepare the meal, and choose another next time.
Serve and store your leftovers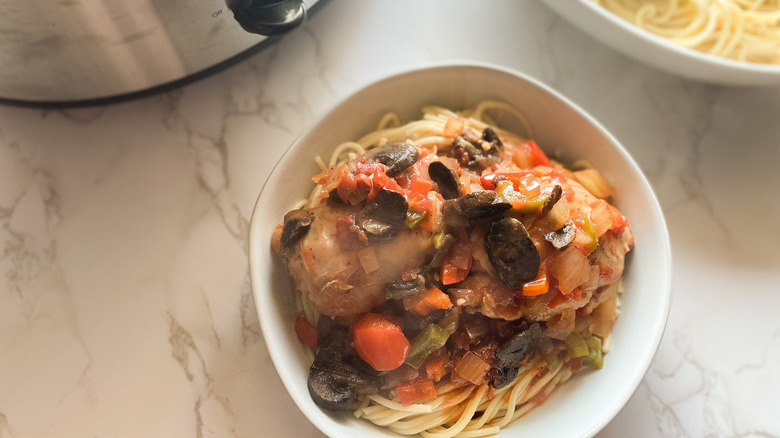 Kristen Carli/Mashed
If you timed everything correctly, the ingredients in the slow cooker and the pasta should be done at around the same time. To double check that the chicken is fully cooked, you can always test the temperature with a meat thermometer poked into the thickest part of the meat. (Chicken should be at least 165 F.)
Plate your dishes by starting with the pasta at the bottom, and then top it with the chicken and a large spoonful of sauce over the top of everything. Then, all that's left to do is serve and enjoy.
This dish, like many slow cooker dishes, will be easy to tell if you will have leftovers, since everything except for the pasta is in one pot. If leftovers are in the cards, coat the remaining pasta with olive oil to keep it from sticking together, and pack it into an airtight container. Store the chicken, sauce, and veggies in another container, and simply reheat the pasta and other ingredients together when you're ready to enjoy more.
Slow Cooker Chicken Cacciatore Recipe
This slow cooker chicken cacciatore is filled with scrumptious aromas and vegetables to come home to after a long day. Try it out!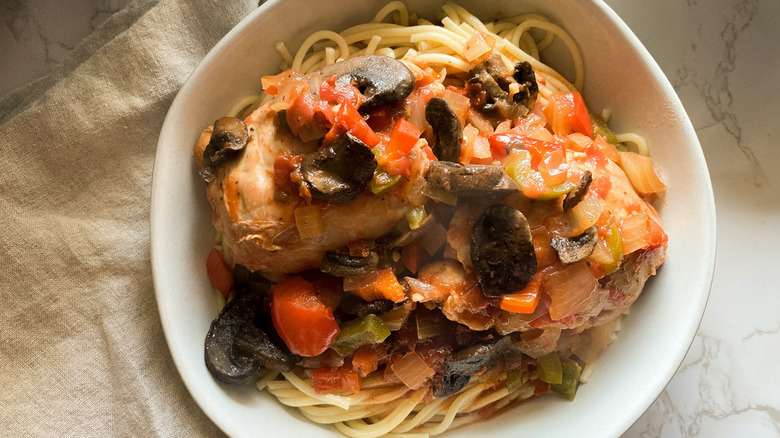 Ingredients
8 boneless, skinless chicken thighs
1 teaspoon salt
½ teaspoon pepper
8 ounces sliced baby bella mushrooms
1 tablespoon minced garlic
1 white onion, diced
1 red bell pepper, diced
1 green bell pepper, diced
2 tablespoons tomato paste
1 ½ cups chicken broth
1 (28-ounce) can crushed tomatoes with basil
1 teaspoon dried thyme
1 teaspoon dried oregano
1 pound spaghetti pasta
Directions
In a large slow cooker, add the boneless, skinless chicken thighs. Season with salt and pepper. Add the sliced mushrooms, minced garlic, diced onion, diced bell peppers, tomato paste, chicken broth, crushed tomatoes, dried thyme, and dried oregano.
Cook on high for 4 hours.
Boil a large pot of water. Cook the pasta according to package directions. Drain, and set aside.
Serve chicken on top of pasta. Scoop a large spoonful of sauce, and pour over the top.
Nutrition
| | |
| --- | --- |
| Calories per Serving | 690 |
| Total Fat | 13.1 g |
| Saturated Fat | 3.3 g |
| Trans Fat | 0.1 g |
| Cholesterol | 243.7 mg |
| | |
| --- | --- |
| Total Carbohydrates | 75.3 g |
| Dietary Fiber | 6.9 g |
| Total Sugars | 12.4 g |
| Sodium | 1,015.1 mg |
| Protein | 66.3 g |