Waldorf Chicken Salad Recipe With A Sweet Twist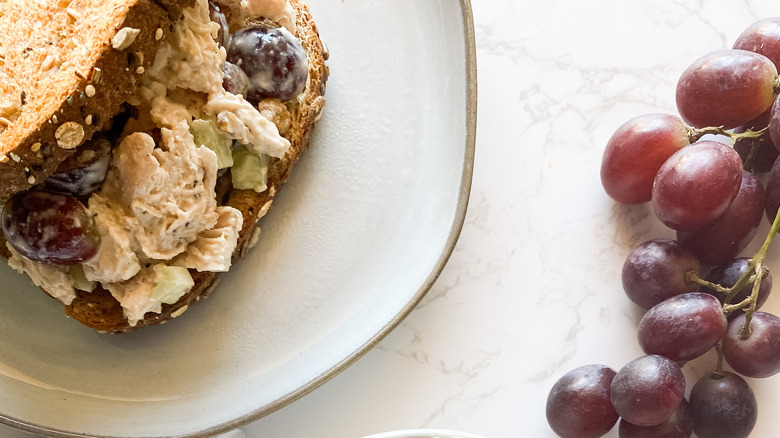 Kristen Carli/Mashed
This tasty sandwich is a spin-off of the famous Waldorf salad, which originally featured just four ingredients, according to The New York Times. All that goes into the classic dish are some lettuce, apples, celery, and mayonnaise. Since the original version, this tasty salad has inspired an assortment of variations, including ones that feature blue cheese, walnuts or raisins — and sometimes all three. 
This Waldorf chicken salad recipe with a sweet twist is brought to you by private practice registered dietitian and recipe developer Kristen Carli. She offers another scrumptious alternative that's a bit more hardy than the original. It adds some more sweetness to the initial design by including grapes, and ups the crunch factor with rich walnuts. A dash of Dijon mustard spices up the mayo's richness as well. And the best part of all? The sandwich takes just 15 minutes to prepare. That means you can enjoy it pretty quickly.
Gather your ingredients to prepare this easy Waldorf chicken salad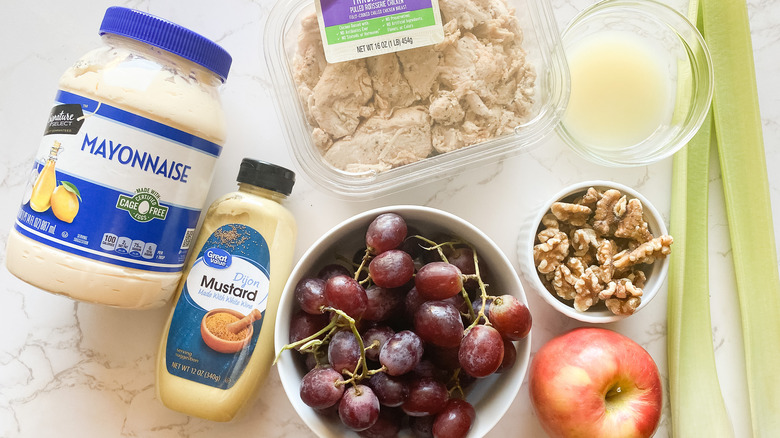 Kristen Carli/Mashed
This recipe requires a little prep work, mostly chopping and dicing. You'll need 2 cups of rotisserie chicken, 1 cup of halved red grapes, ½ cup of walnuts, celery stalks, a Honeycrisp apple, 1 cup of mayo mixed with 1 teaspoon each of Dijon mustard and salt, 1 tablespoon of lemon juice, and ½ teaspoon of pepper, in addition to 12 slices of seeded bread.
Carli recommends the Honeycrisp apples, because they "offer the best for sweetness and tartness balance in this recipe. They are not necessarily traditional, but they are very crisp."
For vegetarians, chickpeas can be used instead of chicken. Carli recommends pulsing them in a food processor before mixing with the remaining ingredients.
Get chopping and slicing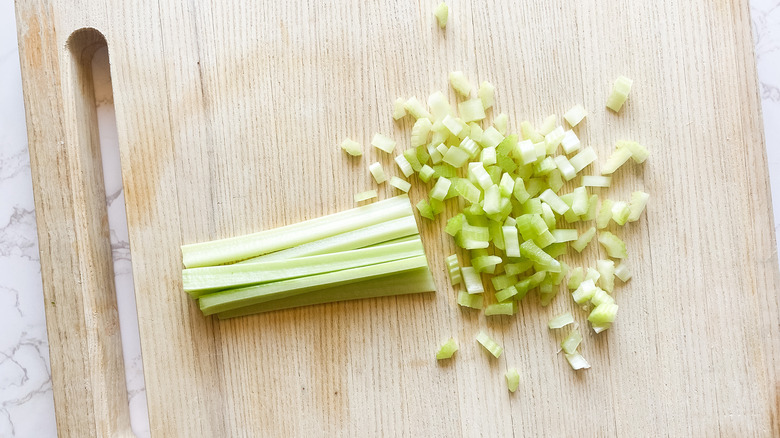 Kristen Carli/Mashed
Save time by purchasing pre-cut chicken for the 2 cups you will need, and pre-chopped walnuts for the ½ cup that is required. Or, if you'd prefer, chop the walnuts and cut strips of white meat off a whole chicken. 
The celery will be crisper if cut fresh. Be sure to wash it thoroughly, and then place the celery on a cutting board. Trim off its leafy top and base. Next, take two celery stalks, and cut each one, to create half moons. Next, take the washed grapes and slice them in half until you have a cup's worth.
Rinse the apple, and make a ½-inch slice into it either on the left or right side of the core. Cut each apple into four slices, removing the apple's center entirely. Then, cut each section into a ¼ or ½-inch piece. Do not remove the skin.
Mix the ingredients you just chopped and sliced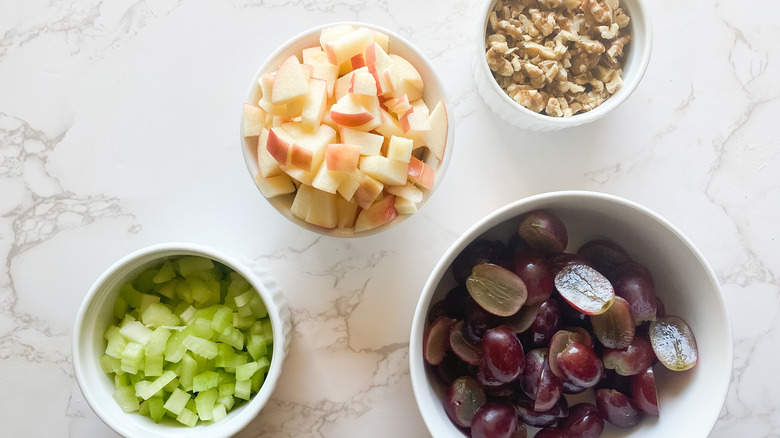 Kristen Carli/Mashed
Once you have the apples, walnuts, chicken, celery, and grapes chopped, diced, and sliced, you should take a large spoon and stir all the items together. Be sure to mix well, but be gentle enough that the fruit slices remain whole and don't break apart. All of these ingredients add to deliciousness in the salad and such pretty color for your sandwich. When the ingredients are completely blended, it's time to prepare the dressing for your Waldorf chicken salad.
Prepare the dressing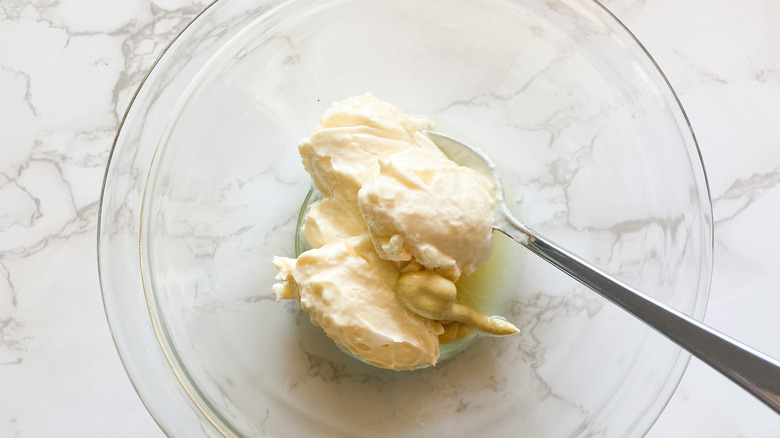 Kristen Carli/Mashed
Take a small bowl for the salad dressing. Start by adding 1 cup of mayo, 1 teaspoon of Dijon mustard, 1 teaspoon of salt, ½ teaspoon of pepper, and 1 tablespoon of lemon juice. Stir everything together vigorously to combine. When your mixture is completely blended, pour the dressing on top of the chicken that you prepared earlier. Stir until all of the ingredients are mixed together. 
Assemble the sandwiches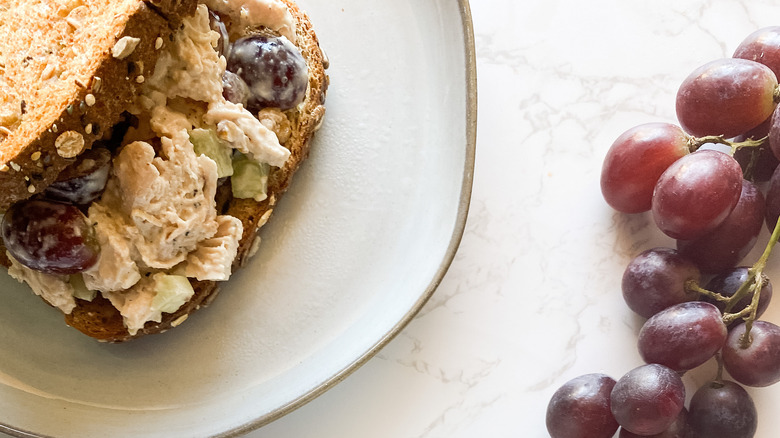 Kristen Carli/Mashed
Take 12 pieces of seeded bread, and toast them. "I love serving this on a seeded bread for extra texture," suggests Carli. Although, she encourages people to substitute any other bread they might prefer. Whatever bread is chosen, be sure to toast it, as this is a key part of the recipe, since the cooked bread holds up to the salad better and prevents sogginess. 
Spread the chicken salad over one slice, then close the sandwich by topping it with the remaining slice. Repeat until other sandwiches are finished. For a final touch, add a cluster of fresh grapes to the side of each plate. If you'd like to include potato chips or pickles as a side, it will only enhance the deliciousness of this meal and add to the presentation.
Waldorf Chicken Salad Recipe With A Sweet Twist
This Waldorf chicken salad sandwich adds sweetness to the initial design by including grapes, and ups the crunch factor with rich walnuts.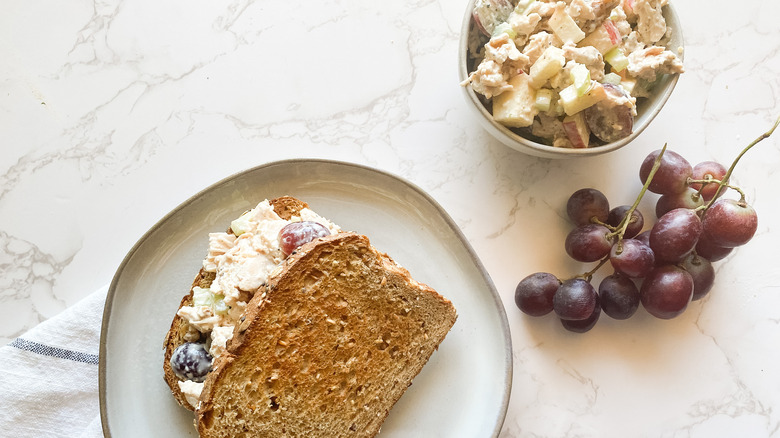 Ingredients
2 cups rotisserie chicken
1 cup red grapes, halved
½ cup chopped walnuts
2 celery stalks, diced
1 Honeycrisp apple, diced
1 cup mayonnaise
1 teaspoon Dijon mustard
1 teaspoon salt
½ teaspoon pepper
1 tablespoon lemon juice
12 slices seeded bread
Directions
In a large bowl, combine the chicken, halved grapes, chopped walnuts, diced celery, and diced apple.
In a small bowl, add the mayonnaise, Dijon mustard, salt, pepper, and lemon juice, and then mix. Pour the dressing on top of the chicken mixture. Stir to combine.
Toast two slices of bread.
Add the Waldorf chicken salad on top of one slice. Close sandwich by topping with the remaining slice of bread. Repeat with other sandwiches.
Nutrition
| | |
| --- | --- |
| Calories per Serving | 622 |
| Total Fat | 45.1 g |
| Saturated Fat | 7.5 g |
| Trans Fat | 0.1 g |
| Cholesterol | 50.0 mg |
| | |
| --- | --- |
| Total Carbohydrates | 39.1 g |
| Dietary Fiber | 4.2 g |
| Total Sugars | 11.0 g |
| Sodium | 570.4 mg |
| Protein | 16.8 g |