Here's Who Is In The 'Cast' Of Duff's Happy Fun Bake Time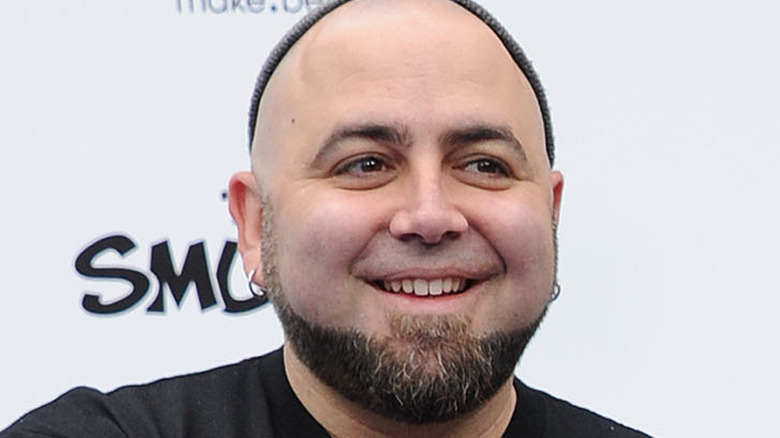 Shutterstock
Acclaimed baker, Duff Goldman, has been called America's most "outrageous" pastry whiz (via Food Network). But if you're in need of convincing, all you need to do is to tune into Goldman's latest series, "Happy Fun Bake Time," a whimsical, family-friendly, and highly accessible exploration into the "science behind cooking and baking," which began streaming on discovery+ on April 29, according to a press release.
In each of the show's six episodes, Goldman is joined by a crew consisting primarily of puppets and robots from The Jim Henson Company's Creature Shop. Together, this intrepid band of characters journeys through the land of Bakersburg (i.e., Goldman's kitchen slash laboratory) in search of real-life examples of the wonderful, flavorful magic that science dictates is bound to happen when various foods and ingredients come together in the kitchen.
So who are these Henson Company-designed puppets and robots who accompany the uber-creative "Ace of Cakes" star on magical adventures in quest of what might happen if you try to bake a cake without eggs or a loaf of bread without the most important bread-ingredient of all, patience? Join us for a brief who's who among the distinguished "cast" of Duff's "Happy Fun Bake Time."
Meet the colorful, noisy cast of 'Happy Fun Bake Time'
Duff Goldman's new "Happy Fun Bake Time" has been likened to "Bill Nye The Science Guy, but for baking" (via Reddit) and features a cast that, with few exceptions, looks like it could easily have been plucked from the audience members of "Mystery Science Theater 3000." 
First, there's Duff's sous chef, Couscous, a robot made entirely of kitchen tools (via Food Network). Then there's Dizzy, a cross between an industrial stand mixer and a bright magenta-and-red elephant robot whose curiosity leads her to "stick her nose into everything." Then there is Dragon Oven, which like the oven in your own kitchen, has a lot to say, if only you'd listen (and knew how to interpret its "roars, hiccups, and smoke"), and Edgar, a cranky crab that hails from Duff's beloved Chesapeake Bay (via Food Network) that might remind you, at least in terms of his appearance, of a brightly-hued Yoda. Finally, there's S'Later, a furry brown sloth who loves him some vittles but isn't always quick on his feet, who also has the distinction of looking the most like Cookie Monster (if Cookie Monster weren't blue). 
And that's Duff's merry band of Bakersburg adventurers, well, with the exception of Duff and the one other human cast member, Geof, Duff's musically-inclined grocer, who is played by Duff's real-life long-time collaborator and executive sous chef Geof Manthorne). Can you guess the Disney show that inspired this adorably motley crew?