How Bobby Flay And Ex-Wife Kate Connelly Met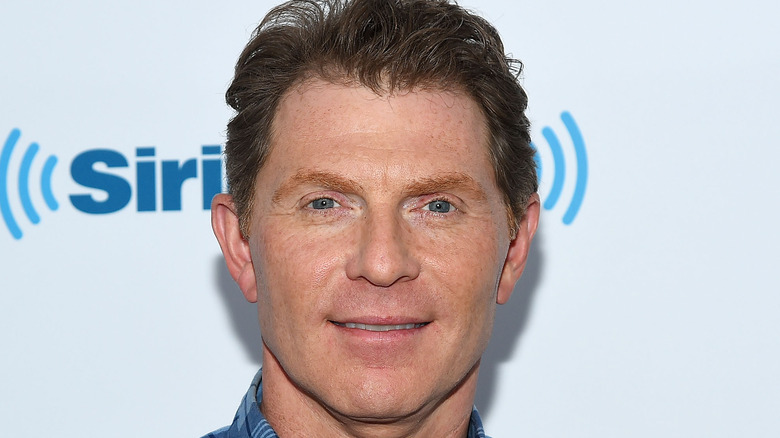 Ben Gabbe/Getty Images
Since breaking out on the television scene in the 1990s, celebrity chef, cookbook author, and restaurateur Bobby Flay has been involved in several relationships, three of which lead to marriages and eventual divorces. But of all his romances, the one with arguably the most obvious, lasting impact on his personal life was his 1995 marriage to his second wife, former Food Network television presenter Kate Connelly. After all, it did result in the birth of his only child, Sophie Flay, in 1996. Unfortunately, as most Flay fans are already aware, the union didn't turn out to be a match meant for forever, since the couple called it quits in 1998 after just three years together.
To this day, details about the Flay-Connelly marriage and subsequent divorce remain a mystery to the public. Following their split, Flay went on to wed actress Stephanie March in 2005, but the pair ended things in 2015 after what has been rumored to be a tumultuous marriage. It remains unclear whether Connelly eventually remarried or had other children, as she is mostly out of the spotlight these days, except for when she pops up on her daughter's Instagram page. (Speaking of that, based on another photo Sophie shared during her 2018 USC graduation, it appears her parents are at least on somewhat good terms today.) But in any case, what we know for sure is how the former couple met will forever be an important part of Food Network history. Keep reading to find out how it happened.
Bobby Flay met Kate Connelly on a Food Network show
When you think about where you might meet your future spouse, the last place you'd probably imagine is in front of an audience. But according to an excerpt in "From Scratch: The Uncensored History of Food Network," that's what happened when Flay met Connelly in 1994 on the set of the Food Network show "Talking Food with Robin Leach." At the time, Connelly was one of the program's cohosts, and her role consisted of participating in on-air cooking demonstrations, often with the help of professional chefs. And it just so happened that on one particular January day, the future "Brunch @ Bobby's" star was one of the program's guests-of-honor.
Unfortunately, no archival footage of Flay's "Talking Food" episode is available online to the public. But according to The New York Times, it was clear Flay and Connelly had immediate chemistry with each other. The chef was reportedly enamored by Connelly's status as a working single mother, while Connelly couldn't get enough of his sense of humor. Shortly after filming, the two went on a date at the swanky Manhattan restaurant Monkey Bar. It turns out sparks flew that evening, since Connelly later revealed her first date with Flay was one of the best she'd ever been on. "There was always something to talk about ... It was the easiest thing in the world," she said. Apparently that was the case for both parties, since they were engaged months later. How's that for a Food Network fairy tale?