Aldi Shoppers Are Loving These Fruity Bottled Mimosas
From weekend brunches to warm spring days, Aldi's new fruity pre-mixed bottled mimosas are a great reason to make a special visit to the store sometime soon. According to the Instagram account @AldiMadeMeDoIt, these bottled Mango Mimosas were spotted in a Houston location around Mother's Day. In the post, the user shared that the mango flavor was one of her favorites, though some commenters were disappointed that the new flavor was not available in their area. 
The post also sparked a conversation about other popular Aldi mimosas in a bottle — the pineapple flavor that came back earlier this year seems to still be a favorite, as first reported by Taste of Home in March 2021. Having debuted with the classic orange flavor in 2018 (per Delish), many people have become obsessed with these fruity beverages. Though, the Aldi website shows them listed under their spring seasonal offerings, so we're not sure how long the bottles will be on the store shelves. 
The mango flavor combines white wine and fruit juice and has a 8% ABV — and it retails for about $8.99. Of course, the obvious serving choice for this beverage is brunch, but it can pair with other foods, too. From a simple cheese plate to even a spicy pad Thai, there is always a reason to pop open another bottle. 
If you love Aldi's mimosas, check out this other bottled beverage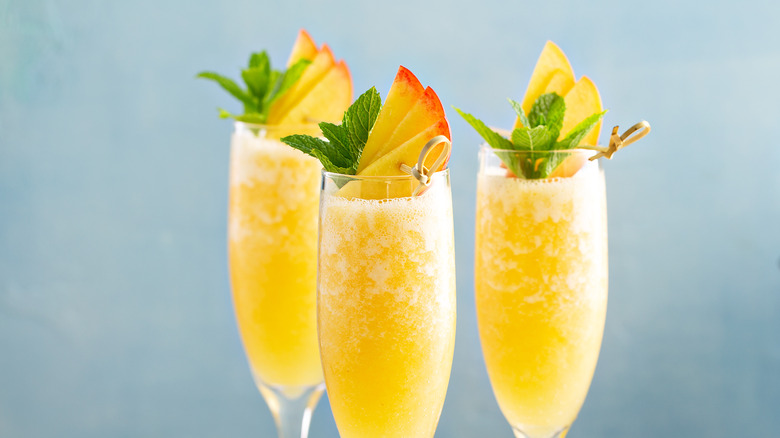 Shutterstock
If you can't seem to find these seasonal fruity mimosas at Aldi, another popular beverage that they sell might do the trick. The Giambellino Peach Bellini (seen here on Aldi's website) is perfect for brunch and delivers that same tropical flavor and bubbly texture as a mimosa. The sparkling wine is a classic that can also pair with many foods like brunch hashes and French toast.
Although the simplicity of just pouring pre-made mimosas and bellinis has great appeal, it's easy to make these drinks with other grocery items. In fact, Aldi has previously received high praise and awards for its wine selection, per the company's website, and the various sparkling wine options they sell are well-suited for these beloved beverages. 
From a lighter, less carbonated prosecco to a dry sparkling brut, there are a few wines that go well with fruit juices. It even could create a new flavor choice like orange pineapple or mango cherry. Never fear, there is always a way to fill that glass.