Here's How To Get Cast On Kids Baking Championship
Food Network's "Kids Baking Championship" is a cooking competition just for kids, hosted by the amiable and kid-friendly duo of Duff Goldman and Valerie Bertinelli. The premise of the popular program "proves that young kids can bake — and compete — just like their adult counterparts," according to Goldman. 
In an interview with Food Network, Goldman says he has been surprised and delighted that the young contestants on the show are so incredibly poised — sometimes acting more grown-up than adults in similar scenarios. "Baking is a discipline; it takes years to get good at," he said. "And ... these little kids, they were incredible. ...They weren't at all freaked out by the cameras. They're in this crazy situation and their food looked good. It was good. It wasn't [just] good for kids; it was good, period."
On March 16, the show's Facebook page announced that a new round of casting has officially begun. So, what does it take to get cast on "Kids Baking Championship"? Here's what you need to know.
"Kids Baking Championship" is looking for kids who were "born to bake"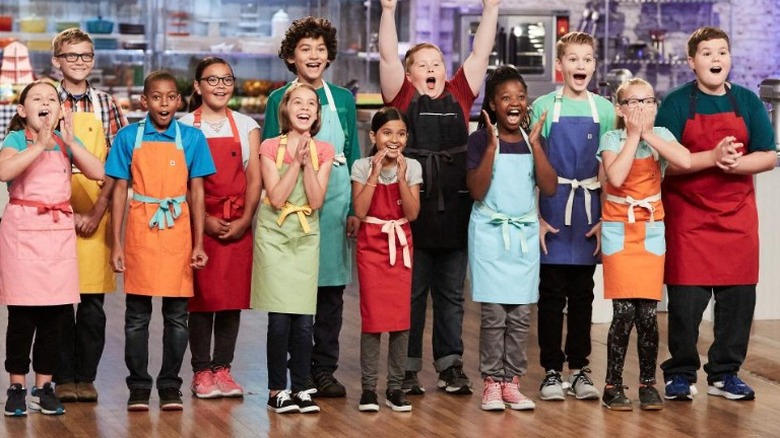 The casting call is open to any child between the ages of 8 and 13 who love to bake and would want the chance to compete against some of the most talented junior bakers out there. In addition, they'll get to learn important tricks of the trade from the brilliant and ebullient Duff Goldman, rub elbows with Goldman's cohost and co-judge, Valerie Bertinelli, and potentially win a cash prize.
According to the show's Facebook page, would-be contestants are advised to apply at the official "Kids Baking Championship" casting page. The application notes that filming will take place in June and July 2021. Some of the questions on the app include whether they've attended any kind of culinary school, sharing any awards they've received for their creations, noting their personal baking background and style, and talking about their motivation for doing the show. 
In addition, would-be contestants are asked to upload three of their best photos (presumably, of their own yummy treats) and an approximately three-minute video of themselves that answers the question, "Why you would be perfect for the show?" as well as anything else that would make them stand out. Since the contestants on "Kids Baking Championship" are all under legal age, the application requires a parental signature as well.