Easy Black Bean Enchiladas Recipe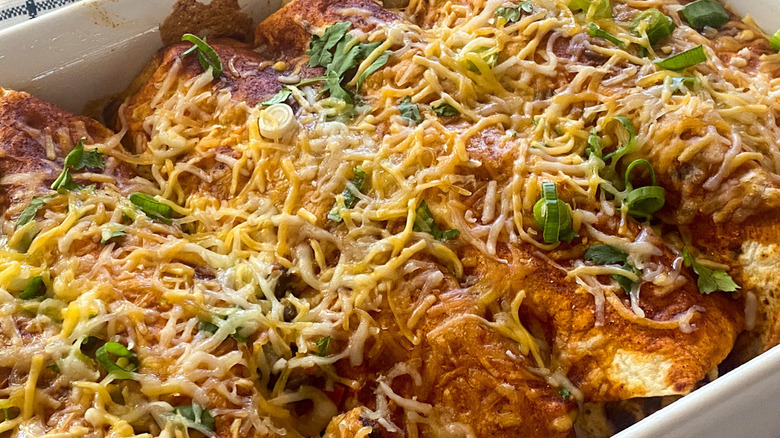 Miriam Hahn/Mashed
If you're nearing the end of a busy week, but are still charged with the task of putting dinner on the table, you're probably looking for something super easy, and that's where we come in. We've got the solution, and it's these easy black bean enchiladas. Most of what you need to throw this quick dish together is probably already in your cupboard, especially if you're a fan of Mexican food. Much of this recipe calls for canned items, meaning if you're able to operate a can opener, you're halfway there.
This recipe comes from YouCare-SelfCare founder Miriam Hahn, a wellness coach and recipe creator focusing on plant-based meals. Miriam has crafted this easy recipe with your precious time in mind, as well as your well-being. You'll end up with eight delicious enchiladas when all is said and done — just enough for a small family to grab seconds. 
While the enchiladas are entirely vegetarian, that shouldn't turn meat eaters away. They're made with black beans, a hearty meat substitute that will leave you feeling full and satisfied. Enchiladas are typically made with chicken or ground beef, so why not shake up your Mexican night by trying these delicious — and did we mention easy — black bean enchiladas.
Grab everything you need for these easy black bean enchiladas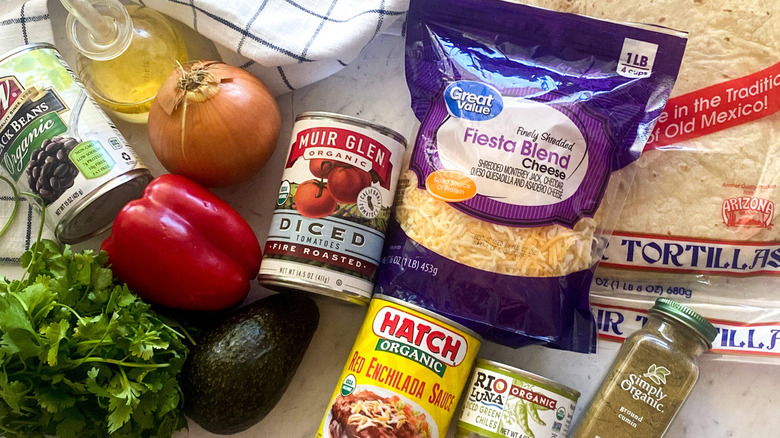 Miriam Hahn/Mashed
With an easy recipe like this one, there isn't a mile-long ingredients list, which makes it all the more appealing. Most of the ingredients you'll be using are typical when it comes to Mexican cuisine, so if it's a favorite of yours, you might be lucky enough to have it all on hand. For canned goods, you'll need a 15-ounce can of black beans, a 14.5-ounce can of fire-roasted tomatoes, a four-ounce can of green chilis, and a 15-ounce can of red enchilada sauce.
Additionally, you'll need a tablespoon of either olive or avocado oil, one teaspoon of cumin, one medium white onion, one red pepper, eight burrito-sized tortillas, and two cups of a Mexican cheese blend. For optional items, grab anything that you might desire as far as toppings. This traditionally includes cilantro, avocado, scallions, salsa, and black olives.
Prep your ingredients for the easy black bean enchiladas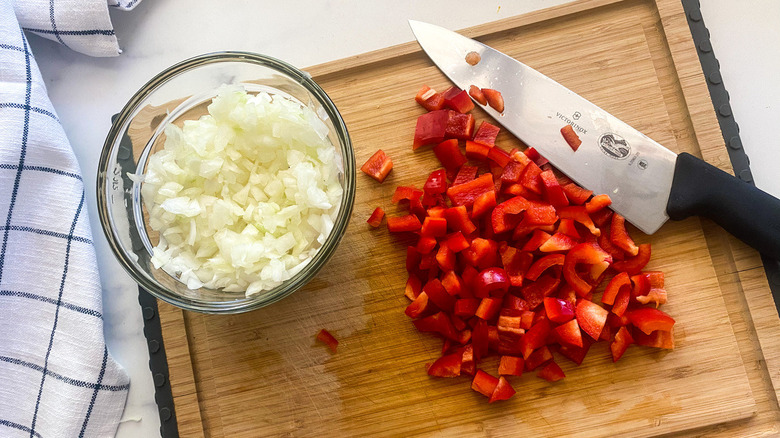 Miriam Hahn/Mashed
First things first: preheat your oven to 350 degrees Fahrenheit. Next, you're going to need to do some chopping before the assembling begins, so grab your best knife and a cutting board. Chop up the onion and red pepper, and place to the side. If you've also decided to use cilantro as a topping, this might be a good time to clean and chop it, unless you just need to pull off a few sprigs for garnish. Also drain and rinse the black beans and set off to the side. 
Next, you'll start cooking by preheating a large skillet on the stove with your tablespoon of olive or avocado oil.
Add your ingredients to the skillet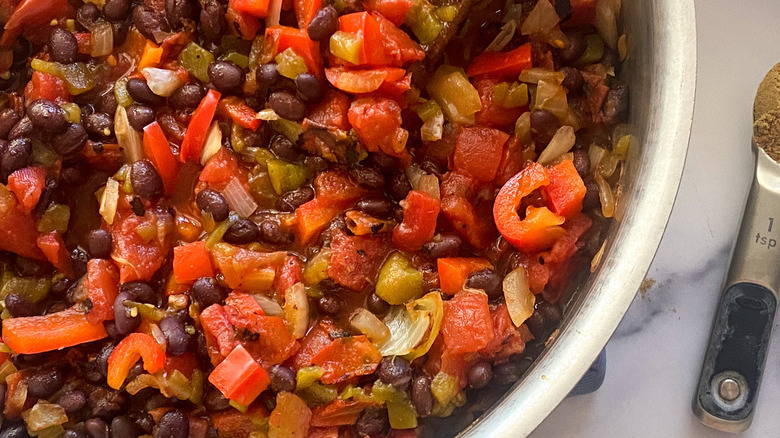 Miriam Hahn/Mashed
Add your chopped onion and red pepper to the hot skillet and cook for about five minutes. You want the vegetables to become tender, but be careful not to burn them. Add in the can of fire-roasted tomatoes, green chilis, black beans, and cumin. Cook everything together for about two more minutes, and make sure it is well incorporated.
You can now prepare a 9-by-13-inch baking dish by giving it a mist of cooking spray. Grab a large flat plate and pour some of the enchilada sauce on it, and get ready to get your hands a little messy.
Prepare the enchiladas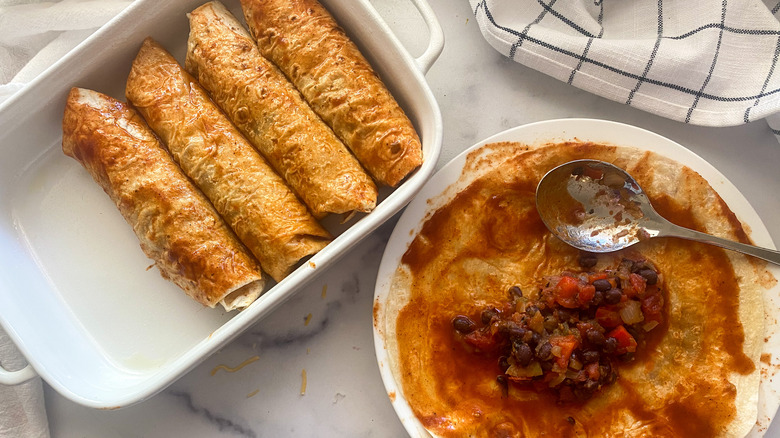 Miriam Hahn/Mashed
Take one of your tortillas and lay it on the enchilada sauce-covered plate. Let it saturate, then flip it over and add about half a cup to a cup of the mixture from your skillet. Add some shredded cheese, and then roll it up, placing it seam side down in the baking dish. After you finish with each tortilla, add more enchilada sauce to the plate. Repeat this process until the baking dish is filled, then pour the remaining red sauce over the top of the assembled enchiladas while also sprinkling with the rest of the cheese.
Bake the enchiladas in the oven for 15 to 20 minutes, until they're warmed through. Be careful when you remove the enchiladas from the hot pan. Top them however you like, and don't be afraid to be adventurous! If you somehow wind up with leftovers, you can store the enchiladas in an airtight container in the refrigerator. While you can always reheat by microwave, recipe creator Miriam Hahn suggests using an oven as it distributes the heat more evenly. Enjoy!
Easy Black Bean Enchiladas Recipe
These easy and delicious black bean enchiladas are entirely plant based and a quick and easy dish to make for dinner.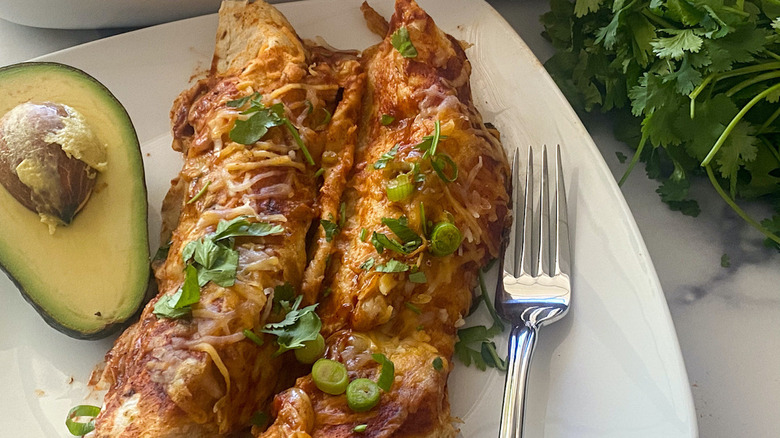 Ingredients
1 tablespoon olive oil or avocado oil
1 red pepper
1 teaspoon cumin
1 medium white onion
1 15 oz. can black beans, rinsed and drained
1 14.5 oz. can fire-roasted tomatoes
1 4 oz. can green chilis
1 15 oz. can red enchilada sauce
8 large tortillas
2 cups Mexican cheese blend
Optional Ingredients
cilantro
avocado
scallions
salsa
black olives
cooking spray
Directions
Preheat oven to 350 degrees Fahrenheit.
Chop the onion and red pepper, and drain and rinse the black beans.
Heat up a large skillet and add in vegetables, cooking for about 3 minutes.
Add in the fire-roasted tomatoes, green chilis, beans, and cumin. Cook for 2 minutes
Spray a 9" x 13" baking dish. Pour some of the enchilada sauce on a flat plate. Place one tortilla on the sauce-covered plate, then flip over and fill with ½ cup to 1 cup of filling.
Top with cheese and roll-up. Lay the rolled enchiladas in the prepared baking dish.
Finish rolling all the tortillas and add to the baking dish.
Pour remaining enchilada sauce over the enchiladas and top with remaining cheese.
Bake in the oven for 15 to 20 minutes.
Remove from the oven and add desired toppings.
Nutrition
| | |
| --- | --- |
| Calories per Serving | 309 |
| Total Fat | 14.1 g |
| Saturated Fat | 6.8 g |
| Trans Fat | 0.4 g |
| Cholesterol | 33.7 mg |
| | |
| --- | --- |
| Total Carbohydrates | 32.5 g |
| Dietary Fiber | 8.2 g |
| Total Sugars | 7.3 g |
| Sodium | 821.9 mg |
| Protein | 14.8 g |