Easy Banana Cream Pie Recipe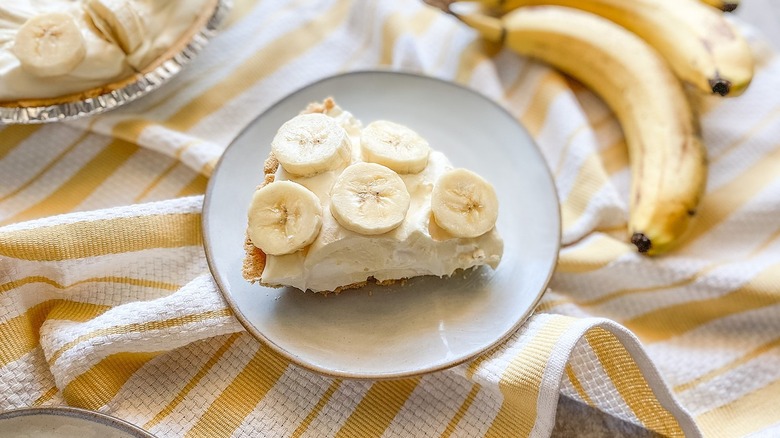 Kristen Carli/Mashed
When it comes to summer treats, we tend to go for desserts that are light and refreshing. After all, what's better than enjoying a cool, fresh dessert after a hot day? If your answer to that question is "nothing," then you'll definitely want to give this easy banana cream pie recipe a try. Though "cool" and "refreshing" may not be the first words that pop into your head when you think of pie, this recipe will definitely open your mind to that possibility.
Recipe developer Kristen Carli has crafted an incredibly easy yet delicious banana cream pie recipe that will keep you coming back for seconds. With only 15 minutes of active prep time and no cook time, this pie is ideal for those who want a sweet treat but don't want to spend hours in the kitchen to get it. And, unlike many pies that require baking, this banana cream pie only requires cooling, making it perfect for summertime. "This is very summery," Carli says of the recipe. "You don't need to turn on your oven!" If you're looking for a go-to summer treat that is both light and refreshing, give this easy banana cream pie recipe a try — you won't be disappointed.
Gather your ingredients for this easy banana cream pie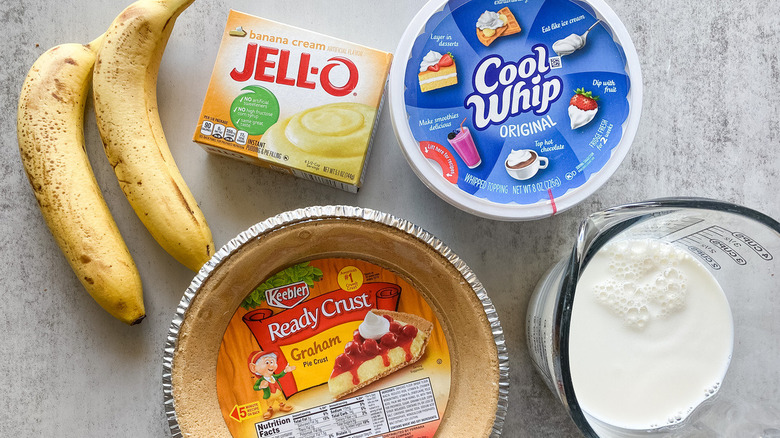 Kristen Carli/Mashed
To start making your easy banana cream pie, you'll need to gather the ingredients for it. Luckily, this recipe calls for very few ingredients — you'll need banana cream pudding mix, Cool Whip, a graham cracker crust, whole milk, and bananas for garnish. Carli notes that you can use lite Cool Whip or sugar-free pudding to make an even "lighter" version of this dessert, and the texture and consistency of the pie will turn out the same. 
Begin making the filling by combining the pudding mix and milk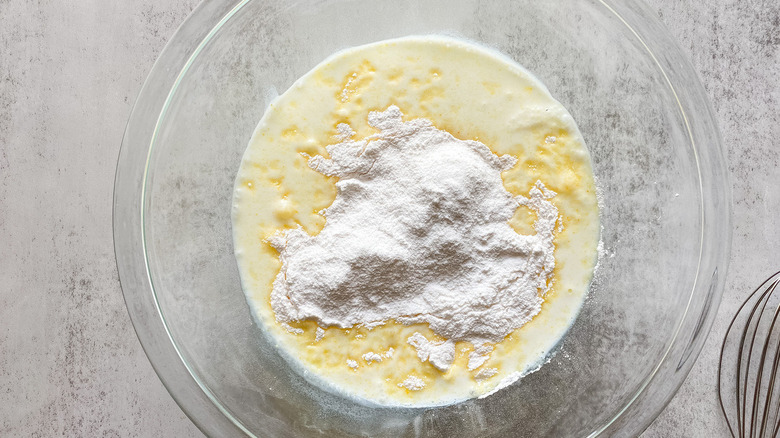 Kristen Carli/Mashed
Now that you've gathered your ingredients, you can get started on the easy banana cream pie recipe by getting the pudding mix going. In a medium bowl, add in your whole milk and the whole package of banana cream pudding mix. Using a whisk, stir these ingredients until they are fully combined. You'll want to make sure that there are no lumps from the pudding mix and you have a smooth, creamy, pudding-like texture.
Fold in the Cool Whip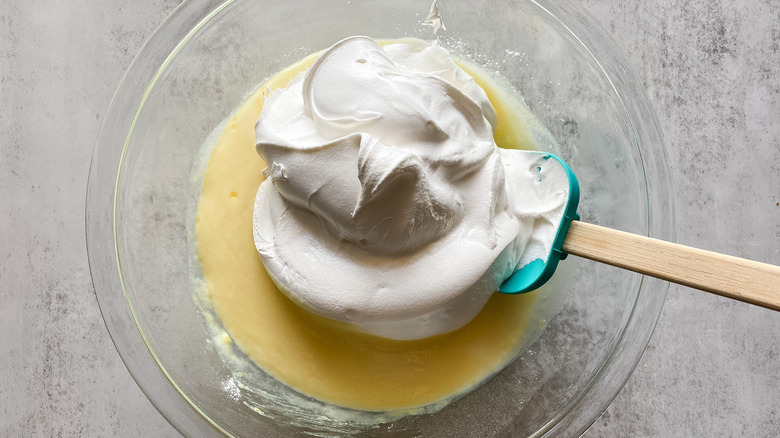 Kristen Carli/Mashed
Once you have your whole milk and banana cream pudding mix thoroughly whisked together, you can add in your Cool Whip. Start by adding the Cool Whip right on top of the pudding mixture, and then using a spoon or rubber spatula, gently fold the Cool Whip in. Be sure to fold the Cool Whip and not whisk it — we want to keep this mixture as light and fluffy as possible. 
Pour the pudding and Cool Whip mixture into the pie crust and chill in refrigerator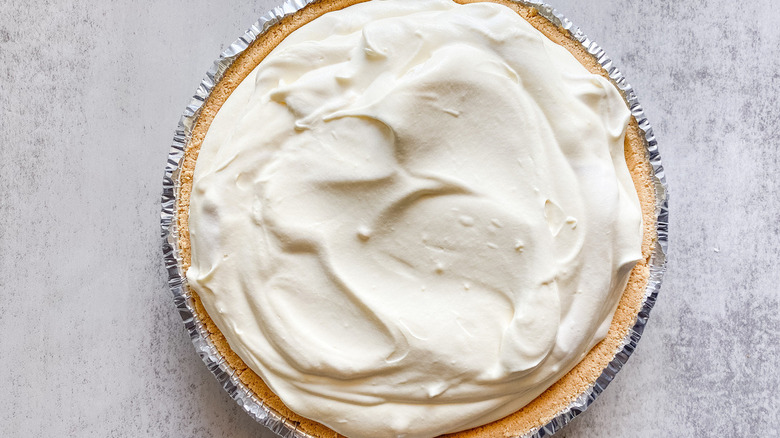 Kristen Carli/Mashed
Now that you have your pudding and Cool Whip mixture fully combined, you can grab your graham cracker pie crust. Carefully pour the filling into the crust, and then use a spoon or rubber spatula to ensure that the mixture is evenly distributed on the crust. From there, place your pie into the refrigerator for at least two hours to ensure that the pudding sets.
Slice the bananas and put them on top of the pie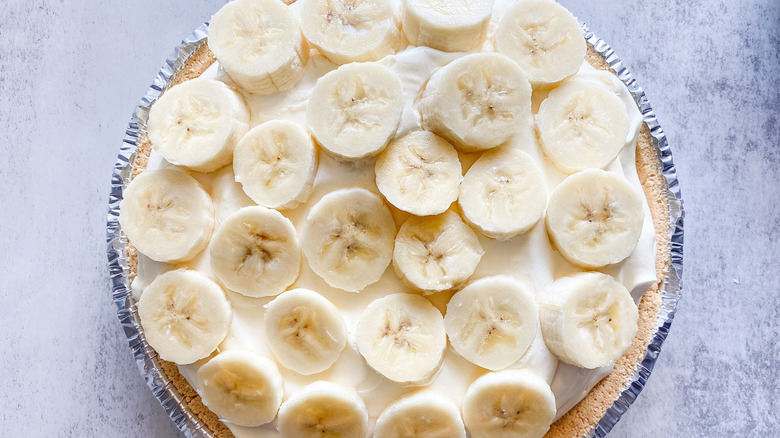 Kristen Carli/Mashed
Once your pie is nearly done cooling in the fridge, you can get the bananas ready to go. Simply peel and slice the bananas into roughly quarter-inch slices. Then, you can grab your pie from the fridge and begin adding the banana slices. Carefully place the slices along the top of the pie so the entire surface is covered, the goal here is full coverage of fresh banana. 
Slice your pie, serve, and enjoy!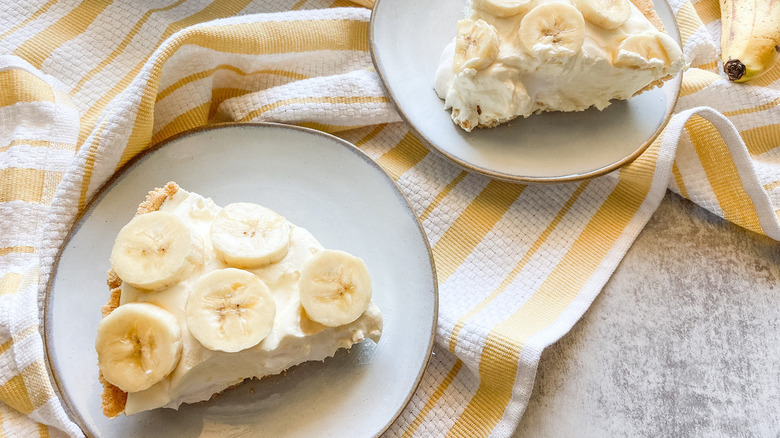 Kristen Carli/Mashed
Now that you've made your pie, allowed it to chill, and topped it with banana slices, you've made it to the best step: eating it! Cut your pie into eight equal slices, serve, and enjoy. You'll notice that the creaminess of the Cool Whip pairs perfectly with the banana cream pudding flavor, making for a simple but delicious bite. If you have leftovers, you can store them in an airtight container in your fridge for up to three days. With such simple ingredients and minimal effort to prepare, this easy banana cream pie may quickly become your favorite treat in the summertime and throughout any season!
Easy Banana Cream Pie Recipe
Summer dessert recipes just don't get any easier than this no-bake banana cream pie. The recipe comes together in no time flat and is full of banana flavor.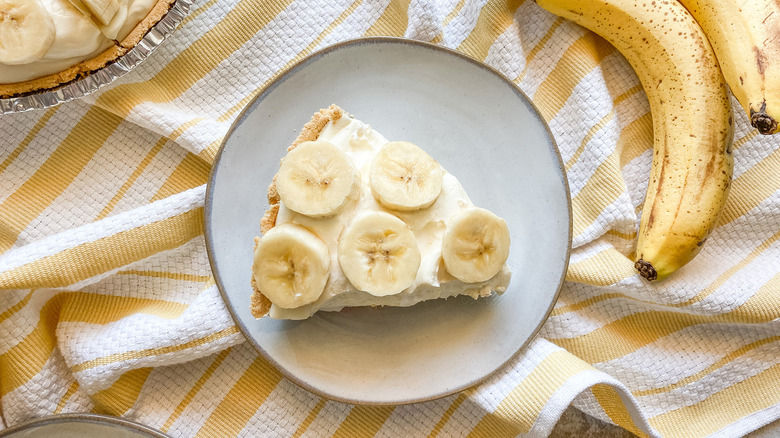 Ingredients
1 graham cracker crust
1 box instant banana pudding mix
8 ounces Cool Whip
1 ¾ cup whole milk
2 bananas, for topping
Directions
In a medium bowl, add milk and pudding mix. Whisk to combine.
Add Cool Whip and gently fold together.
Pour into the crust and smooth out the top. Place in the fridge for at least 2 hours.
Top with sliced bananas.
Nutrition
| | |
| --- | --- |
| Calories per Serving | 292 |
| Total Fat | 13.9 g |
| Saturated Fat | 6.1 g |
| Trans Fat | 0.0 |
| Cholesterol | 26.9 mg |
| | |
| --- | --- |
| Total Carbohydrates | 38.9 g |
| Dietary Fiber | 1.2 g |
| Total Sugars | 24.1 g |
| Sodium | 311.6 mg |
| Protein | 4.1 g |