Simple Instant Pot Brown Rice Recipe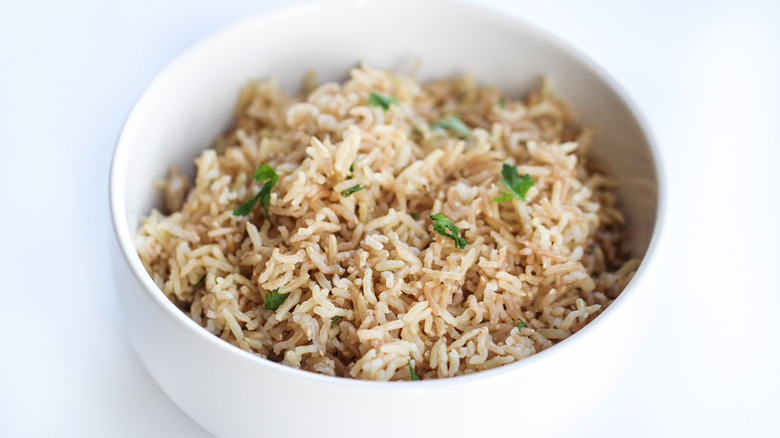 Susan Olayinka/Mashed
No matter the cooking method, rice is generally easy to make. But if you're making it on the stovetop, it's harder to walk away and do other things, lest your rice end up burnt or soggy. That's exactly why recipe developer Susan Olayinka of The Flexible Fridge turns to her Instant Pot whenever she wants to make the perfect brown rice. "It's just easier, in my opinion, as you don't have to babysit your rice. The Instant Pot cooks it perfectly," she says. "I also like the fact that I can focus on a side [dish] and I don't have to be stirring two dishes at once." 
So if you haven't yet tried out your Instant Pot to make rice yet, there's no time like the present to give it a whirl. It'll take you about 40 minutes total, which doesn't offer a huge time savings, but does allow you to forget about it completely while it's cooking. And while the basic recipe is incredibly simple, requiring nothing more than rice, water, and salt, you can always jazz it up a bit. For instance, Olayinka suggests using chopped garlic or onion, cubed carrots, or sweet corn to add color and flavor, because none of these will get soggy when they cook. 

Gather your ingredients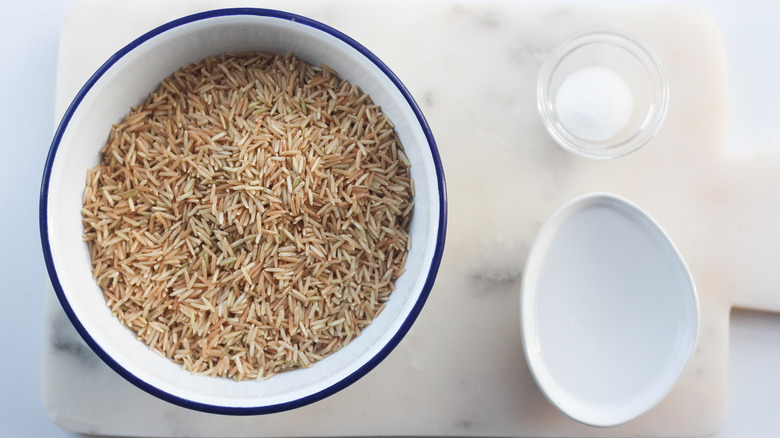 Susan Olayinka/Mashed
Really, the ingredients needed for this brown rice recipe couldn't be more straightforward or simple. Just grab 2 cups of brown rice, 2 cups of water, and measure out a teaspoon of salt. That's it. Of course, if you prefer your brown rice to have a little more flavor, you can add in a tablespoon or so of butter or oil, or you can add in other veggies or seasonings, as desired. 
Add your ingredients to the Instant Pot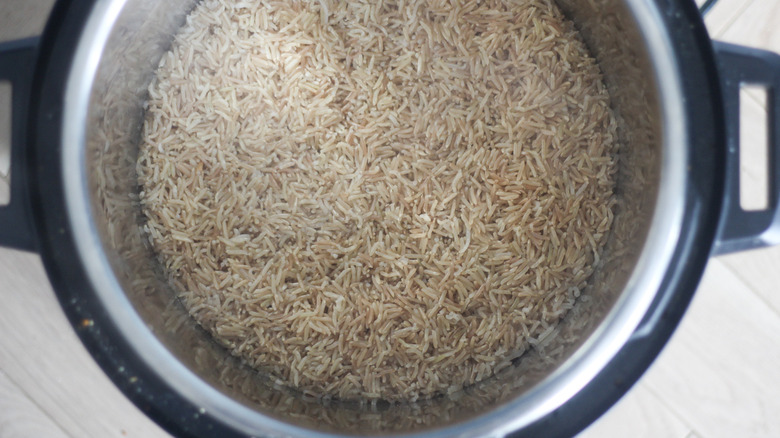 Susan Olayinka/Mashed
When it comes to using the Instant Pot, the beauty is in the simplicity. Much like a slow cooker, there's often no need to think about which ingredients to add first, second, or third, especially when there are so few ingredients to begin with. And in this case, it's even easier. You simply throw the rice, water, and salt into the Instant Pot and give it a quick stir to help the salt dissolve evenly. And, of course, if you decide to throw in other veggies, oils, or spices, now's the time to do that, too. 
Pressure cook your rice in the Instant Pot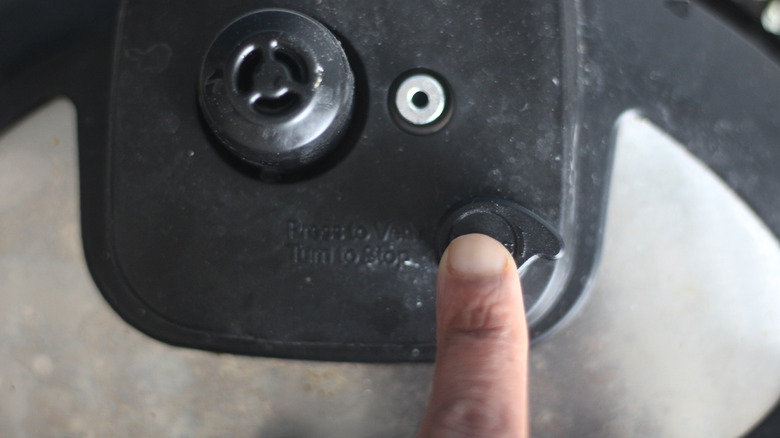 Susan Olayinka/Mashed
With all your ingredients tucked safely inside the Instant Pot, simply close the pressure cooker lid securely on top. You want to cook the rice on high pressure for 20 minutes. When the 20 minutes have passed, use the natural pressure release for 15 minutes to prevent any potential food or steam splatter that might occur with a manual release. After 15 minutes, there shouldn't be much pressure remaining, so feel free to manually release the lid. 
Serve the rice immediately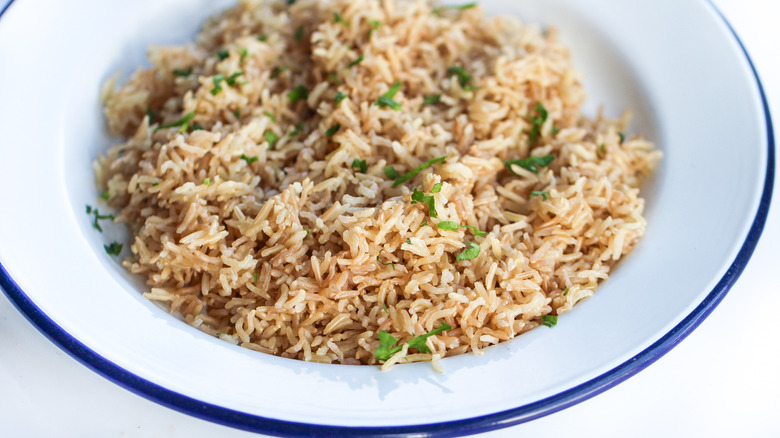 Susan Olayinka/Mashed
Just like that, your rice is cooked, hot, and ready to eat! Throw on some chopped parsley for garnish and serve it alongside your favorite dishes. 
Brown rice goes with just about any protein, particularly chicken and grilled fish, but don't overlook other fun pairings. For instance, Olayinka suggests making it into a rice salad with fresh veggies and tuna, trying it with a tomato-based stew, or enjoying it with a curry. 
Simple Instant Pot Brown Rice Recipe
This simple Instant Pot brown rice recipe will save you a ton of time -- and it requires nothing more than rice, water, and salt!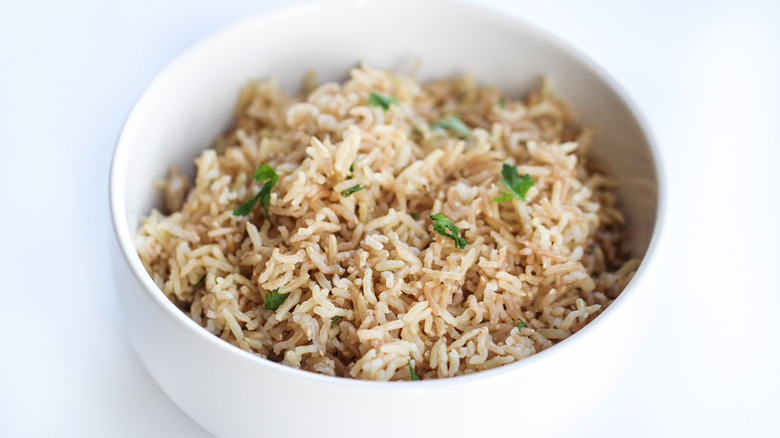 Ingredients
2 cups brown rice
2 cups water
1 teaspoon salt
Optional Ingredients
Chopped parsley, to garnish
Directions
Add 2 cups brown rice, 2 cups water, and 1 teaspoon salt to the Instant Pot.
Close the pressure cooker lid and seal securely.
Cook on high pressure for 20 minutes, then use the natural pressure release for 15 minutes.
After 15 minutes, use the manually release to open the Instant Pot and release any remaining pressure.
Remove the rice from the Instant Pot and serve it immediately, with chopped parsley if desired.
Nutrition
| | |
| --- | --- |
| Calories per Serving | 344 |
| Total Fat | 2.5 g |
| Saturated Fat | 0.5 g |
| Trans Fat | 0.0 |
| Cholesterol | 0.0 mg |
| | |
| --- | --- |
| Total Carbohydrates | 72.4 g |
| Dietary Fiber | 3.2 g |
| Total Sugars | 0.0 g |
| Sodium | 496.5 mg |
| Protein | 7.1 g |