Trader Joe's New Ube Tea Cookies Are Turning Heads
Trader Joe's has so many products with huge cult followings, and there are so many social media accounts dedicated to highlight what new products are in stock. When multiple Instagram accounts post the same product from the grocery store, it's something that's absolutely worth checking out. @traderjoeslist found Ube Tea Cookies from @thesnacksoflist, and Instagram account @traderjoesobsessed also thought these cookies were worth a post.
Since it has such a gorgeous purple color, ube, the purple yam from the Philippines, has gotten popular in the US recently. It's long been a part of Filipino cuisine. The Ube Tea Cookies' package says these snacks are "purple yam shortbread cookies with powdered sugar."
Wondering what to pair with these cookies? According to the Instagram post from @traderjoeslist, the back of the package says, "While they make a great companion to a nice steaming cup of coffee or tea, we also like to enjoy them simply, by the handful, as a quick, delicious dessert."
Here's what Trader Joe's fans are saying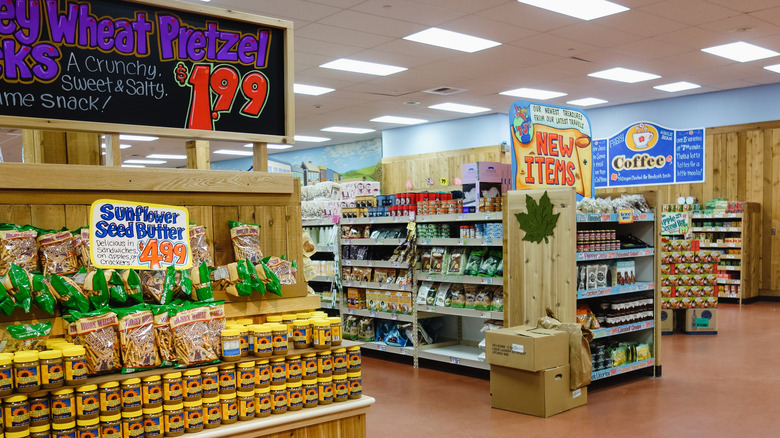 Shutterstock
It looks like that these cookies might be a new fan favorite. These ube shortbread cookies with powdered sugar even caught the attention of Cassey Ho, who runs the account @blogilates, who commented "Omggggg what" on the Instagram post from @traderjoeslist. On the same post, there's a long list of commenters who are tagging their friends and followers to express their excitement for these ube cookies. One comment on the post from @traderjoesobsessed says that these cookies don't have a strong ube flavor, but with the popularity of Trader Joe's ube products, it's likely that there will still be customers who love these cookies.
Although these cookies look delicious, Trader Joe's customers are still looking for the grocery chain's ube mochi waffle and pancake mix (via Popsugar). If you're looking for more ube desserts from Trader Joe's, check out their ube ice cream, the perfect summer treat.