3-Ingredient Strawberry Icebox Cake Recipe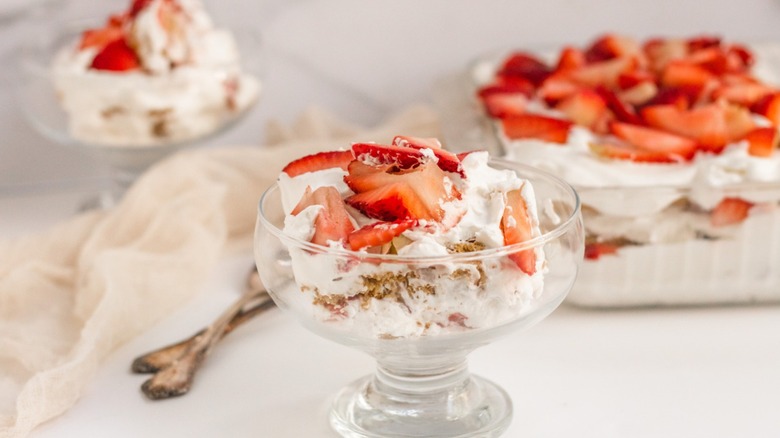 Jaime Shelbert/Mashed
Icebox cakes are all the rage these days, in case you haven't heard. From an icebox cake that celebrity chef Ina Garten claims will bring a grown man to tears, to the most famous incarnation of the refrigerated dessert, made popular decades ago by Nabisco, you'd be remiss to not get in on the trend. Try Jaime Shelbert's easy take on the icebox cake, which requires only three ingredients. Shelbert, who blogs at Wholly Nourished, told Mashed about her recipe, "You really can't mess this up. It's as easy as it seems." Well, we are sold!
In case you haven't tried an icebox cake before, Shelbert notes, "It's similar to a whipped pie with a graham cracker crust." She adds that the payoff of just a few moments spent in the kitchen is with a cake that is "fluffy and creamy!" Perhaps the best part of this simple, three-ingredient cake is that you can make it in advance, with Shelbert saying this strawberry and whipped cream delight is "great for picnics, and kids and adults both enjoy it!"
Shop for just 3 ingredients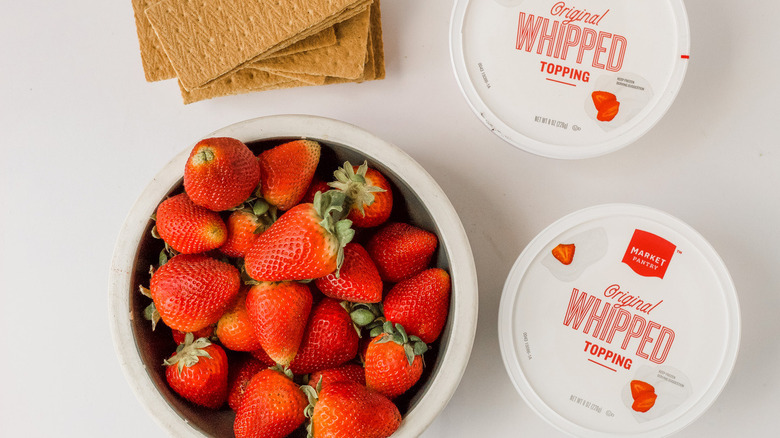 Jaime Shelbert/Mashed
As the name of this recipe notes, Shelbert's strawberry icebox cake requires just three ingredients. So, why wouldn't you make the dessert tonight? Simply shop for or source from your own kitchen two 8-ounce containers of whipped topping, a box of your favorite graham crackers, and 1-1/2 pounds of strawberries, which you will hull, or remove the top of, and slice.
Meanwhile, if strawberries are not in season, or you simply have a hankering for another berry or fruit, Shelbert told Mashed about her cake, "This is great to make in the summer with fresh, in-season fruits from the farmer's market!" She added, "It's easy to change up the fruit to whatever is in season." So, how about peaches? Or blackberries? Or, even bananas would taste super yummy here. 
Use your imagination, or let your tummy guide you to try different versions of this almost-too-easy, indulgent cake.
Create your whipped cream and graham cracker layers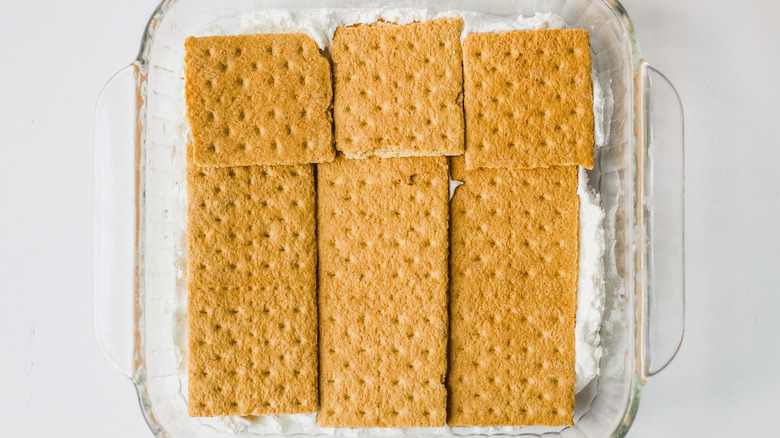 Jaime Shelbert/Mashed
Taking your 3-ingredient strawberry icebox cake from screen to stomach is easy! You will take an 8x8-inch baking dish, and first, layer half of a container of the whipped topping in the bottom. 
Next goes your first layer of the graham crackers, with Shelbert noting you can break them in half as necessary to cover the whipped cream. "You will use four and a half crackers per layer," she told Mashed. We won't blame you for sneaking a nibble of any remaining crackers! And we promise not to tell if you taste a bit of the whipped topping, too.
Finally, after the cracker layer, add the remaining half of the first whipped topping container. Go ahead and smooth this layer of cream with a spatula before moving on to the fruit layer. 
Create your strawberry layer and repeat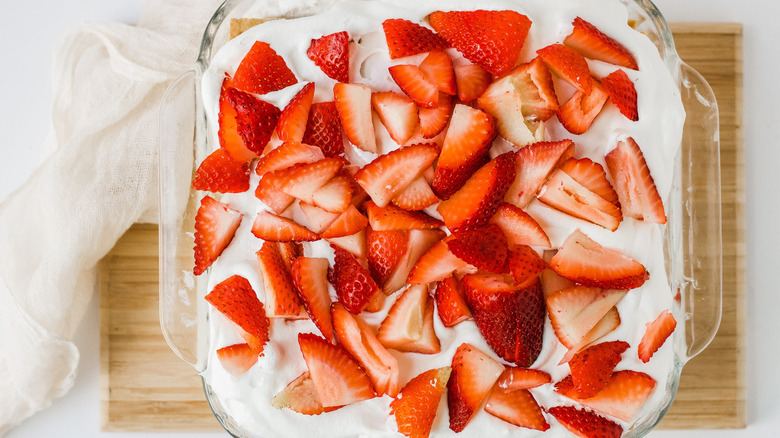 Jaime Shelbert/Mashed
Almost done! At this stage, you add 1/3 of the hulled and sliced strawberries. Next, another layer of the graham crackers goes onto the cake. Now, layer on half of the second container of whipped topping. Half of the remaining strawberries get layered on after that. Your final step is to repeat the process, with graham crackers, the other half of the second container of whipped topping, and then the strawberries being the last layer.
Once your icebox cake is completely arranged, Shelbert instructs home bakers to cover the colorful dessert, and refrigerate it for at least an hour. But longer than an hour is okay too, with Shelbert telling us, "This is the perfect make-ahead dessert. It stores well covered in the refrigerator."
If you cannot wait much longer, give the cake that one hour to set, then slice it, serve it, and savor every bite. 
3-Ingredient Strawberry Icebox Cake Recipe
You can whip up this delicious strawberry icebox cake with only three ingredients and hardly any time spent in the kitchen.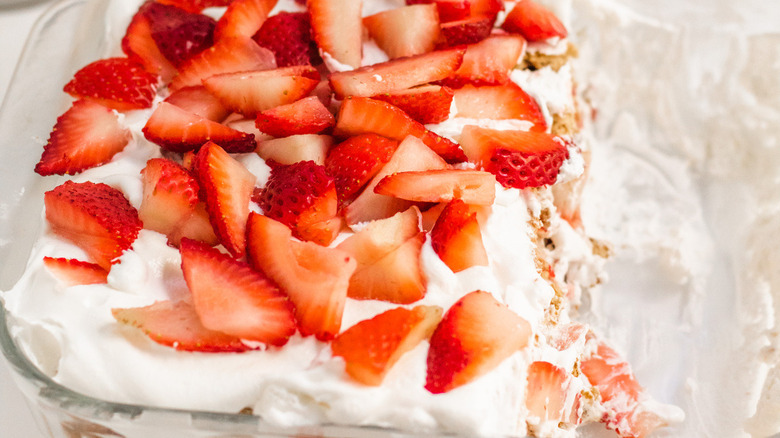 Ingredients
2- 8 ounce containers of whipped topping
14 graham crackers
1-½ pounds strawberries, hulled and sliced
Directions
Layer half of a container of whipped topping in the bottom of an 8x8-inch dish.
Cover the whipped topping with graham crackers, breaking them in half as necessary to cover.
Top the graham crackers with the remaining half of the first whipped topping container. Smooth with a spatula.
Add ⅓ of the strawberries.
Add another graham cracker layer, half a container of whipped topping and half the remaining strawberries. Repeat ending with strawberries.
Cover and refrigerate for at least four hours before slicing.
Nutrition
| | |
| --- | --- |
| Calories per Serving | 158 |
| Total Fat | 6.0 g |
| Saturated Fat | 2.5 g |
| Trans Fat | 0.0 g |
| Cholesterol | 12.0 mg |
| | |
| --- | --- |
| Total Carbohydrates | 24.7 g |
| Dietary Fiber | 2.3 g |
| Total Sugars | 10.4 g |
| Sodium | 102.0 mg |
| Protein | 2.5 g |