The Truth About Guy Fieri's New $80 Million Contract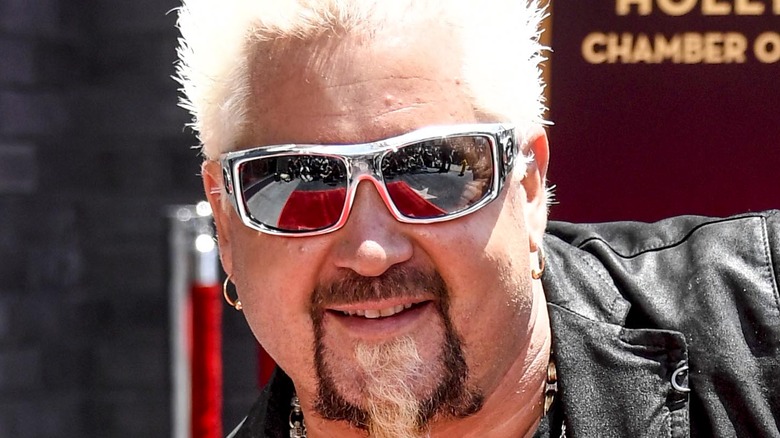 Frazer Harrison/Getty Images
If Guy Fieri were a stock, you might be wishing right about now that you'd had the foresight to have bought up as much as you could back in 2006. That was the year that the then-unknown 30-something Fieri made his Food Network debut (via FoodBeast). And it wasn't as a host or even as a judge, but rather, as a contestant on "Next Food Network Star." At the time, Fieri was the owner of four restaurants, which is impressive in and of itself, but even more so when you consider that 60% of restaurants fail to make it past their first year, according to Food Service Restaurant News. However, when it came to auditioning his way onto the television screens of American foodies, the ambitious chef had been having no luck at all. 
Then everything changed. After submitting an audition tape that was meant to be a "joke," Fieri was cast on "Next Food Network Star" and won it handily. That led to his first series, "Guy's Big Bite," which, in turn, led to "Diners, Drive-Ins and Dives," "Guy's Grocery Games," "Tournament of Champions," and "Guy's Ranch Kitchen" (via Guy Fieri's website). 
Fast forward to May 2021, and the Mayor of Flavortown has just inked a fresh, new eight-figure contract with Food Network that locks him into another three years of creating what amounts to virtually non-stop television programming with "Diners, Drive-Ins and Dives" and "Guy's Grocery Games," per Forbes. The grand total of the contract: $80 million.
Guy Fieri is now the highest-paid cable television chef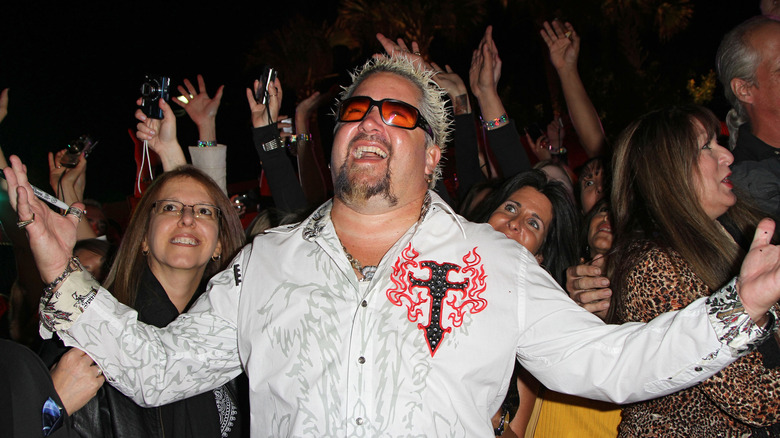 Alexander Tamargo/Getty Images
Back in April 2021, it seemed that the really big news about Guy Fieri was that through concentrated and creative efforts over the course of the COVID-19 pandemic, the 1968-Camaro-driving "volcano of enthusiasm" had already raised more than $25 million for food workers impacted by the COVID-19 pandemic closures, according to The Hollywood Reporter. In that same story, The Hollywood Reporter also mentioned that Fieri had struck another deal with Food Network — although no further information was made available at the time. On May 23, the details of that new deal were made official: The goatee-wearing, spiky-haired host of the iconic, Emmy-nominated "Diners, Drive-Ins, and Dives" and fan-favorite "Guy's Grocery Games," among others, will continue to do what he's been doing for the Food Network through 2024 — for a total of $80 million (via Forbes). That makes him the top-paid chef on cable television.
Crunching the numbers, Guy Fieri's $80 million three-year contract with Food Network boils down to roughly $27 million in yearly compensation through 2024. Overall, this new deal represents a $50 million raise from Fieri's previous agreement with the network. And let's not forget that when Guy Fieri landed "Guy's Big Bite" in 2006, he was earning a total of $1,000 per episode for the six-episode series, according to Celebrity Net Worth. 
To say that's a lot of green would be an understatement, of course. In fact, Fieri's new contract puts him in an entirely new category of television chefs. Perhaps even more importantly, it gives Fieri three more years to continue doing the good he has already been doing for restaurateurs in need.
Guy Fieri's new $80 million contract will benefit restaurateurs in need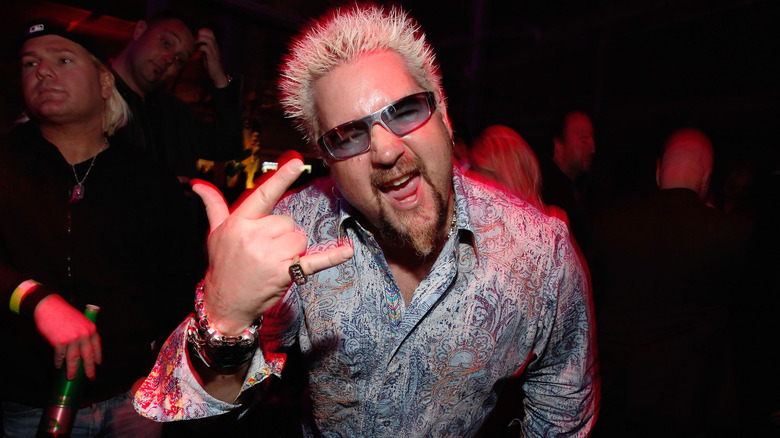 Christopher Polk/Getty Images
"I got a chance of a lifetime, and I think I played it good," Guy Fieri told The Hollywood Reporter regarding his success with Food Network. Of course, this new deal stands to benefit the network as much as it does Fieri, whose longest-running show, "Diners, Drive-Ins and Dives" (on-air since 2006) generated more than $230 million in ad revenue in 2020 for the network (via Forbes). But it's entirely possible that others who stand to gain from the fact that Fieri is now set to create and appear on three more years of Food Network programming are some of the restaurateurs who have seen setbacks in their business as a result of the COVID-19 pandemic. Since the start of the pandemic, Fieri has been using his fame and fortune, among other things, to provide a much-needed boost to pandemic-distressed restaurant owners. This includes setting up the Restaurant Employee Relief Fund and releasing a documentary "Restaurant Hustle 2020: All on the Line" (via Bloomberg).
"Nothing can replace what this kind of recognition, appearing on TV, can do for these people and their businesses ... for their lives," Fieri told The Hollywood Reporter in regards to how his continued presence on Food Network will benefit those in need. "I need to keep doing this because it just needs to be done."