Grilled Corn On The Cob Recipe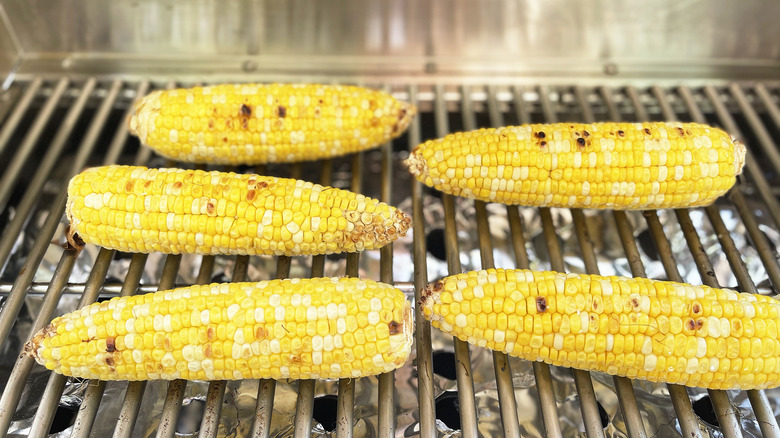 Jason Goldstein/Mashed
Real talk: Nothing screams summer quite as much as a delightful serving of corn on the cob. It's safe to say that corn on the cob is always a solid option to prepare as a side dish to accompany basically any and every meal throughout the warmer months — from BBQ ribs, to burgers and hot dogs, to grilled chicken. But when you throw corn on the grill and get those excellent char marks and flavor, it brings this bright yellow veggie to a whole new level of deliciousness. You may never want to prepare corn on the cob any other way again — and that's not a bad thing!
We have chef and recipe developer Jason Goldstein of Chop Happy to thank for the best grilled corn on the cob recipe of all time that's sure to become your new go-to side. Goldstein shares that he loves it because, "This is [an] easy, buttery, and perfect summer side." We couldn't agree more! Keep scrolling to find out how to whip up this quick and simple dish that will impress anyone you serve it to.
In case you want to share a fun fact with friends and family while enjoying your corn on the cob, apparently, this tasty veggie dates way back to a time between 6,000 and 10,000 years ago (via BBC).
Gather the ingredients to prepare grilled corn on the cob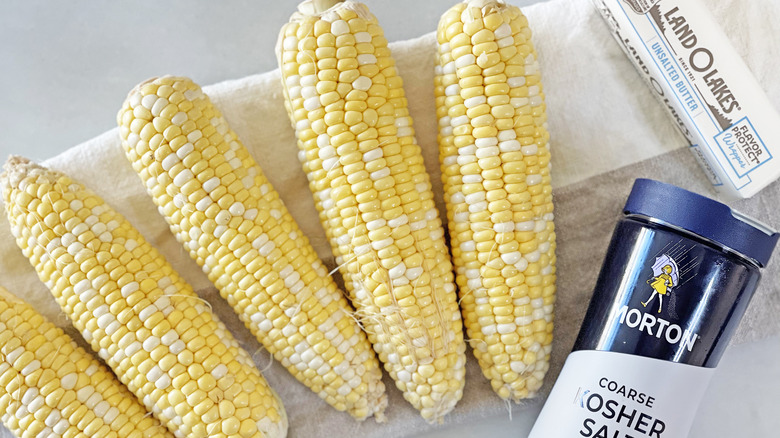 Jason Goldstein/ Mashed
Okay, we must admit that this may be one of the easiest recipes of all time. Not only does it take less than five minutes of prep time, but the recipe also gets major bonus points for only requiring three ingredients. So, it's safe to say your trip to the grocery store will be a short one.
As far as the list of ingredients is concerned, of course, you will need corn on the cob. In addition, you will need to round up butter and salt, which you probably already have in your kitchen. If you'd like, Goldstein also recommends serving your grilled corn on the cob with Cotija cheese or Tajín. That is literally all you need, so once you have your ingredients gathered, you're ready to get things started.
Prep the corn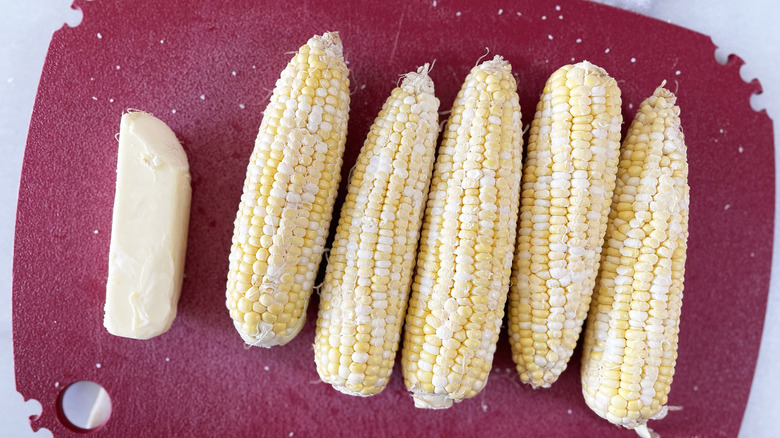 Jason Goldstein/ Mashed
Once you have all of your ingredients laid out on the counter in front of you, you'll want to prep the corn. First, sprinkle each corn on the cob with salt. Then, take a whole stick of butter, and peel back the wrapper. Next, rub the butter all over each cob, so it's lathered to your liking. Once you are finished lathering up the corn, bring it outside on a plate or serving platter, because it's time to fire up the grill and get grillin'.
Grill the corn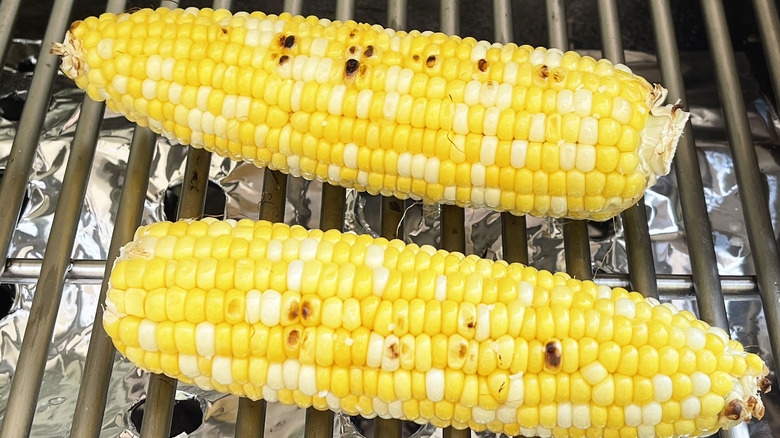 Jason Goldstein/ Mashed
Turn the heat on your grill to high. You will want to grill each cob of corn for about two minutes before flipping it over, and cooking for another two minutes on the other side. Once there are a few charred kernels on each side of the corn, that's another indicator that it's done cooking. Transfer the corn back onto a dish or plate, and bring it inside for the last step. Keep in mind that the corn will be hot, so be sure to use tongs to transfer it from the grill to the plate.
Serve the corn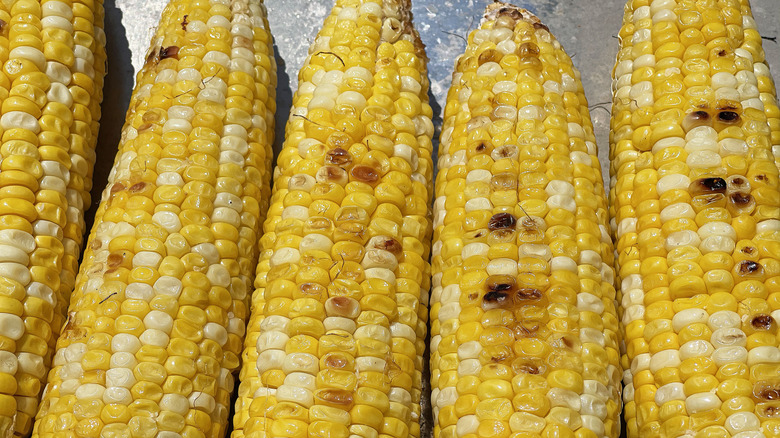 Jason Goldstein/ Mashed
Now, your corn is ready to be served! How seamless was that process? You can plate it with the rest of your meal, or if you have individual corn dishes for serving, that's another great option. Feel free to eat the corn on the cob itself, or you can use a knife to cut the kernels off and eat it with a fork and nice sprinkling of Cotija cheese. No matter how you decide to eat it, you can rest assured knowing that every piece will be perfectly coated with butter and a nice char.
Serving suggestions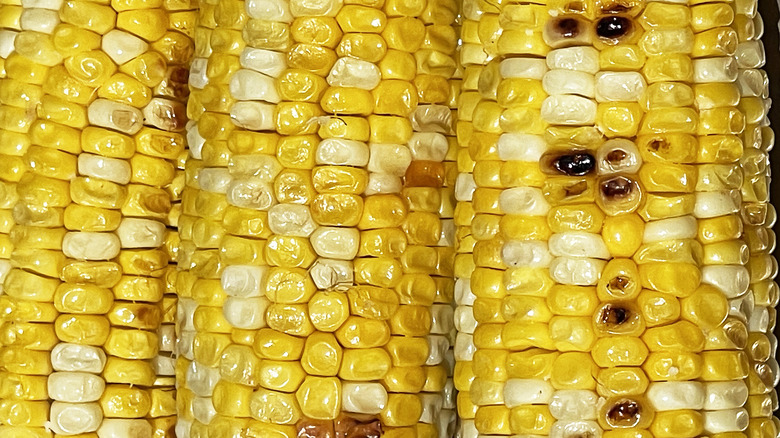 Jason Goldstein/ Mashed
When it comes to serving grilled corn on the cob, the possibilities are truly endless, so feel free to let your creativity shine with this versatile side dish. "This is perfect [to pair] with a steak or hot dog by the pool or [enjoy] in Central Park on a warm Saturday," Goldstein shares. It would also be great as a simple side dish for any BBQ meal or cut and placed on top of a freshly chopped salad with black beans, avocado, and cherry tomatoes. Another great idea is adding the corn to a burrito bowl with white rice and beans. We're not joking when we say the sky's the limit here, so have fun with it. Then, enjoy!
Grilled Corn On The Cob Recipe
Nothing screams summer quite as much as a delightful serving of grilled corn on the cob, and this recipe is so simple to pull together.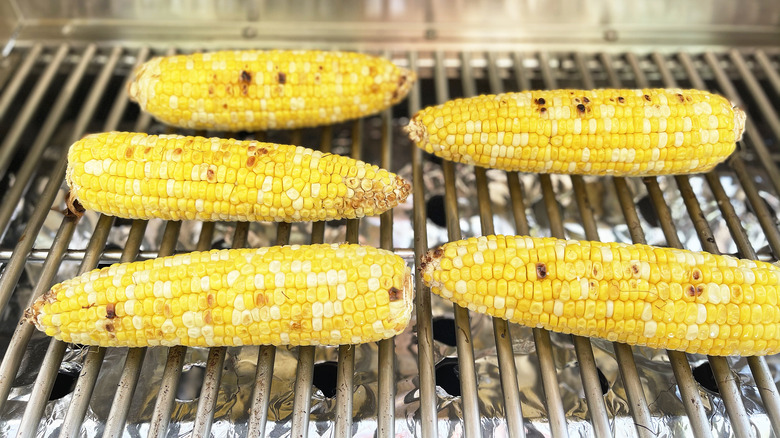 Ingredients
5 corn on cobs
1 stick butter
1 teaspoon salt
Directions
Shuck the corn.
Sprinkle each corn on the cob with salt, then rub the stick of butter all over each one.
Turn the grill on high, and cook each side for 2 minutes, or until there are some charred kernels.
Top off the corn with your favorite toppings like Cotija cheese, Tajín, or more butter, if desired.
Nutrition
| | |
| --- | --- |
| Calories per Serving | 250 |
| Total Fat | 19.7 g |
| Saturated Fat | 11.9 g |
| Trans Fat | 0.7 g |
| Cholesterol | 48.6 mg |
| | |
| --- | --- |
| Total Carbohydrates | 19.1 g |
| Dietary Fiber | 2.0 g |
| Total Sugars | 6.4 g |
| Sodium | 289.8 mg |
| Protein | 3.5 g |