Why Twitter Is Blowing Up Over Joe Biden's Ice Cream Comment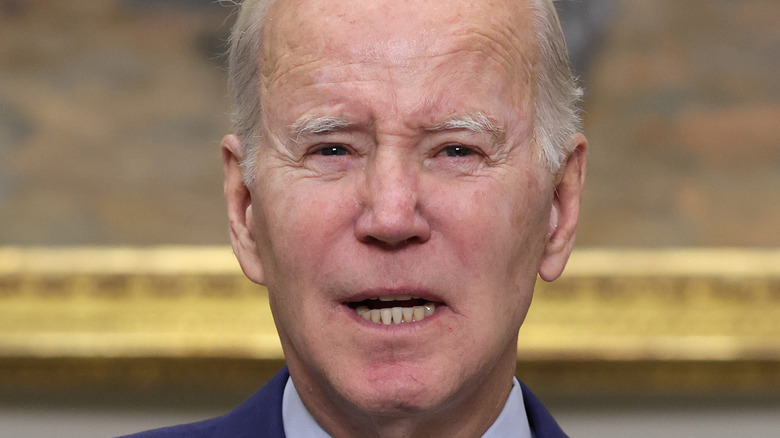 Alex Wong/Getty Images
If you can't find President Joe Biden at the White House, you might check the ice cream shop. Whether performing his old duties as vice president or out on the campaign trail, Biden usually finds time to stop at a scoop shop (via E!).
Biden (or his handlers) always know the best ice cream shop to visit, no matter what city he's in. He got a double scoop of chocolate and vanilla at Salt & Straw in Portland in 2014 (via The Oregonian). A couple of years before that, Biden made his first visit to a Jeni's ice cream shop in Columbus, Ohio and was served by Jeni Britton Bauer herself, as the Jeni's founder related in her blog. The shop didn't have Biden's favorite, chocolate chip, so he again settled for a chocolate and vanilla double scoop. Nine years later, Jeni's would release a Joe Biden ice cream called White House Chocolate Chip (via People).
On Thursday, May 27, Biden made one of his famous "unscheduled" ice cream stops at another highly regarded local shop, Cleveland's Honey Hut, according to Patch. Reporters swarmed the president as he left the shop, cone in hand, as CNN White House correspondent DJ Judd showed in a Twitter post. First, they wanted to know what he had ordered: chocolate chocolate chip. Then they wondered if he had a message for Republicans who were opposed to a commission that would investigate the January 6 attack on the Capitol. His reply: "Eat some chocolate chocolate chip."
Joe Biden's 'I came for ice cream' line may be memeworthy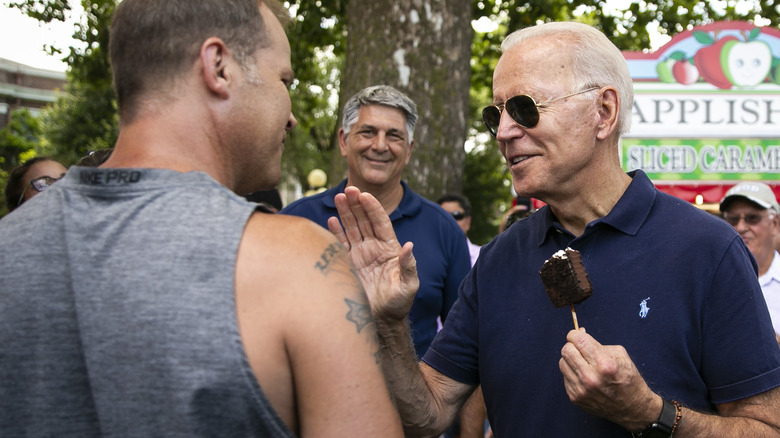 Bloomberg/Getty Images
President Joe Biden definitely wanted to keep the topic light, and sweet, when reporters caught him outside a Cleveland ice cream shop. Pressed about Republicans' position on the January 6 commission, Biden said, "I can't imagine anyone voting against establishing a commission on the greatest assault since the Civil War on the Capitol," (via Twitter). Then Biden tried to change the subject — back to ice cream: "But at any rate, I came for ice cream."
Twitter blew up over Biden's parting shot to reporters. "'I came for ice cream' will be my new go-to phrase," Jan-Hendrik Fiedler tweeted. Twitter user @kaceybanester followed up with, "I'm gonna add the 'but at any rate' part when I'm feeling particularly irritated." Brizita M. on Twitter predicted Biden's "I came for ice cream" would rise to the level of a certain popular fast food meme: "Lol, 'I came for ice cream' is gonna be like 'this is a Wendy's.'" For those who don't know, the "Sir/Ma'am, this is a Wendy's" meme reflects how a person might respond to a long and irrelevant rant (via Reddit).
In any case, Biden's "I came for ice cream" suggests that a double scoop served with a side of politics might only lead to heartburn.